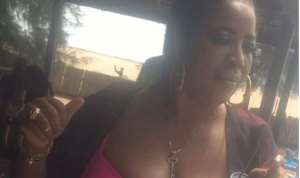 Plus-size Nollywood actress, Chioma Toplis, is constantly making her White hubby, salivate over her killer body as she continues to flaunt it so he will not look outside.
Chioma has for a while now been busy with her family as she also has other forms of businesses aside but that does not mean she cannot unwind.
The actress showed her sexiness as she flooded her timeline with photos of her banging body on pant and bra just to enjoy the cool weather.