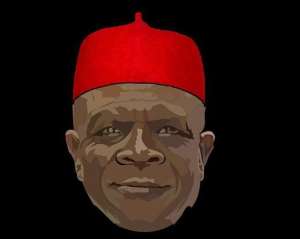 "It's my daddy's birthday, but I'm still struggling with him passing on just 3 weeks ago. Still haven't come to terms, still don't believe it, still writhing in heartbreak, still having out of body experiences, still struggling with erasing the motions & images of his last few weeks, still this, that & the other...
"Events of the last few months could have prepared us all, but there are people we have in our lives that appear immortal, my daddy was one. So imagine the utter shock & frenzy we got thrown into.
Oh my dear mummy!
"My daddy was, is my backbone, I'm very very very much like him per character traits and many other things. I could often tell from the way he looked at & spoke to me sometimes that he really did see a lot of himself in me, like kindred spirits. And now I feel like virtue has left me, as this is by far the hardest thing I've ever have to deal with all my life & I can tell I'm going to be in this phase for quite a while.
"My daddy dearest, you remain the strongest, kindest, most loving, most intelligent, most resilient, most understanding, most misunderstood, loyal to way too many faults human being I've ever encountered.
"You do know too well, that if it took family, love, company, prayers, money, favors of strangers, blood, sweat, tears, goodwill & what not, you'd still be here, hale, hearty & your usual comedic self.
Oh you fought, you fought until 3.47 that fateful day! So if it took your might & will, you'd be here still.
"Your grandkids are heaven bent on their facts that grandpa has gone to heaven. They think all the condolence visitors are party guests for your sojourn. We will never forget you, good true tales of you will be told & will linger through your lineage & bloodline for decades to come.
"Somewhat happy, that I told you how hard I love you to your ears, the day before, you were under but I believe you heard me! Angels help me to celebrate him, now that He beholds you face to face.
I WILL NEVER FORGET YOU! I STILL HAVEN'T LET GO! Happy Birthday Mmiriewoiro."