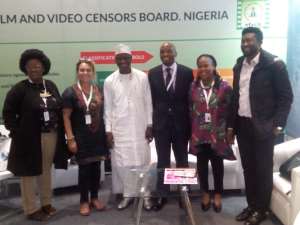 The South African Film and Publication Board(FPB), has expressed willingness to partner the National Film and Video Censors Board (NFVCB) to curb piracy.
The News Agency of Nigeria (NAN) reports that Mr Sadile Nene, Ag. Chief Executive Officer of the FPB, a content-classification and censorship authority, said this during a visit to the Nigerian Pavilion at the Durban FilmMart of the ongoing Durban International Festival (DIFF).
The 2018 DIFF with the theme ,"No Filmmaker is Left Behind" is holding from July 19 to 29 in Durban, South Africa, with filmmakers and industry stakeholders, as well as relevant government agencies in attendance.
Nene, who was received by the Mr Adedayo Thomas, Executive Director of the NFVCB noted that with Nigeria as the leading film making country in Africa, such partnership will help other countries, especially South Africa.
"Nigeria has the biggest film making economy in the continent, and South Africa is consuming a lot of its contents.
"If we do not have that collaborative relationship, it will be difficult to classify and rate films coming from both countries.
"We need to work together so that we can ensure that whatever content will expose to our continent is truly classified by both countries.
"It is our best interest to ensure that we work together to protect our people, our economy and industry," he said.
The FPB Chief Executive added that the two countries have common ground needed to put Africa on the global stage in film making, but needed to synergy in other to achieve that objective.
He added that there was need for both countries to harmonise film content censorship to effectively check infiltration of illegal contents into their respective markets.
"The first thing is to sign an MoU so that we work towards harmonising content coming from both countries, and thereby strike a balance that will assist the entire continent.
"For example, if Nigeria receives content from South Africa, it must make sure that it is classified by the FPB, and Nigeria receives same, it must ensure it is classified by us.
"Such collaboration will protect our market in Africa and give us a significant position and voice in the global market in content production," he added.
In his response, Thomas, said although Nigeria provided the largest film contents from the content, South Africa was leading in the technical aspect of film making.
He said further that collaboration, especially in licensing and classification, will boost the industry and contributes to both countries economy.
"Since Nigeria is leading in Africa in terms of volume of contents and South Africa has the infrastructure, collaboration will help reposition their filmmaking sectors.
"However, we must consider each other's peculiarities in terms of rating and classification laws for us to have a harmonized rating, because one country cannot rate a film as "18",while another rates same "15," he added.
The two Chief Executive Officers therefore agreed that there was need for training exchange for officials for them to be exposed to the classification and other censorship procedures of both countries.
NAN reports that the Durban International Film Festival (DIFF), now its 39th edition, is an annual film festival that takes place in Durban, KwaZulu-Natal province of South Africa.
It offers filmmaker workshops, industry seminars, discussion forums, and film screenings.
It features the Durban FilmMart (DFM), a finance and co-production market which aims to create partnerships and further the development and production of film on the African continent.
It serves as a platform for recognition and building of opportunities to develop strategic relationships between film financiers and African filmmakers.