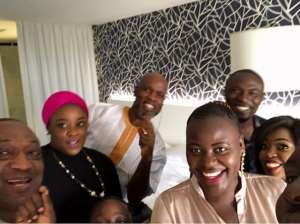 Having in mind that we are created in Gods image and likeness, Yoruba actress, Odunola Agoro has taken to social media to tell the world the importance of God in the life of man.
She has said once we are disconnected from God, we die, just the same way when a fish is brought out of water, it cannot survive.
God is the tree while we are the branches and cut off from him, we can do nothing.
In her words, "When *GOD* created the *fish,* *HE* spoke to the *sea,* when *GOD* created *trees,* *HE* spoke to the *earth,* but when *GOD* created *Man,* *HE spoke to Himself.*
*_Then GOD said, "Let US make Man in Our image, according to Our likeness._*
If you Take a *fish* out of the *water*, it will *die* and when you take a *tree* off the *ground,* it will also *die*. Similarly, when *Man* is *disconnected* from *GOD,* he *dies.* *GOD* is our *natural environment.* We were created to *live in HIS presence.* *We must be connected to HIM because only in HIM there is Life.* STAY CONNECTED TO GOD.
Remember...
*GOD without Man is still GOD but Man without GOD is Nothing*".