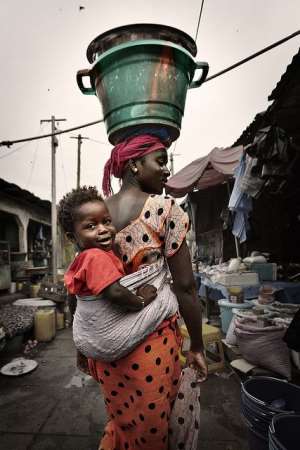 A lot of uncomplimentary opinions have been expressed on social media about "born-one" mothers. Most of these cynical opinions seek to demean young ladies who have/had kids out of wedlock. In the Ghanaian society, single mothers (born ones) are seen as irresponsible and sluttish.
A typical Ghanaian family will not allow their son to get married to a lady who already has a child (with another man). The stigma around women who have kids out of wedlock is one that stinks and shouldn't be encouraged.
WHO IS A "BORN-ONE"?
A "born-one" is a courageous lady, who after exploring available options — such as abortion and weighing the impact of disgrace she'll go through if she refuses abortion, still pressed on to have her baby.
A "born-one" is that lady who could've opted for a termination of pregnancy to avoid the social backlash but went ahead to save a life.
Unfortunately, the Ghanaian society naturally shields the men who irresponsibly impregnate the ladies and dump them. Nobody talks about them. Nobody tags them as being irresponsible. In instances where they even fail to cater to their offsprings, society doesn't find it necessary to query or tag them.
There's nothing wrong with being a "born-one" or a single mother. It takes a strong, courageous, and high spirited person to play the "two in one role" (father and mother) in bringing up their children.
Instead of vilifying such precious women, I think it makes sense to salute them for their resilience and braveness.
Let's celebrate the "born ones" for their love, care, and fear of killing the unborn. Why write them off because of their refusal to abort.
If you've got a kid with no dad, don't worry, you're the strongest woman ever. I celebrate and appreciate you.
Walk with confidence and live your life like you really don't care. Don't allow any ill comment from society to eat you up. You made the right decision of keeping that baby. What's important is the future. Just keep your head up. We appreciate you.
Share this article with your friends. It may be of help to someone