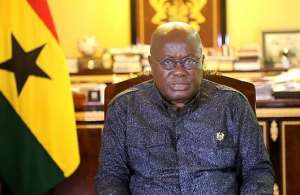 The much-awaited speech on Ghana's Covid-19 was given by his Excellency the President on the evening of April 19, 2020.
As expected by many Ghanaians, the President had to choose between the extension or discontinuation of the partial lockdown.
Extending the partial lockdown simply meant a continuous freeze in the economic activities of people in the affected areas.
A higher percentage of Ghana's workforce fall within the informal sector and these were the people who were hardly hit by the 21-day lockdown.
The partial lockdown affected the hospitality industry, importers of non-consumables, petty traders, entrepreneurs, private firms, etc. Most people have lost their jobs. Others were asked to proceed on mandatory leave without pay.
Ghana's economic activities came to a halt within the 21 day restriction period. MMDAs were not getting their regular levies, private firms that paid SSNIT couldn't fulfill their obligation in the 3rd month of the year, government absorbed fully and partially utility bills, citizens in the affected areas were being fed on daily basis. All these interventions and waivers were crippling the already ill economy.
A continuous lockdown would have worsened our economic structures. Contrary to popular opinions, the partial lockdown obviously isn't a panacea for the novel coronavirus— especially in developing economies.
The introduction of the partial lockdown was purposed to enhance contact tracking and testing and the objective has obviously been achieved.
Nana Akufo-Addo in his speech on Sunday lifted the lockdown on movement — to allow people to undertake their regular activities taking into consideration social distancing.
However, the ban on mass/ social gathering which includes; parties, funerals, churches, schools, etc. still holds. The borders of the country are still closed. Drivers of public transport will continue the practice of social distancing in their vehicles as was observed in the lockdown period.
The President encouraged people to use a nose mask, practice regular hand washing and observe all other hygienic practices outlined by Ghana Health Service.
Share you thought via the comment section.
By
Alpha Osei Amoako
(Kwame Black)
Freelance Writer, Inspirational Speaker, and Teacher