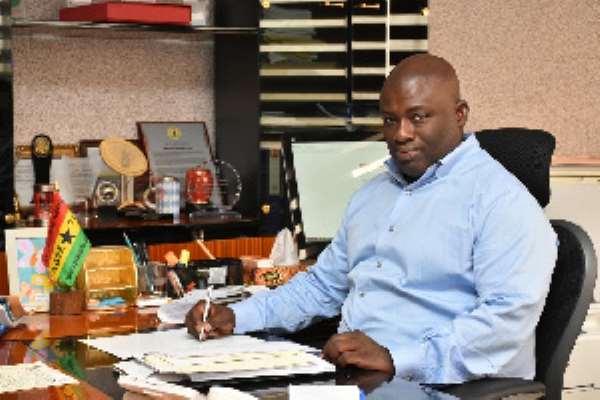 As a former employee of the Goldman Sachs Group, one of the Fortune-500 Mega Corporations on New York City's Wall Street, the recently resigned Managing-Director of the Tema Oil Refinery (TOR) knew perfectly well that the jig was up, when the Feds came knocking on his door. You see, the news story on which this two-part column series is based clearly hints at a lawsuit having been launched by the Securities and Exchange Commission of the United States of America. In all likelihood, it was this veritable "Smoking-Gun," vis-à-vis the certain possibility of him being prosecuted and possibly being sentenced to serve some time in prison or the slammer, as New Yorkers are wont to say, that expedited the need for Mr. Asante Berko to promptly resign (See "TOR Boss Resigns Over $ 4.5 [Million USD] Bribe Allegations" News Desk – Modernghana.com 4/15/20).
Resigning just two days after his bribery scam or racket was exposed to media spotlight actually gives the former TOR Managing-Director ample time to engage the capital-intensive services of some crackerjack or heavyweight attorneys. He would need all the around-the-clock services necessary from these heavy-lifting attorneys, if the man is not to shortly end up a prime casualty of total professional and existential ruination. You see, here in the United States of America, it is often said that when the Feds come after you, your best bet is to hurriedly seek refuge under the wings of a Category-A Trial Attorney or Attorneys of the land. But I am also sedulously looking at what Ghana's Independent Special Prosecutor, Mr. Martin ABK Amidu, would shortly come up with from his even more intriguing end of the European Airbus SE end of the mega-scam involving the payments of approximately the same amounts of money that, we are reliably informed, was involved in the Asante Berko-Turkey Energy Payola Racket.
But, of course, that the common denominator here is one man and his much-remarked pathologically corrupt government makes these otherwise disparate narratives all the more intriguing. And that man, of course, is none other than former President John Dramani Mahama. My casual Google Survey of Forbes' List of the Richest Ghanaians, recently, had the former President estimated to be worth just under $ 1 Billion (USD). Which was why I wasn't the least bit impressed with news reports showing a picture of him and claiming that Mr. Mahama had purchased food items and PPEs worth on the monetary order or value of well under $ 100,000 (USD). I may actually have inflated this preceding rough estimate more than three or four folds. I guess what I am trying to suggest here is that when a mega professional thief has stolen so much more of the very limited resources of the denizens of a lower-middle-income country like Ghana, the least that could be expected of such an unconscionable kleptocratic megalomaniac is total confession and the literal return of such stolen wealth with punitive interest and then penance for the rest of the life of this unforgivable SOB.
You see, you cannot hate such a superlative pathological scam-artist well enough. It is also very clear that the manner in which politicking is done in the putative Gateway to the West African sub-region needs to promptly and radically change, if Ghana is to survive and healthily advance at all levels of our national endeavor in the foreseeable future. At this juncture, though, I am far less interested in the political fortunes of Comrade John Dramani Mahama than the imperative need to ensure that this man and his globally embarrassing shenanigans are thoroughly investigated, pronto, and whatever monies he clearly may very well have stolen from the Ghanaian people promptly retrieved for use for both the short- and the long-term benefit of those who most need and deserve that which was criminally and unconscionably taken from them.
Ghanaians must also be made well aware and, literally, around the clock that the last person that they need for a leader in such a watershed moment is this shamelessly dirty greedy bastard, who also curiously appears to think and believe that, somehow, he has an inalienable constitutional right to fleece the Ghanaian people with his nondescript team of terror-mongering kidnappers and anti-social parasites and nation-wreckers. We need to take our country and our patrimony or heritage back and make sure that only altruistic patriots are ceded the right of democratic governance.
*Visit my blog at: kwameokoampaahoofe.wordpress.com Ghanaffairs
By Kwame Okoampa-Ahoofe, Jr., PhD
English Department, SUNY-Nassau
Garden City, New York
April 15, 2020
E-mail: [email protected]