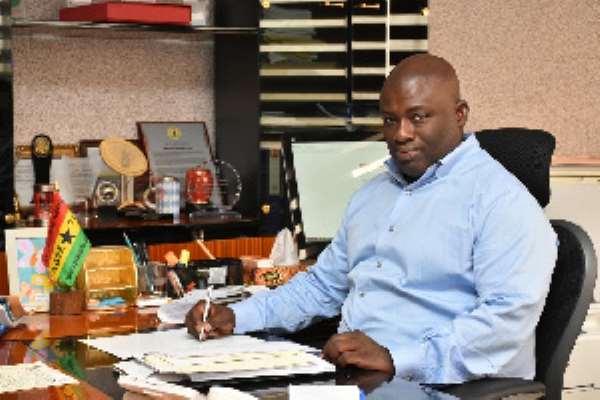 The Managing Director of the Tema Oil Refinery (TOR) Asante Berko
He was a gentleman for not putting up a clearly losing battle before quietly penning his resignation letter which, we are reliably informed by Mr. Eugene Arhin, the Presidential Communications Director, was promptly and graciously accepted by President Addo Dankwa Akufo-Addo. There was another even more powerful energy point man who let the President so low down that I suspect Nana Akufo-Addo did not quite recover from such deadly disappointment. I also can perfectly imagine the great relief with which my good, old Wofa Kwaku Addo Dankwa received the same (See "TOR Boss Resigns Over $ 4.5 [Million] Bribe Allegations" News Desk – Modernghana.com 4/15/20).
He must, in all likelihood, have been greatly relieved, because then he did not have to look like a dentist trying to pull out an exceptionally stubborn molar that, in spite of the Bosomtwe-sized crater in the middle of it, was adamantly refusing to budge. I wish the same courtesy could be immediately extended towards the Justice Kwame Afreh-, late, removed Executive-Director of the National Procurement Agency, during the corruption-christening and baptizing tenure of former President John Agyekum-Kufuor who, nevertheless, found his way back onto the self-same job in the much-touted anti-corruption Akufo-Addo-led government of the New Patriotic Party (NPP).
It is coming rather late in the game but, of course, even as our Akan sages of yore used to say times without number, it is still much better late than never. Personally, I did not see it any other way, once the evidence for the payola scandal involving Mr. Asante Berko who, until just today, was the Managing-Director of the Tema Oil Refinery (TOR), was reliably sourced to the Securities and Exchange Commission (SEC) business monitors and regulators of the United States of America's Federal Government. You see, here in the United States, there is a common saying that "When the Feds come for you, there is absolutely nothing that you can do to beat off such formidable challenge."
The Feds, of course, refers to the Federal Government of the United States of America. You see, Dear Reader, once the Feds decide to come after you, almost invariably, they may already be in possession of the proverbial "Smoking-Gun," that is, mountains of evidence that you cannot easily parry off or sustainably dispute. They would have been following you and your alleged shenanigans for months and sometimes even years. I suppose the metaphor of the "Smoking-Gun" is one that is historically and filmically associated with that Hollywood-made category of movies called The Westerns.
In Ghana, on the other hand, individual politicians are known and daily seen to be riding roughshod over the laws of the land; that is the stark difference between a failed state, even one with a fledgling albeit robust and highly functional democratic political culture and a healthily functioning one. In practical terms, Ghana is an effectively "Kaput State" that is, nonetheless, in the vigorous process of being resuscitated by unarguably the most talented, visionary and experienced and skillful President that the country has been blessed with in just under three decades of consistent and systematically uninterrupted constitutionally democratic culture.
But, of course, the democracy-loving Ghanaian people continue to be royally, and, I mean, royally sabotaged, first, by all three of our living former Presidents of the country's Fourth Republic, namely, Messrs. Jerry (Jeremiah) John Rawlings; John (Kofi Diawuo) Agyekum-Kufuor; and, of course, John Dramani Mahama, who continues to fiercely and adamantly battle in a bid to re-imposing himself on the very people who roundly and resoundingly rejected him the last time that he deviously attempted to rig his way into the temporal extension of his much-remarked grossly incompetent kleptocratic administration of the country.
We all witnessed the collaborative sabotaging of the "deepening" of local Ghanaian democratic political culture by these Three Musketeers that precipitated the premature scrapping of the December 17 Referendum, that would have established the salutary precedent of having Metropolitan, Municipal and District Chief Executives duly and directly elected by the very people whom they were designated to serve. In Ghana, however, the MMDCEs are known to "rule" rather than "serve" or "govern" the people.
But, of course, with the rearguard of the democracy-scuttling procession being brought up by the Togbe Afede-, XIV, led primitivistic custodians of our near-irreparably ossified National House of Chiefs (NHC), studiously chaperoned by "Professor-Nana" Krobea Asante of Asante-Asokore, arguably the foremost constitutional law maven still alive in the country, and then roundly and fully suited by the Mighty Cudgel of the globally recognized and ceremonially celebrated Asantehene, His Majesty, Otumfuo Osei-Tutu, II, it was a foregone conclusion that true democracy at the local government level may very well have to wait another "political generation" or two.
But even as the globally immortalized and beatified African American Civil Rights Spearhead was widely known to say, and here , of course, the unmistakable allusion is to The Rev.-Dr. Martin Luther King, Jr., "It shall not be long before justice comes tumbling down like hailstones in a snowstorm."
*Visit my blog at: kwameokoampaahoofe.wordpress.com Ghanaffairs
By Kwame Okoampa-Ahoofe, Jr., PhD
English Department, SUNY-Nassau
Garden City, New York
April 15, 2020
E-mail: [email protected]