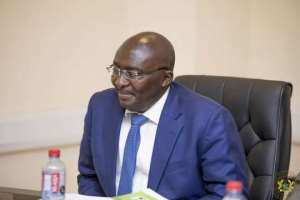 In the run-up to the 2016 elections, it was said that "Ghana we have money!" All we need to unlock the money is a competent government anchored on prudent management economic team led by a competent Vice President who in this case will be Bawumia.
He (Bawumia) at the time, blamed seriously, our poverty, poor performance of the cedi, and borrowing style on the basis of incompetence-led JM government.
Today, fast forward into 2020, which is elections year, we have still not witnessed the results of a competent government led by Nana Addo and his brilliant Vice President. I ask Bawumia humbly and harmlessly, "where have you kept your prudence and competence that you touted could help unlock the money and change the destiny of this nation called Ghana?"
"Is it wickedness, or you were just peddling lies or you are also incompetent or all?" Today, Ghana is under lockdown, and you fail to provide us the basic necessities for live such as free electricity, free hot meals, free credit and internet service for us to reach out to love ones and friends for support in the midst of this damning circumstances.
Only you can do is water! At the countryside, how many people buy water? Water is only a commercial commodity in the principal cities, if only you care to know. And we are all Ghanaians who are either under lockdown, quarantined or in self-isolation for the sake of combating the spread of the virus. We need common facilities that would benefit the majority of Ghanaians!
I wish to end here by calling on the government of Nana Akufo Addo to call on the cabinet to do a thorough review of the interventions arrived at before his last press conference. We find those mitigations woefully inadequate and expect the president to come out with more comprehensive socially centered intervention policies that would inure to the benefit of all Ghanaians.