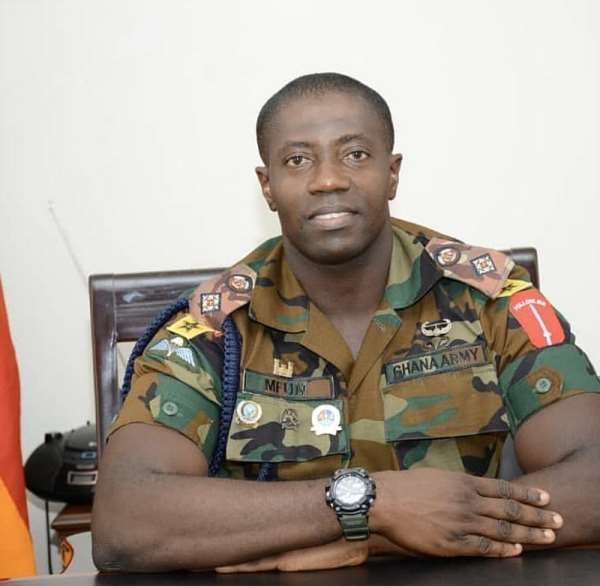 Ghanaians have tolerated military abuse at least all the way from the JJ Rawlings era to the point all we think of, at the mention of soldiers, is Beatings and Brutalising people. It is almost normal to see and or hear of Military abuse of unarmed civilians.
The Police are not innocent in this charge.
It is not surprising that the Ghana Police had to spend so much some years ago, in a Campaign dubbed; "The Police Is Your Friend." Just to woo some friendly feel with the civilian populace.
Until we begin to rethink this error and injustice of social order, that inhumane posture by security men; sometimes with impunity, can never end.
I am sure we can all see our poor street guys often beaten by soldiers for wearing camouflage clothes have not stopped wearing them because apparently, they are yet to learn the very sane reasons behind the order not to wear. There would definitely be some good fruits with humane communication from the military behind such a campaign.
Once, I asked one of such street guys why he chose to wear a shirt designated for the military. His response was a deep one that stayed with me even until now;
"I wear it because it is a spirit of strength against the poverty I am fighting and I don't know why I should stop wearing."
Unfortunately, we have military men who would only chance on such an one, beat him up mercilessly and strip him naked when all he does, is to seek a haven in that "soldier symbol." A bit of education would actually reform him to live in appreciation of the intent of the rules.
The only time soldiers are required to fight is at the war front like Afghanistan soldiers warring against American soldiers in all manner of weaponry.
Soldiers in dealing with civilians (especially unarmed) are required to use humane methods with tact and all civility to restore serenity. They owe that first to their conscience as human beings before the state.
What kind of training would create people who would only beat anybody to address a situation? Lol..Awerɛhosɛm!😅
God being so good, we have seen and heard of some very good examples and that is enough reassurance that the military can do the right thing for lasting results.
Actually, by their fruits, we know the "bugabuga" wicked-minded soldiers as against the many nobles like the Lt. Col. Michael Kwame Afreh Mfum, who distinguish themselves by the good values like education and love for Humanity they carry!…we know!…some were rowdy when amongst us as civilians and still manage to carry their very repulsive selfs into that distinguished service for the nation!
For choosing to appeal to reasoning, rather than inflict pain on the poor and ignorant, we say Congratulations Lieutenant Colonel Michael Kwame Afreh Mfum.
Ghana 🇬🇭 is proud of you Sir!
The "military nonsense" ended a long time ago with JJ Rawlings and must remain there.
Now to those who have unfortunately bought into the simplistic assumption that soldiers are meant for manhandling people, remember with all the wickedness you ascribe to them, when these soldiers go on Peace Keeping missions, they don't go as wicked terrorists to batter human beings already distressed by wars and acts of injustice.
There would be no sense to have the UN spend millions of dollars to deploy troops only to go and beat such people; casualties from wars.
They go there to help reform minds and hearts with counseling models, philanthropic deeds, classroom teaching, and many other kind and gentle appeal.
It is therefore very disturbing and a course to worry, to have people who ought to know better in dealing with Poor and illiterate populace, defend various forms of madness meted out to these civilians no matter their offense.
I have already said it time and again that nothing exposes the gap between the vision of our leaders and the behaviour of the public like the many pockets of cases of individuals, going against the anti-COVID19 directives.
It shows our people are yet to receive the message at heart and it takes very weak people to try to instil that missing culture through beatings and other levels of brutalities.
That can only create hardened hearts and an angry populace to further pose a threat on the existing order. What is wrong can never be right even if it was done to stop another wrong. No human being deserves to be beaten in a Democratic and Civil dispensation.
Governance is a failure until we are able to carry the public along the processes of change with our vision.
Until the Church of Pentecost stepped in, NCCE, the statutory body required to educate the masses on matters like this, interestingly, had Just TWO VANS nationwide!
We are even Blessed as a nation to have selfless people like Dr (Drone) Nsiah-Asare etc who would move from station to station to educate people on safety precautions.
..yet we shamelessly want to defend soldiers beating people who cannot relate with what situation is at hand??…what height of injustice is this??!…do we really practice what we preach when we claim to help and defend the poor??
The fact remains that nothing reveals the nature of a people like how they treat the weaklings amongst them.
How we treat our lowly in society reveals so much about us.
I believe these are rational beings and until you deliberately get them to think like the leaders at the top, you have lost it. Beating is not for rational beings. It has never worked any where if sustainability is a major consideration.
There is just no room for brutish behavior at all if correction is what we seek.
Education, Sensitization, Engagement towards ownership (of whatever measures coming from the top) within the minute Ghanaian society is the only way to see that change! Let us get the security folks act in consonance with these humane tenets (Counseling, Education, Sensitization, Engagement, Empowerment) and the good fruits (grassroots ownership) will appear for all to see.
Let animal behaviour also end in the jungle.
..#Be_Admonished!
#Letme_behonestwithU!
Thank you!