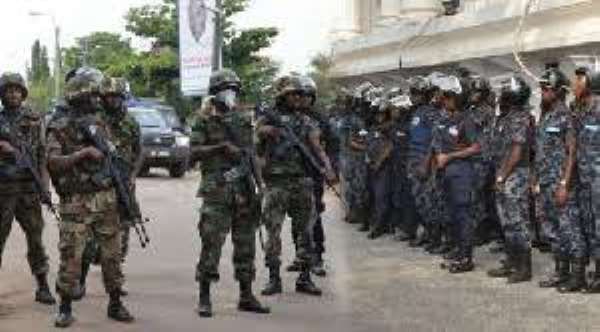 The swelling number of increases in the confirmed cases of Covid-19 in the country has necessitated President Akuffo Addo to impose a partial lockdown on some major cities in the country for two weeks. The restrictions were aimed at slowing down the transmission of the coronavirus. According to the lockdown guidelines issued by President Nana Akuffo Addo, essential service providers like medical and health professionals, food service providers, and media personnel are exempted. Accordingly, the police and the military were endowed with the powers to ensure the strict adherence to the president's decree.
However, some images circulating on social media regarding the behavior of some of the officers are gory and very disturbing. Several videos have surfaced in which police and military personnel were forcing citizens to do squats, scramble on their hands and knees as well as lie down on the ground, receiving slaps and lashes and roll over several times in opposite directions. With view to what is happening, the credibility of these officers comes into a sharp focus. Attacking our youth and mothers instead of educating them on why they must stay indoors is shameful. I think the joint forces of the police and the military are confused about what they are asked to do. People who should know the law better are caught pants down engaging illegality. Such barbaric acts to humiliate and degrade citizens must stop and be condemned. People are already stressed with the attacks of the disease. There are some who are burden with what they will eat, how to make some money and care for their families and some caught up in the web of problematic marriages. This 'overzealous' enforcement approach by the forces makes one wonder if they had any training regarding open-mindedness when engaging the public.
In a town like Ashaiman where majority of the residents are in the informal sector and settlement is not well structured, almost every household will need some essentials every day. This could necessitate people to venture out to shop stuffs that could make them keep their body and souls together. Under what authority are the police beating them?
The President indicated that they must enforce his decree but not this way. The Police and military service should investigate all the alleged cases of brutality by some officers during this era of partial lockdown. They must also emphasize the importance of professionalism and adopting a 'single style and tone' rather than choosing a harder option.