Unfair Distribution of Trained Teachers In Ghana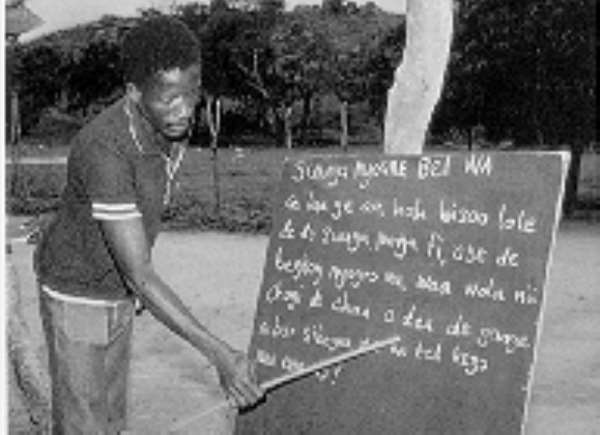 An intractable problem of inadequate and unfair distribution of trained teachers, deteriorating education infrastructure and poor working conditions among others, has left many public schools in both rural and urban communities without the required number of teachers.
Mr. Sam Akoto Danso, a Principal Planning Officer and Special Assistant to the Minister of Finance and Economic Planning, who presented this dossier to stakeholders on Tuesday May 9 at this year's Global Action Month, also disclosed that even in schools where teachers are available, the Pupil -Teacher Ratio (PTR) is so high that effective teaching becomes almost impossible. A classic case is the Zuabulga DA Primary School in the Upper East Region, where one teacher now teaches over 214 pupils.
According Mr. Danso, a similar situation exists at the Ahomahoma DA Primary School in the Ashanti Region and the Nkronua DA Primary School in the Central Region where one teacher handles 193 and 192 students respectively. At the Kotobabi No.2 DA primary school in the Greater Accra Region one teacher has been tasked with teaching 96 students.
These high Pupil -Teacher Ratios (PTR) are however, against both local and international standards for ensuring quality education delivery. The Ghana Education Strategic Plan (ESP), recommends a PTR of 35 to 1 for primary and 25 to 1 for both pre-school and the Junior Secondary School levels.
Internationally, the PTR is an important indicator of how effectively and efficiently quality education is being delivered and is generally accepted as normal if it remains at 40 is to 1.
But with Ghana's PTR widening to as high as 214 pupils to a teacher, stakeholders fear the country's already poor educational standards could worsen. Mr. Danso said whereas the introduction of the Capitation Grant has increased school enrolment by a 17 percentage point from 3.7 million to a record of 4.3 million, this has not been matched by an equal increment in the number of trained teachers.
This mismatch, he said, has left a deficit of 17,000 teachers required to fill the gap.
But beyond the inadequate number of teachers is the problem of teacher deployment across the country, since many teachers refuse postings to deprived communities. Mr. Danso says many teachers prefer the towns, cities and urban centres, where good school infrastructure and accommodation are available. This situation has led to a disproportionate teacher distribution, with some schools having more teachers than they require, while others starved of teachers.
This happens not only between regions, but even within regions and districts. For instance, whereas the Zuabulga DA Primary School in the Upper East region has only one teacher for over 200 students, 7 times in excess of the ESP requirement, the Nakolo DA Primary in the same region, has one teacher to seven students.
In the Ashanti Region too, while teachers at the Ahomahoma DA Primary have to grapple with 193 students each, the Abrakaso DA primary has teachers in excess, making it one teacher to one student.
The same applies to both Central and Greater Accra regions. In the Central Region, whereas the ratio is 1: 192 in the Nkronua DA Primary, it is one teacher to four students at the Ayiresu DA Primary. In the Greater Accra Region, whereas the Kotobabi No. 2 DA has one teacher teaching ninety six (96) students, the Agbekotsekpo DA primary has one teacher to seven students. Mr. Danso was optimistic that if teachers would be more patriotic and accept postings to deprived areas, the situation at Zuabulga, Kotobabi, Ahomahoma and Nkronua Primary schools, which threatens the future children could be corrected. He was candid that, to correct the imbalance, government has to provide incentives, including salary increment of about 10-20 percent and allowances, car loans and accommodation to lure teachers to deprived communities.
Mr. Danso said, tribal conflicts and assault on teachers by community members are some of the disincentives for teachers working in the rural areas. It is to help reverse this trend that the Ghana National Education Campaign Coalition (GNECC) and its partners chose the theme: Every Child Needs A Teacher", for this year's global action Month, dubbed; 'A Big Hearing'.
In his welcoming address, Mr. Emmanuel Kuyole, Executive Council Chair of GNECC, said education is not only a human right and an indispensable right for realizing other rights, but also a vehicle for individuals to lift themselves out of poverty and participate fully in their communities. Besides, "it saves lives," and without it, the talk of stopping the HIV/AIDs pandemic, poverty, hunger and reducing both child and maternal mortalities would be in vain.
Though Mr. Kuyole lauded government on its decision to abolish fees and levies and the success chalked so far in improving increased enrolment and access, he was not happy that the goal of universal coverage and free quality basic education remains a dream to many a children from deprived communities. He said the Global Action Month is to remind stakeholders that in the quest for universal education there cannot be a trade off between access, quality and equity, as "access without quality is meaningless and quality is the essence of equity."
The occasion was chaired by Professor Anamua-Mensah, Vice Chancellor, University of Education Wineba. The Minister for Education, Sports and Science, Mr. Papa Owusu-Ankomah represented Vice President, Aliu Mahama as the guest of honour.