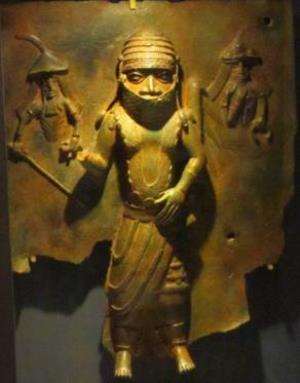 Chief Owangue, Benin, Nigeria, now in Horniman Museum, London, United Kingdom
We, Europeans, who have received and transmitted and continue to transmit these objects, are on the side of the conquerors. To a certain extent, this is also a 'heritage that weighs us down'. But there is no fatality. The good news is that in 2017 the history of Europe being what it is and has also been for centuries, a history of enmity between our nations of bloody wars and discriminations painfully overcome after the Second World War, we have within ourselves the sources and resources to understand the sadness, or the anger or hatred of those who, in other tropics, much further away, poorer, weaker, and have been subjected in the past to the intensive absorbing power of our continent. Or to put it simply: it would be sufficient today to make a very tiny effort of introspection and a slight step aside for us to enter into empathy with the dispossessed peoples.''Bénédicte Savoy. (1)
Readers are by now familiar with my statements that Western museums and the supporters of the universal museums are full of inventiveness when it comes to developing tactics and theories that will help avoiding or at least postponing, the restitution of looted African artefacts in their museums. They seem prepared to do anything except simply accept that looted African artefacts must be returned to their owners in Africa. A good example is the proposal now coming from the Horniman Museum, London, published under the title Horniman Museum to consult Nigerian Londoners on return of looted Benin bronzes. (2) The museum will consult Nigerian Londoners about the future of its Benin bronzes. A team of experts and artists from Nigeria and UK will research the Benin collection before the public is given a chance to express their opinion. The museum has 50 Benin artefacts out of its 22,000 African artefacts.
According to the report, Horniman Museum wants to have 'equitable conversations' about the future of its collection of its looted Benin artefacts.
"This includes being open and transparent about what we have and what we know about it, as well how these collections are currently used and stored, and what opportunities for access are currently available.'
'The discussions will be open, but with a view to developing a set of actions associated with but not limited to access, ownership, care and interpretation."

Priest of Ugbor Village with dreadlocks, Benin, Nigeria, now in Horniman Museum, London, United Kingdom.
Horniman museum's proposal for equitable conversations is no doubt its response to an ever-increasing pressure on Western museums to restitute their looted African artefacts. This response comes after French President Macron's declaration on the need to restitute African artefacts looted in the colonial period and the subsequent recommendation by the Sarr-Savoy report to restitute African artefacts taken without the consent of the owners. Germany has responded to this pressure by publishing new guidelines on handling artefacts looted during the colonial rule and the Dutch have established new rules on this matter. The Arts Council England is seeking a producer of new guidelines. Horniman's equitable conversations must be viewed against this background.
What are precisely equitable conversations? My Oxford Advanced Leaner's Dictionary of Current English (Eight edition) defines 'equitable' as ' fair and reasonable; treating everyone in an equal way'. Can there be 'a fair and reasonable' conversation about undoubtedly looted artefacts after one party has kept them for more than 100 years and is still refusing to return any to the owners? Can there be equitable conversations between looters/looters successors and owners of the artefacts, between those who have inherited the plunder and wealth of imperialist domination and those whose sweat and labour, including slave labour, created imperial wealth?
But why are Horniman museum and other European museums now, after hundred years of neglect and insults, interested in having conversations with the African peoples? They seem to have realised finally that they lack any convincing legitimacy in holding those looted artefacts. They now seek to build some sort of legitimacy and are seeking to draw the African diaspora in the Western world into discussion instead of facing squarely the owners in Africa. But this quest for legitimacy has its own problems. The African diaspora has its origins in slavery and colonialism and the approach by the museum is not without its pitfalls. The African diaspora knows the museums and their dubious ways and tricks better than many an owner at home in Africa. Diasporans live close to the museums and have no problem in realizing the connections between slavery, colonialism, looting and the current racism of which they are the primary victims on a daily basis.
The Benin artefacts in Horniman museum were admittedly bought by Frederic Horniman, the museum's founder, in 1897 soon after the notorious British invasion of Benin. Annie E. Coombes states in her excellent book, Reinventing Africa, with reference to the founder of the museum that "In 1897, he was quick to buy up a considerable amount of Benin material from established commercial sources and private collections."(3)
It is disappointing that after so many years, equitable conversations are what the museum wishes to establish on such an important contemporary matter instead of coming out with a clear policy on restitution.

Ekpenede, Iyase of Benin, Benin, now in Horniman Museum, London, United Kingdom.
Who are Nigerian Londoners with whom the museum seeks to have equitable conversations? Are they Nigerians living in London and not elsewhere in Britain or are they Londoners with Nigerian descendance or background? The museum can talk to whomever it chooses and there is no objection to discussions on artefacts, equitable or inequitable. But all this seems to be playing for time. The main issue now is the restitution of looted Benin artefacts. We are surprised that the museum wants to talk to Nigerian Londoners, whoever they are, about 'access, ownership ,care and interpretation.' The right interlocutors for the Horniman museum on the main issue of ownership are the Benin owners in Benin City, Nigeria and the Nigerian government.
It is good that Horniman intends to talk to British and Nigerian artists, but we must note that the relevant question about the Benin artefacts now is not their artistic quality or the level of the Benin craftsman. It is now accepted that the Benin craftsmen had achieved a very high level of sophistication and craftmanship. Felix Luschan had already in 1919 declared: 'These Benin works stand among the highest heights of European casting. Benvenuto Cellini could not have made a better cast himself, nor anyone before or after him, even to the present day. These bronzes reach the very heights of what is technically possible.'(4)
The urgent question now about the Benin artefacts is their ownership. Should these exquisite treasures be returned to their African owners in Benin who, through excessive violence of war by the British, have been deprived of the use of their artefacts for hundred years or should they remain with the British who have kept them for so long though they do not belong to Benin cultural area. This is how the matter has been seen in France, Germany, Netherlands and elsewhere. Horniman may wish to add to the list of artists it intends to consult, art historians, jurists and historians. Nigeria has many such specialists, not necessarily in London, who have spent some time in studying the issue. One can think of Sylvester Ogbechie, UC Santa Barbara, Chika Okeke Agulu, Princeton University, Peju Layiwola, University of Lagos and many others from that great country of culture which has been robbed many times by those pretending to help.
It seems Horniman museum has not advanced much on the issue of restitution since we last visited the museum in Forest Hill and so we can repeat what we wrote in 2011:
If the Horniman Museum is really interested in "equitable and respectful relationships not only with the peoples of Africa, but with the rest of the world," the museum must take concrete steps such as returning a few of the Benin bronzes, in response to the long-standing request from the Benin Royal Family and in fulfilment of several UNESCO and United Nations resolutions. (5)
The Horniman Museum is, of course, not alone in applying delaying tactics in the form of offers for discussions. It is aware of the examples of the Victoria and Albert Museum offering to loan looted Maqdala treasures to Ethiopia and the British Museum offering to loan looted Benin artefacts to Nigeria. Horniman Museum, like the British Museum, is a member of the Benin Dialogue Group which has ruled out restitution. (6) These citadels of looted treasures of others act as if they were facing demands for restitution for the first time and thereby demonstrate their utter contempt for the former colonial and conquered peoples. These Western museums are not willing to return even a few of the artefacts Europeans looted from the colonies with violence. Their lack of empathy with the African owners is obvious. Should we continue to listen to speeches that only reinforce racist assumptions of superiority?
An innocent bystander, listening to discussions on restitution of African artefacts may be excused for thinking that Africans were begging Europeans to lend them European artefacts which the Europeans needed for practicing European culture. The bystander may also be excused for thinking Queen-Mother Idia was a European goddess that Nigerians had learnt to admire as a result of colonial education and not a noble Benin heroine who played a crucial role in the history of Benin. Nefertiti may appear as a queen of ancient Germans and not as an Egyptian queen illegitimately held in Berlin.
African intellectuals and leaders must finally develop a more active and self-respecting approach rather than waiting for those who use every occasion to show their unwillingness or inability to follow any path other than that of our continuous centuries old humiliation. We must demonstrate that we can learn from history.
Kwame Opoku.

Priest Doctor of the Royal Army and Benin War Chief, Benin, Nigeria, now in Horniman Museum, London, United Kingdom.
NOTES.
1. 'Nous, les Européens, qui avons reçu et transmis et continuons de transmettre ces objets, nous sommes du côté des vainqueurs. D'une certaine manière, cela aussi, c'est un « héritage qui nous écrase ». Mais il n'y a pas de fatalité. La bonne nouvelle, c'est qu'en 2017 l'histoire de l'Europe ayant été ce qu'elle a été aussi pendant des siècles, une histoire d'inimitiés entre nos nations, de guerres sanglantes et de discriminations péniblement surmontées après la Seconde Guerre Mondiale, nous avons à l'intérieur de nous-mêmes les sources et les ressources pour comprendre la tristesse, ou la colère, ou la haine de ceux qui, sous d'autres tropiques, plus loin, plus pauvres, plus faibles, ont été soumis par le passé à « l'intense pouvoir absorbant » de notre continent. Ou pour dire les choses simplement : il nous suffit aujourd'hui d'un minuscule effort d'introspection et d'un léger pas de côté pour entrer en empathie avec les dépossédés.'
Bénédicte Savoy, Objets du désir. Désir d'objets Histoire culturelle du patrimoine artistique en Europe. XVIIIe–XXe siècles Leçon inaugurale prononcée au Collège de France le 30 mars 2017
https://www.college-de-france.fr/site/en-benedicte-savoy/inaugural-lecture-2017-03-30-18h00.htm
2. Horniman Museum to consult Nigerian Londoners on return of
www.msn.com › en-xl › africa › top-stories › ar-BBZtGvR
Horniman Museum to consult Nigerian Londoners ... - MSN.com
Horniman Museum to consult Nigerian Londoners ... - Flipboard
3. Annie E. Coombes, Reinventing Africa, Yale University Press, New Haven and London, 1994, p.150. A Guide to the Collections in the Horniman Museum and Library, 1921, describes the Benin collection as follows: "The Benin collection, obtained shortly after the town was destroyed by a British force in 1897, contains the following specimens:-a number of bronze panels with figures in high relief; small bronze pendants with animal figures;
small pendants with human figures ;brass mask with face showing tribal marks; brass fowl, bell, armlet, dancing wands; ivory armlets ;ivory handles with human figure at end (?handles of fly-whisks) ;wooden comb; carved wooden frame: and other objects." p.43. The catalogue also contains some remarkable statements such as:
"Since the backward races of Asia, Africa, Oceania, and America- in so far as they have not become semi-civilised or extinct- still make use of simple primitive contrivances analogous to those discarded by our remote ancestors, a large part of the collection consists of specimens from such peoples." p.13.3.
4. Felix von Luschan, Die Altertümer von Benin, 1919
5. www.toncremers.nl › kwame-opoku-horniman-museum-and-the-restit...Kwame Opoku - HORNIMAN MUSEUM AND THE ...
6. K. Opoku, www.modernghana.com › news › loan-of-looted-ethiopian-treasures-t...Loan Of Looted Ethiopian Treasures To Ethiopia: Must Europeans always win?...
www.modernghana.com › news › benin-dialogue-group-removes-rest...
Benin Dialogue Group Removes Restitution Of Benin Artefacts ...

Hip mask of Queen-mother Idia, Benin, Nigeria, looted in 1897 and now in British Museum, London, United Kingdom.