Coronavirus: We Flew $3m To Brazil But We Can't Fly Ghanaian Students Out Of Hubei Province In China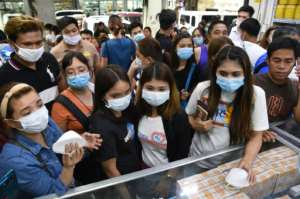 I know this is a very contentious issue; whether to leave Ghanaians in the Hubei Province of China, which has been hit by the novel coronavirus or to show them that we care.
I will rather opt for us to show them that we care. That may seem a dangerous posture to assume in the midst of growing uncertainty around the world concerning the virus.
As I write, the virus has taken more than 300 lives and the BBC world service (radio) reports that around 14,000 cases have been recorded in China. Also, 22 countries mainly in Asia, Europe, the United Arab Emirates and the US have recorded cases of the virus. All lives lost are in China except the Philippines which has recorded 1 death.
Moreover, according to estimates by the University of Hong Kong, cases may be higher than official numbers indicate. The university is estimating about 75,000 cases in the epicenter of the outbreak, which is the city of Wuhan, alone.
To depict the severity of the situation, the World Health Organization (WHO) has declared the outbreak as a public health emergency of international concern. This, according to the WHO is to ensure that lower and middle-income countries, who have less rigid health systems are given "extra" support as they may not be that apt to spot a case.
From the issues laid bare, I cannot fault anyone who will insist that Ghanaians who are caught up in this unfortunate incident in China must be left there. I just disagree.
Listening to a Ghanaian student only named as Michael in the wee hours of Friday, 31st of January, on the BBC's News Day Programme it was clear that the "anxiety" which he exhibited and alluded to was not waning anytime soon.
This was because, according to him even the Chinese nationals in Wuhan were "panic buying." He had also reached the Ghanaian Embassy in China and they said that, "they are not going to evacuate" them. This, to him, meant that any hope of the about 400 Ghanaian students caught up in the epicenter of the virus had little hope of being flown out of the country like other states have done for their citizens. The US, UK and Japan have evacuated some of their citizens out of Wuhan. Australia, New Zealand, India, Canada, South Korea, Turkey and some EU countries have announced to evacuate their people in the coming days. In the anxious voice of Michael he said, "even Egypt and Morocco" are contemplating similar action but "no Sub-Saharan" nation seemed to be weighing the thought.
I'm in Ghana and I can attest to the reluctance of a Sub-Saharan nation's priorities health-wise. If those who are in the country have to rant with blunt tongues for mere ambulances how much more those who are 7,397 miles away- the distance between Ghana and Wuhan?
Genuinely, there are inadequate systems for us to tackle the virus if it enters the country on our blind side. But the virus, with all its deadly possessions can be controlled. It has been established that a carrier of the virus will exhibit symptoms within 14 days after contracting the virus. This shows that Ghanaians who are caught up at the epicenter of the virus and are known to be uninfected can be flown back into the country and quarantined for 14 days or more to ensure their safety. For their consistent stay in China is a threat to their lives.
Hours Before I started writing this article, a discussion mostly favouring the idea that we in Ghana must protect ourselves first and disregard our brothers and sisters in China had ensued. To me that posture depicts outright callosity.
Some say we don't have the money. I don't agree. We flew 3million dollars from this country to water fruitless pitches in Brazil in 2014.
3.2million cedis have been used to brand buses in this country. Presenting the 2020 budget in Parliament last year, Finance Minister Ken Ofori-Atta allocated 10 to 20 million dollars to build a cathedral. Are human lives less important than a cathedral?
The 39,500 cedis sent by government is needful, considering reports coming from China.
But if we cannot fly Ghanaians, literally smelling death, out of China then the expected patriotism we need to lift ourselves out of the quagmire, which is very low, is been lowered further. Who will sacrifice for something that does not regard her or him? Not me!
Kofi Boateng is a final year student of the Ghana Institute of Journalism. With an unwavering passion for his continent and country, he aims to use his words - in speech and writing- to fight for what is right.