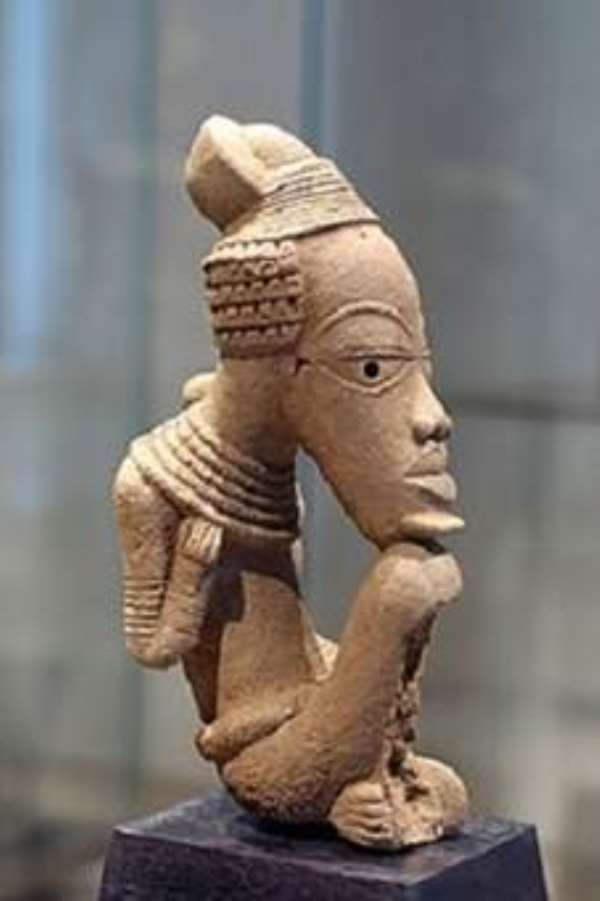 Figure of a seated male. One of the looted Nigerian Nok terracotta, now in the possession of the Musée du Quai Branly, in the Palais des Sessions, Paris, France, with post factum Nigerian consent even though the ICOM Red List For Africa forbids exportation of such artefacts.
Stéphane Martin, President of Musée du quai Branly who, after twenty-one years as President of the museum, leaves office on 9 January 2020, has given an interview to Le monde, 2 January,2020, in which he repeats his objection to restitution of looted African artefacts as recommended by the Sarr-Savoy report, Restitution of African Cultural Heritage. Toward a New Relational Ethics which he qualifies as ''self-flagellation and repentance.'' Martin prefers 'sharing' the objects in his museum to restitution.
We will not comment on the self-praises Martin heaps on his own museum except to state that, by all accounts, the Musée du quai Branly-Jacques Chirac has been a success and Martin can be proud of the accomplishments during his term of office. Ever since the opening of the Musée du Quai Branly in 2006 we have seen almost all the exhibitions there and have admired the dedication and the ability of its officials. Even those exhibitions we did not particularly like, taught us something and gave us food for thought. We definitely did not appreciate the exhibition, Tarzan! ou Rousseau chez les Waziri presented at the Musée du Quai Branly, in September 2009. (1)

Gorilla welcome at the exhibition Tarzan! où Rousseau chez les Waziri presented at the Musée du Quai Branly, in September 2009.
But as we have always maintained, given all the marvellous looted cultural objects of other peoples in the museum, it is impossible to imagine any qualified persons failing totally in the process of exhibiting them. We must state without any ambiguity that the question of our times is not whether Martin or any of the directors of Western museums has taken good care of the looted African artefacts under their control or about any aspect of their leadership. The burning question is the ownership of the looted African artefacts in Western museums and whether they should be restituted to their African owners who are demanding their restitution.
Readers may recall that we described the declared support of Stéphane Martin for the restitution of looted African artefacts in French museums as bordering on the miraculous. Previous to President Emmanuel Macron's declaration at Ouagadougou on 28 November 2017 in favour of restitution and the subsequent Sarr-Savoy report recommendations in favour of restitution, the President of the Musée du quai Branly as well as his staff had taken a definite position against returning artefacts to Africa. Stéphane Martin declared to Sally Price when she interviewed him about restitution:
"We are not in the business of buying ourselves a clear conscience vis-a vis the non-Western world or becoming an "apology museum," relaying messages based on the heritages of [cultural/ethnic] communities the way museums in Canada and the United States do for Indians. In France we have a more objective vision of culture. It's free of all instrumentality (nationalistic, pedagogic, etc), though it's becoming more and more difficult to defend... In my view, the argument for returning the contents of museums to their countries of origin is a rejection, pure and simple, of the museum's calling which is to show the "Other" which means, by definition: outside of its original environment... Art objects are also ambassadors for their culture, and in that capacity, they're an element in the dialogue between peoples." (2
This position understandable in view of the fact that Musée du quai Branly-Jacques Chirac has most of the looted African artefacts in France, some 70,000 out of a total of 90,000 objects. (3)

Throne of King Ghézo, Abomey, Dahomey, Republic of Benin, now in Musée du Quai Branly, Paris, France, to be returned to Benin.
After Macron's speech at Ouagadougou, Martin ,to our greatest surprise and delight, declared himself in favour of restitution of looted African artefacts and advanced some solid grounds for restitution: "There is a real problem which is specific to Africa. Cultural heritage has disappeared from the continent. In the African art exhibitions, we have held since opening in 2006, not a single work was lent by an African museum. We ought to do something to repair that."(4)
Stéphane Martin was one of the experts consulted by Bénédicte Savoy and Felwine Sarr as mentioned in their report. Without the help of Martin and his staff at the Musée du quai Branly the work of the Sarr-Savoy commission would have probably taken a longer time than it did. (5) However, as soon as the report was published, Martin denounced it and returned to his original position of anti-restitution. What then happened to his miraculous conversion? He declared that the idea of Macron to restitute African objects was a courageous position of the president which had been damaged by the Sarr-Savoy report. This is remarkable.
Martin praises Macron who spoke in Ouagadougou about the necessity for restitution of African artefacts:
'I cannot accept that a large part of cultural heritage of several African countries is in France. There are historical explanations for that, but no valid justifications that are durable and unconditional. African heritage cannot only be in private collections and European museums. African heritage must be highlighted in Paris, but also in Dakar, in Lagos, in Cotonou, this will be one of my priorities. I want conditions to be met within the next five years for the temporary or permanent restitution of African heritage to Africa.'(6)
Macron subsequently commissioned Bénédicte Savoy and Felwine Sarr to prepare a study advising him on how to go about restitution with concrete proposals Their mandate was to study the issue of restitution and recommend the necessary measures and conditions which would be necessary for the restitution of the African heritage that is now in French museums within five years. They were to make propositions of concrete actions to be taken. The idea of restitution thus clearly came from President Macron and is not an invention of Sarr and Savoy. If Martin really objects strongly to restitution, if he thinks that restitution would be a monumental mistake, the correct addressee would be certainly Macron. It would have been a very strange situation if the French president asks two scholars to study the issue of African heritage in France and make concrete recommendations, they came up with suggestions that ignored restitution or suggested loans, instead of restitution.
Martin's alternative to restitution is 'sharing' the looted objects but his understanding of 'sharing is not what most of us would think. He is not returning the objects to the owners in Africa but is willing to loan them. In all the talk about loans, nobody has stated clearly for us what the terms of the loan could be. Will the African States have to pay some costs for the loan of their own looted artefacts? Transport costs from Europe to Africa and return? Insurance premium?
Martin seems also to think that appointing Africans or people of African origin to his museum would make up for the loss of the articles.

Felwine Sarr, Senegal, and Bénédicte Savoy, France, in the courtyard of Collège de France, Paris, where they prepared their famous ground-breaking report on restitution of African cultural heritage,2018. Africa is forever grateful.
We were very surprised that Martin thinks that employment of Africans in his museum is relevant to the issue of restitution. Certainly, we would all welcome seeing African curators and conservators at Quai Branly, but this certainly has nothing to do with restitution of looted African artefacts and must be considered in another context. Martin says Quai Branly is too white and must take on colour. I am not aware that anybody has made this remark in connection with restitution. We have been visiting Quai Branly since its inception in 2006 and have never felt that the museum was obliged to employ Africans or that failure to do so compromised its standing. If the museum has been practising racial discrimination among its applicants for employment, then that should be corrected but that would not affect demands for restitution. The remark on the museum being too white gives the impression that Martin and many of his supporters do not really understand the nature of African demands for the restitution of their looted cultural artefacts nor do they appreciate the symbolism involved in the capture of the artefacts of peoples defeated in war. Even if the museum employed many Africans and persons of African descent, we would still put in claims for restitution.
We were bemused by Martin's argument that one should not restitute looted objects because this amounted to dismantling collections. Did the French ever think of the effects of stealing individual items from their original locations? This was an even greater disassembling of objects than their return to Africa could ever be. In any case can those who are holding looted African objects seriously present this argument against restitution. Can a thief who has stolen my Mercedes Benz seriously argue that by returning my vehicle the pattern of his collection of looted vehicles would be disturbed?

Among the impressive African objects in the Pavillon des Sessions, Louvre, is this sculpture of Gou, God of war, that the French looted in 1892 from the former French colony, Dahomey, now to be returned to the Republic of Benin.
Martin describes the Sarr-Savoy report as 'self-flagellation and repentance. We have no personal experience of self-flagellation, this not being part of African culture but if by this term Martin means self-inflicted wound, then it is really surprising. How can the returning of undoubtedly looted artefacts by France, a nation that is largely Christian, be considered as self-inflicted damage? What kind of morality is being promoted in the French museums? We would think that France, like any other State that returns looted objects of others, grows in stature. It is not a sign of weakness to return objects looted by a previous generation to its owners as a sign of reconciliation and a wish for better future relations based on mutual respect and not violence. Many have not yet understood the subtitle of the Sarr-Savoy report: Restitution of African Cultural Heritage. Toward a New Relational Ethics
It is depressing that even after the Charter of United Nations (1945) banning the use of force except in narrowly defined situations of self-defence, there are people who seem to approve of the use of violence in acquisition of artefacts.
It is remarkable that Martin uses 'repentance' to describe the Sarr-Savoy report. Repentance or repentances could be used accurately to describe Martin's own position regarding restitution. After Macron's historic speech at Ouagadougou, Martin seems to have repented for siding with the anti-restitution group and joined supporters of restitution. Subsequently, and in the interview with Le Monde, he seems to have repented again for ever supporting restitution and moved back to his original anti-restitution position. Everyone is entitled to change his or her position on such issues but how often can one change such a position and within which frame of time? And is the position Stéphane Martin adopts in the Le Monde interview the last change, the last repentance? Are people aware at all that the United Nations/UNESCO have in countless resolutions called on Member States holding cultural objects of others to return them to their countries of origin? (7)
With regard to restitution, Martin declares : "To deconstruct the history of collecting and collections is to misunderstand what is part of the cultural history of humanity''. We agree to with Martin that the history of looting or what he calls 'history of collecting and collections is part of the cultural history of humanity. But are the history of restitution and the refusal to restitute not also part of the cultural history of humanity? It is remarkable how often Western museums advance arguments based on universalism and humanity when they are short of serious explanations for their wrongful acts against the majority of humanity and when they have destroyed many parts of the universe. This happens mostly when they are defending their narrow national interests.
If Westerners are still not willing to return, perhaps with payment for the long use by them and the long deprivation of the African peoples, they should keep the looted artefacts until they finally accept that it is wrong and condemnable to steal the artefacts of other peoples and after 100 years pretend they are doing us a great service by even discussing the issues involved. Africans must at all costs keep a minimum of self-respect even when dealing with successors to looters. Must Africans always be second class, even with regard to African artefacts?
The successor of Stéphane Martin at the Musée du quai Branly-Jacques Chirac and her/his staff would have to decide whether to join the growing supporters of restitution or fall back on the imperialist and colonialist positions that still do not accord equality to the African peoples and their cultures despite all words to the contrary, even at the museum where cultures dialogue. Là où dialoguent les cultures.

Royal statues, Dahomey, Republic of Benin, now in Musée du Quai Branly, Paris, France. Left, King Glélé, half-lion, half- man. Centre, King Ghézo, half-bird, half-man. Right, King Béhanzin, half-shark, half-man. To be returned soon to Republic of Benin.
NOTES
1. Does Tarzan Still Rule the Western Imagination of Africa ...
https://www.modernghana.com › news › does-tarzan-still-rule-the-western-
2. Sally Price, Paris Primitive: Jacques Chirac's Museum on the Quay Branly University of Chicago Press, 2007. See also K. Opoku ,The Logic of Non-Restitution of Cultural Objects from the Musee du quai Branly... - Afrikanet.info www.afrikanet.info › Home › African Ar
3. Annex I List of African Artefacts held in Musée du quai Branly-Jacques Chirac
4. Quai Branly-Jacques Chirac Museum in Paris is ready to return African theartnewspaper.com/.../ethnographic-museum-ready-to-return-a
Stéphane Martin : «L'Afrique ne peut pas être privée des ...
https://www.lefigaro.fr › Culture
PressReader - Le Figaro: 2017-12-07 - « L'Afrique ne peut pas être ... https://www.pressreader.com/france/le-figaro/.../2821535866141 ..
5. Annex II Document fron Sarr-Savoy Report
6. Le discours de Ouagadougou d'Emmanuel Macron. Le Monde Afrique ,29.11.2017 Restitution du patrimoine africain
7. KwameOpoku - PARZINGER'S CRI DE COEUR: GENUINE PLEA FOR UN ... https://groups.google.com › forum
ANNEX I AFRICAN ARTIFACTS HELD IN MUSÉE DU QUAI BRANLY, PARIS.


Annex II
Document 3, Sarr- Savoy Report