Put Akamba In Shackles Before He Keeps You In Opposition Forever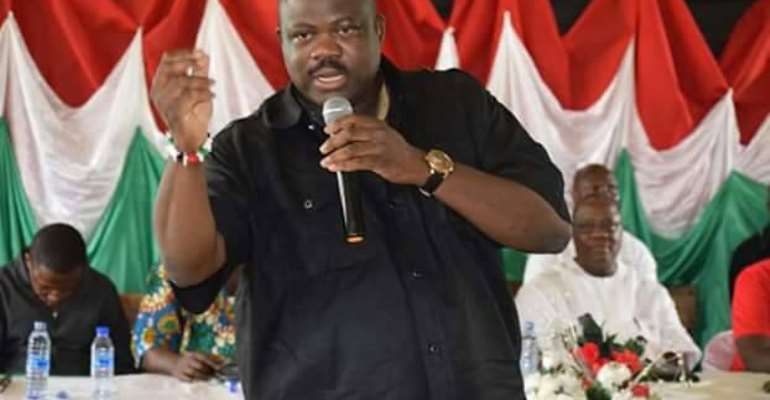 I read without much surprise, a comment from Joshua Akamba, the National Organiser of the opposition NDC, spurring the supporters of the party to give a slap to any appointee in a 'future' NDC government, should that appointee demand a certificate before giving a job.
As I said, I was not shocked when I saw the comment knowing the kind of person I know and many Ghanaians know Akamba to be. I'm only inspired to write this piece in order to highlight the cerebral weakness of Akamba and his ilks. Point is, Akamba is not seen in the slightest bit as a political force in the current political landscape of Ghana. He has endeared himself as a comedian per his appearance, posture, and comments. He is not that deep mind you will expect as an occupant of the position he occupies in the NDC currently.
That aside, the NDC is still reeling from the bruises of the 2016 elections. The party's reputation is so mangled - much so that, it needs strategic planning, systemic overhaul, and rebranding in order to instigate in Ghanaians, a mote of trust. Ghanaians still see the party as not credible which is mirrored in all the afro barometer surveys we've seen while the NPP continues to dip steeply. Given this background, the NDC should be very very pensive in selecting who speaks for it.
While I am not an NDC and thus, care less about the success of the party, I am not dumb to think the party can never come to power one day. No! Precisely why the actions and inactions of the NDC in opposition should worry every decent-minded Ghanaian. If the NDC promises to cancel for example, teachers' licensure exams, everyone must be worried considering that such a move will further destroy the reputation of our weak educational system. In summary, NDC is a government in waiting and so we should be putting it in check even when it's in opposition so that in the unlikely event when it transposes to government, we'll not be served the toxic governance we saw between 2008 and 2016.
Too much digressions.. what's my point? Akamba, is telling us that, competence, skill, knowledge, training, etc don't matter in a 'future' NDC government. There are two things one can infer from this boorish comment. First, it's one of the loose political talks intended to abuse and exploit party supporters for the few political elites.
The chorus of party footsoldiers in almost all ruling parties, has been "we've been neglected". We see party footsoldiers who fought on the streets, stood in the sun, campaigned in villages at the expense of other commitments of their lives, being ignored anytime an opposition party transitions into government. That narrative can never change! Why? The Akans say - yɛde nkwasiafoɔ pɛ tumii na yɛde nyansafoɔ abu man - to wit - we use fools to look for power and then use the wise to rule. However painful this statement is, it's the truth. You cannot make an unskilled or untrained person a minister no matter how much he/she helped you. The NDC folks should therefore wise up and not allow a mere Akamba to play mind games on them.
The second inference and perhaps the most worrying is the fact that this boorish statement depicts the psychological underpinnings of the opposition party, NDC's struggle to come back to power. It's all about coming to CHOP! Contrary to what the NDC would have us believe, they are jostling for power only to assume the reins of 'chopping' the resources of the state as though they were spoils of war. While I know it's foolish and a moot suggestion for Akamba to say certificates will not matter in recruiting teachers, doctors, ministers, police, etc, his comment highlights his cerebral weakness, lays bare his complete ignorance of governance, and exposes the psyche behind NDC's jostle for power.
This brings me to an important subject which we have not paid too much attention to as a country. Political party financing. It's the breeder of corruption. In a country where politics is seen as a business investment, you can be sure that corruption will continue in perpetuity. Not the Anases, Manassehs, Domelovos, OccupyGhanas, etc can fight this canker if we don't change the laws governing political party financing. Whenever I talk about this, I remember one hypocrite in Ghana's politics, Kennedy Agyapong. He fought the NPP for attempting to punish the corrupt former BOST MD because he claimed, the MD contributed Ghc7million to NPP's campaign and so by his logic, that immunes him from punishment for corruption. That was by the way..
But before you blame the child for his misbehaviour, you should ask what advice his father gave him because for all you know, the boy may only be regurgitating what the father said or did. In this regard, it's important to recall what the NDC chairman, Mr Ofosu Ampofo said few months ago. He said in the next NDC government, it will be about NCNC - no contribution, no chop.
So before I say to the NDC to put Akamba in shackles, I should tell them to start the shackling from the National Chairman before they both (Ofosu Ampofo and Akamba), keep the lame horse in opposition.
This of course maybe my last ink for 2019 unless something compellingly urgent comes up before the tomorrow. Thank you all and see you hopefully in 2020.
Beware of fake prophesies!