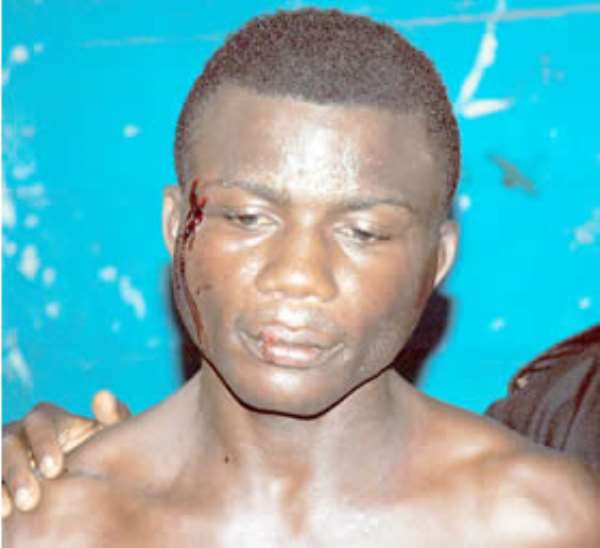 There was a twist in the case in which Aryee Aryeetey, alias Ataa Ayi, and eight others are standing trial for allegedly robbing a businesswoman of $65,000 and ¢45 million, when one of the accused persons confessed before the Accra Fast Track High Court that he committed the robbery with Ataa Ayi and five others.
The accused person, Nana Osei Razak, told the court that he received $5,000 and ¢2 million after the robbery. He is the second person to have confessed to committing the crime.
Another accomplice, Nana Yaw Owusu, also confessed on July 4, 2005, to have committed the offence but explained that those he committed the offence with were not those he was standing trial with.
Owusu informed the court, presided over by Mr Justice P. Baffoe-Bonnie, that the Ataa Ayi he committed the offence with was not the Ataa Ayi in the dock alongside him.
At the court's sitting in Accra on Thursday, Razak mentioned his other accomplices as Ataa Ayi, Nana Yaw Owusu, Raymond Ameh, Frederick Lamptey Annan, Kwabla Agbodogah, alias Rojay, and Samuel Kwaku Annan, alias Sammy Tugah.
He, however, did not mention the names of Stephen Nyarko and Nana Asante Agyekum as his accomplices.
Owusu and Razak have since been convicted of their offence and are expected to be sentenced during the final determination of the matter.
The accused persons, who were alleged to have robbed their victim at a spot between St John's Grammar School and the Taifa Junction in February, 2003, are facing conspiracy and robbery charges.
The prosecution is expected to call its independent witnesses following the denial by six of the accused persons that they had confessed to any wrongdoing to the police, with the explanation that they were made to admit their caution statements under extreme duress, intimidation and threats of harm.
The six — Nyarko, Agbodogah, Annan, Ataa Ayi, Ameh and Razak — denied the confession statements after the statements had been read in court by one of the investigators in the case, Detective Inspector Cosmos Ahiakpa.
Narrating how he committed the offence with the others, Razak stated that he was a Nissan Urvan bus driver who plied Accra, Takoradi, Asankragwa and other routes until he met Lamptey at the CMB Station in Accra in 2002.
He said Lamptey asked him to lift his television sets, which were meant for video games, to Agbogbloshie in Accra.
Speaking in Twi through a translator, he said he charged Lamptey ¢150,000 but he paid him ¢250,000 instead, adding that Lamptey assured him he was ready to do business with him anytime.
He said they accordingly exchanged telephone numbers, resulting in Lamptey calling him on a later date to meet him at Bukom, a suburb of Accra.
He said during the meeting, Lamptey introduced him to some members of the gang and later gave him ¢200,000.
Razak further told the court that it was later in February, 2003, when Ataa Ayi called him and requested to meet him at the Rawlings Park, where they met and left on a motorbike being ridden by Ataa Ayi.
According to Razak, he questioned Ataa Ayi where he was being taken to and Ataa Ayi informed him that Lamptey had asked that he (Razak) be brought to Taifa junction.
He further stated that Ataa Ayi declined to tell him what they were going to do at Taifa junction until they got to Legon, where they saw a woman get down from a KIA Sportage vehicle and enter a forex bureau, while Ataa Ayi and Lamptey kept communicating on phone.
The accused person said when the woman returned from the bureau and entered her vehicle, he and Ataa Ayi, on the bike, followed her car, while other members of the gang laid ambush at Taifa Junction.
He said on reaching Taifa Junction, Lamptey pulled a gun on the woman, while his other colleagues, who were all wearing masks, surrounded the vehicle.
He said Lamptey's mask fell in the process but he managed to retrieve a bag containing money from the car, while Ameh opened the car booth and removed boxes of biscuits, money, fish and other items.
He said he was on a motorbike while the incident took place, adding that he and his accomplices later met at a house at Bukom after the robbery, where Lamptey brought out the boxes, the bag of money and other items for sharing.
Razak said he left the scene after collecting his booty but he was arrested in 2004, when Ameh brought policemen to his house.
The case was adjourned to May 4, 2006 to enable the prosecution to call its witnesses.
Ataa Ayi and the three others, Samuel Kweku Annan, Agbodogah and Ameh, were on February 27, 2006 sentenced to a total of 277 years imprisonment with hard labour by the same court.
They were convicted on two counts of conspiracy and robbing Prism Forex Bureau at Dzorwulu of ¢70 million at gunpoint on October 14, 2003.
Ataa Ayi was sentenced to 70 years imprisonment with hard labour on each count while Annan, Agbodogah and Ameh were each sentenced to 69 years imprisonment on each count.
Their sentences are running concurrently.
Source: