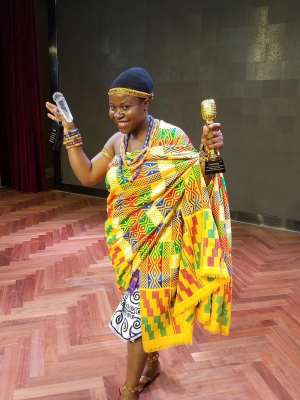 Hawawu Sulemana, a Ghanaian student in China has won the 3rd edition of the popular Africa Night Speech Contest in Beijing. Representing Ghana in a competitive contest with 17 personalities from 17 African countries, Hawawu thrilled the judges and audience with her command and confidence on stage.
Her speech and presentation were focused on Ghana and the country's rich culture and traditions. She also highlighted the countries natural resources and efforts being made by the government to add value to the resources and create sustainable jobs to improve livelihood.
According to the organizers, the objective of the contest is to educate the public especially Chinese nationals on the fact that Africa is a continent with different countries, a unique history with rich culture and traditions. It is also an opportunity to promote tourism on the African continent and attract investors to partner local firms in establishing sustainable businesses.
Judges of the event assessed the performance of candidates on indicators such as confidence, tone of voice, the content of presentation, charisma, genuineness, passion, entertainment value and regalia/appearance.
Organized by Appreciate Africa Network and partnered by Hong Kong TV, the event took place at the AC Embassy Hotel in Beijing and had contestants from, Algeria, Cabo Verde, Djibouti, Egypt, Ethiopia, Ghana, Guinea Bissau, Kenya, Madagascar, Morocco, Nigeria, Rwanda, Sierra Leone, South Africa, Tunisia, Uganda and Zimbabwe. The contestants from Ghana and South Africa won 1st place with the contestant from Nigeria and Zimbabwe winning 2nd and 3rd place respectively.
Commenting on her victory, Hawawu Sulemana expressed her joy in winning for Ghana and promoting the image of Ghana in China through the arts. She believes that this and many other achievements by Ghanaian students in China is important for the brand and image of Ghana.
In her words "reputation is key and as a people, we must strive for excellence and success in our various endeavors irrespective of location or impact for little actions culminate into bigger successes for Ghana in the long term".
A graduate of the University for Development Studies, Wa campus, Hawawu studied Development Journalism and had internship opportunities with StarTimes; the Chinese Satellite Television Operator. She comes from Takoradi and popular among Ghanaians who watch local content on StarTimes satellite bouquet. In 2018, she represented Ghana at the 3rd edition of MISS MAMA AFRICA in Beijing-China and was crowned the 1st runner up out of 20 other contestants from 20 African countries.
---NUGS Beijing Media Team