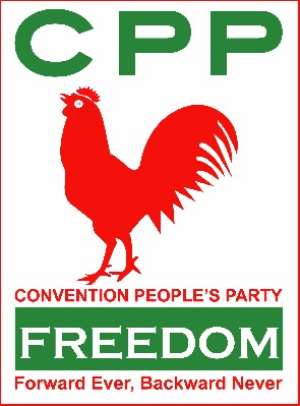 The Convention People's Party (CPP) has lost Mrs. Sophia Appiah-Danquah (né Ama Serwah) wife of the late CPP stalwart, Martin Appiah-Danquah (Central Committee Member, Secretary-General of the United Ghana Farmers Cooperative Council, Minister Plenipotentiary and Ambassador Extraordinary), whose death occurred on Tuesday, 16 September at Laterbiokorshie, Accra.
Mrs. Appiah-Danquah was the daughter of the Apagyahene, Manhyia, Kumasi; mother of Mrs. Diana Nyatepe-coo (retired Principal of Ghana International School) and Martin Appiah-Danquah (formerly of Guinness Brewery) and aunt of Akyaaba Addai-Sebo (stalwart Nkrumaist).
The traditional one-week observance will take place on Monday, 30 September at the Nurses and Midwives Hostel grounds, Zoti, Korle Bu. Funeral is on 2 November 2019 at Patasi Estates, Kumasi.