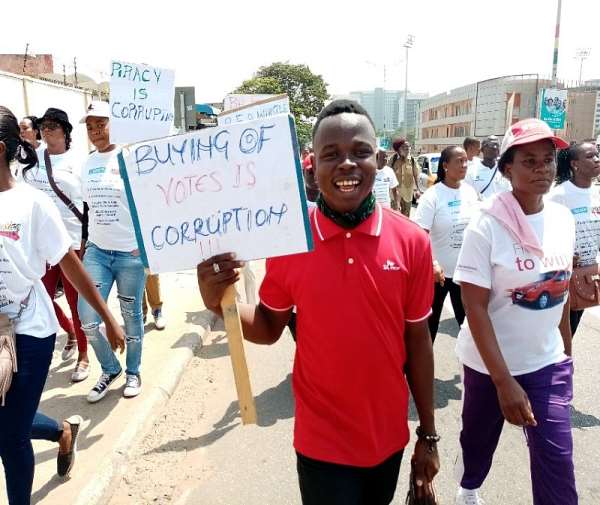 Corruption is something that we talk about, it is something that even the corrupt acknowledge is a bad thing. But the irony and tragedy at once are that those who engage in corruption love it while those who do not engage in it directly accommodate it, Patrick Loch Otieno Lumumba once said.
Yes, the tragedy is that most of us who do not directly engage in corruption accommodate it and celebrate corrupt leaders. The topic regarding corruption as matter of fact has been widely spoken about and it's almost turned a cliché, yet the fight against same has not yielded the needed result. Truly we have all acknowledged that corruption is a bad thing.
Over the years, Ghanaians have come face to face with the dire effects of corruption on humanity and the national development of the country, which effects have triggered various anti-corruption measures by successive governments to curtail corruption and bring corrupt persons to book.
Right from independence, after Dr. Kwame Nkrumahs Conventions People Party was overthrown by the National Liberation Council in 1969 the latter's actions were 'justified with allegations of corruption against the former. Fast forward during the famous June 4 uprising, the Armed Forces Revolutionary Councils (AFRC) Government led by Flt. Lt. Jerry John Rawlings also justified their actions based on the claim that their victims were corrupt.
In giving ourselves a constitution in 1992, the framers of the constitution again acknowledged that the state should take steps to eradicate corruption, in Article 35(b). Also, the constitution further established institutions such as the Commission for Human Rights and Administrative Justice (CHRAJ) to independently lead the fight against corruption. Corruption was criminalized through the legislation of Criminal Offences Act, 1960 (Act 29). Other laws such as the Audit Service Act 2000, Act (584), Public Procurement Act, 2003 (Act 663) and Whistleblowers Act, 2006 (Act 720) were all enacted to help win the battle against corruption
Successive Governments have also contributed in the fight against corruption.
The National Democratic Congress (NDC) is noted for the introduction of the National Anti-Corruption Plan (NACAP) while the New Patriotic Party is noted for the creation of the Office of the Special Prosecutor and the institutional reforms to reduce corruption which is also part of the NACAP recommendation.
Civil society organizations have been the light in our darkest corruption moments, with practical policies in combating corrupt acts and corrupt personnel, notable among them is the Ghana Integrity Initiative (GII), Center for Democratic Development, parent group of Corruption Watch Ghana among others.
Continental and Regional bodies such as the United Nations (UN), European Union (EU), African Union and the Economic Community for West African (ECOWAS) have also helped mother Ghana in her quest to nip corruption in the bud.
The media in Ghana has also contributed to the battle with various investigative piece on corruption. Anas Areymeyaw Anas and Manasseh Azure Awuni have distinguished themselves in using strategic methods to unveil the demons engaged in corrupt acts. This age of technological advancement has also given the ordinary citizen the platform to voice their concerns on matters of corruption particularly, through social media.
In spite of all these interventions corruption still remains endemic in Ghana. Transparency International perceived level of corruption report ranked Ghana seventy eighth (78th) out of 180 countries with a score of 41.
A recent study from the Center for Democratic Development (CDD) Ghana also indicates that Ghana lost whopping GHC 9.6 Billion from the public purse to corrupt acts since 2017 as reported by Ghanaweb.com on June 19, 2019.
Also, a report published by myjoyonline.com on October 3, 2018 shows that Ghana loses GHC 13.5 billion every year to corruption per a survey by CHRAJ.
The rate of corruption undisputedly has slowed Ghana's development since independence. The introductory statement of the National Anti-Corruption Plan encapsulates that, Corruption is an insidious plague that has a wide range of corrosive effects on societies. It undermines democracy and the rule of law, leads to violations of human rights, distorts markets, erodes the quality of life and allows organized crime, terrorism and other threats to human security to flourish. It hampers efforts to alleviate poverty, undermines political stability and economic growth and diminishes the country's attractiveness for investment.
NACAP adopted the three cardinal points in the fight against corruption; Prevention Education, Investigation and Enforcement. With two years left for the end of the ten-year anti-corruption action plan, it is lucid that NACAP has not yielded the needed results. Ghana's corruption index ranking has been fluctuating since the inception of NACAP in 2012.
The inability of our nation to change the narrative in terms of the high rate of corruption is due to ill partisan politics, lack of integrity and the lackadaisical approach in prosecuting corrupt officials; every issue relating to corrupt activities have always been politicized, with the media being the tool for such ill agenda. Ghanaians who should be seeking accountability from political and institutional leaders rather support those accused of corruption, while interrupting law enforcement and judicial proceedings.
In Ghana, when a political figure is accused of corruption or any criminal act, people parade themselves on the streets in solidarity with such persons instead of advocating for fair judgment to be delivered. Most Ghanaians have come to the conclusion that their only means of livelihood is corrupt money and hence lack every iota of integrity when asked to pay or accept bribes in both public and private sectors of our economy.
All political parties that have ruled the nation since independence have been smeared with corruption and have failed in their quest to solve the corruption menace largely due to the partisan touch. Either in opposition or in government, political parties have shown no shame in supporting their members.
And even more tragic is the media that is supposed to be the last hope of the ordinary Ghanaian, being used to politicize allegations of corruption. Although a few media houses and personalities have been persistent in fighting corruption, more oxygen of publicity have been given to political actors to wheedle the ordinary Ghanaian into believing their lies.
In a country where our media landscape is monetized and politicized, there is the need for men and women of integrity ready to take over the communication industry and push to cure the nation of the cancer of corruption that is pervading all sectors of our economy.
With Ghanaians losing hope in almost all our government institutions, every other iota of hope is in the media to salvage them from the thievery acts of its political leaders, the media championed the need for the right to information bill and was successful and the media also led the fight against illegal mining.
We young communicators must move into the profession with a Ghana first agenda to cause a positive paradigm shift in the current system.
There must be strong advocacy against the politicization of matters of corruption because it is only our voices that the corrupt politicians fear most. This is evident from the works of Anas Aremeyaw Anas and Manasseh Azure Awuni. The young communicator is the catalyst for our nation to see a political will to fight corruption beyond lip service.
We should begin to questions the performance of anti-corruption bodies, follow up on corrupt allegations against political figures to determine their veracities, matters of corruption that arise from committees such as the Public Account Committee of Parliament must be treated as hot news and followed up till justice is served. There should be a deliberate self-sensor of media when confronted with national issues that are clearly politicized to undermine our functional state institutions in getting leaders to account for their stewardship particularly with regards to corruption.
Student communicators must begin to question leadership decisions even within their schools and immediate environments. There is currently a great effort by political parties to marshal the youth in school campuses to help propagate their political agenda.
Similarly, non-partisan communicators must mobilize to counter ill partisan politics which bread corruption and foil our nation's development.
Until us as a nation witness high-level corrupt personalities such as parliamentarians being served custodial sentence and their properties confiscated, the ordinary corrupt Ghanaian would not take a cue. There is that need for communicators to be strong activist in holding corrupt political actors accountable for their crimes through due process.
Corrupt leaders breed corrupt citizens which in turn breed a corrupt nation and that results in underdevelopment and the abuse of human rights. Our nation risks a youth uprising if corruption continues to rise.
To save our nation is now, the time to change the prospects of our nation is today and the young communicator is the Messiah. Decide now!
The writer Alexander Naaga Bombande is a level 400 Communication student of the Ghana Institute of Journalism and an anti-corruption and Pan-Africanist advocate.