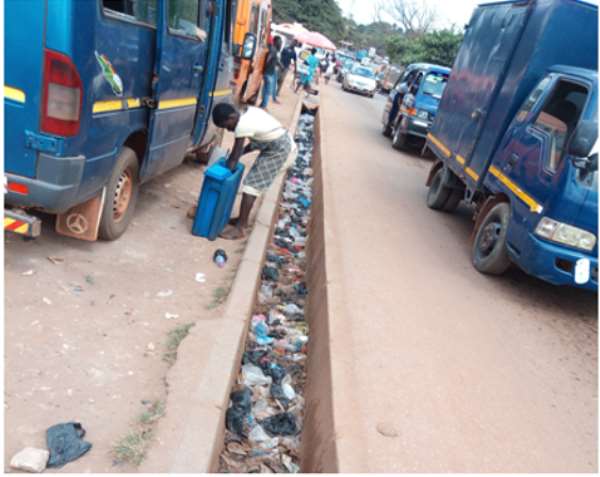 Where are the wise men and women? It is 'buy and sell' as usual and no one cares about the filth, the trash and the smell everywhere in our cities and towns. The villages are now cleaner than our major cities and towns. This is very shameful and disgracing as we open our arms to welcome European tourists and people from other parts of the world.
All too often, people boast that Ghana is the gateway to West Africa. The entrance of the treasures of West Africa is littered. The filth, the trash and the smell at the gateway tells you that there is nothing worth praising in Ghana and the rest of West Africa as far as Sanitation is concerned.
A country which is full of technocrats and Ministerial titles; Dr. so and so, Prof. bra bra, Hon. Minister For Sanitation, Hon. Minister for Environment, Science ,Technology and Innovations, Minister for Inner City and Zongo Development, The Minister for Local Government and Rural Development and more, yet we cannot clean our mess. We have a lot of Ministries that are mandated to ensure the wellbeing of people and the development of our communities. What are we doing fellow Ghanaians?
What is the concrete plan of the government to control the people and improve sanitation in Ghana? The late president, Prof. John Evans Atta Mills promised to make Accra the cleanest city in Africa and received ear-piercing applauses. So was his Accra Mayor, Oko Vanderpuije at the time.
Similarly, Nana Addo Dankwa Akufo Addo has pledged to make Accra the cleanest city in Africa and the applause echoes from Accra to Addis Ababa, from Addis Ababa to Cape Town and from Cape Town to Cairo. What do you see?
Nana Addo's first term is ending in about 16months time. Will Accra be cleaner by then? If so, Prof Evans Atta Mills couldn't make Accra cleaner a few months before the end of his first term and his untimely death. Must we believe Nana Addo?
It is very easy to say but without coercion, education and punitive measures all the romance of the sweet Cambridge Dictionary vocabularies and Shakespeare's jargons spoken by our leaders or the politicians will always remain surreal.
Every part of the country is inundated with plastic bags and waste water. We must use more cardboards, aluminium foils, paper bags and paper cups as alternative packaging solutions.
Reference:
Daily Graphic (Apr 24, 2017, 08:46), I'll make Accra cleanest city in Africa — President Nana Addo Dankwa Akufo-Addo.