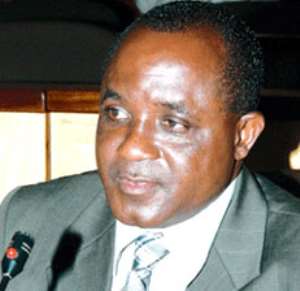 A LETTER from Mr Eric Amoateng, the Member of Parliament for Nkoranza North, currently facing trial in a New York court for an alleged narcotic offence, was yesterday brought to the attention of the House.
The details of the letter were not disclosed but it is believed to contain reasons for his continued absence from the sittings of Parliament.
The Speaker of Parliament, Mr Ebenezer Sekyi Hughes ,referred the letter to the Privileges Committee for consideration and report.
Mr Amoateng has so far absented himself for 20 sittings of Parliament.
Parliamentary Standing Order 16 provides that "a member shall not absent himself or herself during a meeting for more than 15 sittings without the permission in writing to the Speaker. Any member infringing this order shall have his or her conduct referred to the Privileges Committee."
The Privileges Committee that investigates acts that impinge on the dignity of Parliament will therefore consider the contents of the letter and make recommendations to the House to take the final decision on Mr Amoateng.
Mr Amoateng took two leaves of absence covering November 9 to 16 2005 and December 17 to 24 2005 to travel outside the country. He was arrested in New York on November 13, 2005 for allegedly dealing in narcotics.