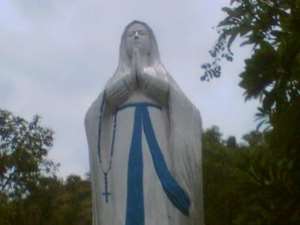 Preface
This group comprises of some Catholic Seminarians and priests of the Holy Roman Catholic Church. The village preacher productions bring to you different varieties of programs on the Catholic Faith, some of which include inspired Catholic songs, powerful homilies brought to you by Rev. Fr. Albin Kissi Ernim. Join the Catholic Creative Ambassadors while they help you enrich your Catholic Faith. You can also subscribe to their YouTube channel to have a feel of what is happening in the Catholic World. Creative Ambassadors! Bringing you a Catholic World deep in the Faith.
Introduction
All over the world, youth development continues to receive mixed attention from appropriate stakeholders. Whilst other jurisdictions anchor youth development in their development blueprints, yet others at best pay lip services and at worst fail to fashion out appropriate programmes in enveloping the youth in contributing to national development. In recent times, especially, the Arab spring aftermath coupled with global phenomena and the vagaries of the international system, are shaping decisions of some countries, in actually animating the ideas of young people in the development process-giving the bare consequences of neglecting young people at the margins of key decisions in national development.
In reversing decades of youth despondency, non-state actors have assumed a peculiar role in assisting states and filling the lacuna, in providing platforms for the realisation of their dreams and aspirations. Increasingly, the population of young people are accelerating at an unprecedented phenomenon; and appropriately responding to this seemingly developmental threat is urgent. The neglect of youth development affects nations in varying forms- socially, economically, religiously, culturally, amongst others.
The religious lukewarmness of the youth is on the ascendency albeit globalisation and constant assimilation of alien cultures that tend to override their own culture. In Ghana, the religious lukewarm attitude continues to affect membership drive especially amongst the youth in the Catholic Church. Thus, mass exodus of Catholic youth to other emerging Pentecostal and Charismatic denominations abound in recent time, accounting profoundly to the decline in Catholic population. For example, in Ghana's Population and Housing Census in 2000 and 2010, Catholic population steadily declined from 15.1% to 13.1%, respectively with its Pentecostal/Charismatic counterpart sharply rose from 24.1% to 28.3%. Should this trend continue?
It is to reverse this trend that a stakeholder in the Catholic Church, Catholic Creative Ambassadors, a non-profit religious ministry, is providing an indelible opportunity to Catholic youth through the concept of re-orienting and availing numerous talents and gifts to them and as avenue to win other youth into the Church.
Catholic Creative Ambassadors' mission is to provide young people with a fun-driven, confidence building experience through learning and playing. It also envisions enhancing the well-being, resilience and potential of disadvantaged young people with trust, respect and integrity, self-esteem, resilience and confidence, skills development and teamwork.
3.0 Objectives
The objectives are as follows;
To sufficiently re-orient Catholic youth and animating them into the Catholic faith
To build the self-esteem of Catholic youth, especially the vulnerable.
To enhance the resilience of Catholic youth in responding to various levels of personal and communal constraints.
To help Catholic youth identify specific talents endowed them and putting those talents at the service of the Church.
To instill the value of teamwork spirit amongst Catholic youth and its merits in societal development.
4.0 Implementation Strategies
Catholic Creative Ambassadors will adopt the concept of Summer Camp in championing this cause. Summer Camp will be a special vacation and entertainment programme designed to provide Catholic youth with a fun, confidence building experience whiles animating the faith to them. It will be a multifarious programme and not a 'one-off' experience, with the capacity of providing participants with longer-term pathways to a lifetime opportunity of becoming responsible Catholic youth, citizens and potential future leaders for the Church in particular, and the nation as a whole. Thus, this Summer Camp (SC) concept will be an annual programme that would be organised during the long-vacation period.
5.0 Target Population/Audience
The target population would be Catholic youth and other individuals who are religiously unidentified and bringing them into the Catholic fold.
4.0 Activities and Their Implementation Plan
The programme will be implemented in the Sekondi/ Tarkoradi Diocese on a pilot basis, from denary to denary and replicated across the country. It would be done on denary basis and then extend to the entire Catholic Diocese of Sekondi Takoradi and beyond. The programmes Activities geared towards the implementation plan will guide to prudently implement the programme in an efficient and effective manner.
5.0 Expected Outcomes
Participants (Catholic Youth)
By end of the programme the youth will be equipped with the following:
Social Skills Development, reflecting in;
Leadership
Communication
Participation
Self-Respect and Character Building;
Responsibility
Resourcefulness
Resilience
Community Living/Service Skills;
Caring
Fairness
Citizenship
Trustworthiness
6.0 Programme Sustainability
Programme sustainability is essential in every programme life cycle and thus forms the basis for continuous financial and logistical support for the project. With respect to ensuring the organisation of a robust Summer Camp, the evidence-based and result-oriented approach will be adopted to ensure that, the programme continues every year. Monitoring and evaluation component will be incorporated to track progress of the programme whilst smartly resolving challenges thereof.
7.0 Project Alliance
Project Team is well positioned to execute this programme. It will strategically liaise with key and critical stakeholders within the Diocese and beyond are enveloped in the entire programme cycle- initiation to completion for a win-win situation for all. Thus, this strategic alliance will be ably consolidated and entrenched for sustainable and beneficial programme.
8.0 Conclusion
Indeed, the conceptual idea of the programme being championed by Catholic Creative Ambassadors will help ensure the return of numerous Catholic youths whilst retaining those committed refining their faith and beliefs.
From The Village Preacher Productions.
Emmanuel Graham Nyameke(Editor)