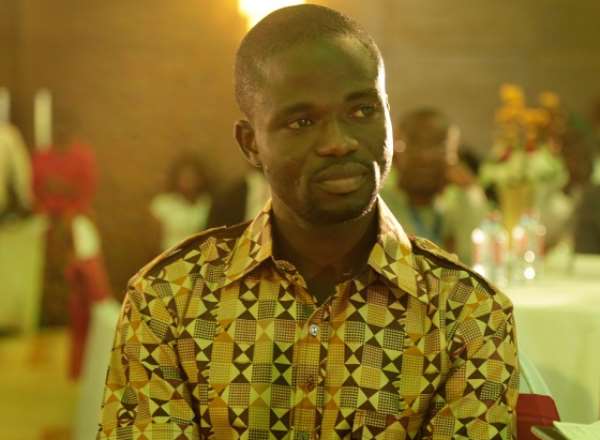 Manasseh Azure Awuni
I read a story from with the aforementioned news headline on Ghanaweb published on Saturday 3 August 2019, a story attributed to Dailyguidenetwork.com.
I also read similar stories on other online news portals and some on personal blogs of other people. Given the extent of publicity on the above story and the fact that I have not seen any rejoinder regarding same subject or issue, I am inclined to believe that it's perhaps true. It's from this premise that I will then proceed to share my personal opinion on the subject.
To start with, I think Ghanaweb or Daily Guide needed to caption their headline appropriately as 'EVIL SOUL' Manasseh resigns from Joynews.
I know some people may disagree with me on my suggested headline but I have reasonable grounds to suggest so. 'Evil' in this context could simply mean any of the following: wicked, ignoble, iniquitous, demonic, fiendish, vicious etc.
It's interesting that my northern brother, self-styled and self-proclaimed anti-corruption investigator Manessah Azure Awunihas resigned from Multimedia Group.
I am not in the least surprised about the latest development regarding his working relationship with multimedia group. First of all, I must state that Manasseh and I have not met before except that we were once social media friends until later part of 2012 when our social media 'interaction' hit the rockparticularly on Facebook.
Readers will recall that in the early days of his so-called exposéon SADA afforestation project up north, University for Development Studies was engaged as an independent and credible academic institution to conduct field assessment into the afforestation project and to submit a report on same.
Faculty of Renewable Natural Resources of UDS, my former faculty, which was headed by Prof. S.K Oppong led the field assessment with very qualified persons. Prof S.K Oppong was our Faculty Dean at the time. He also happened to my former lecturer who taught me research methods among others. So I had fair knowledge about who he was. Those who knew Prof. S.K Oppong from KNUST and UDS, will attest that he was very principled and critical of politicians and would not have led a team to do a poor job regarding the afforestation project assessment.
At the end of the investigation or field assessment by UDS, a comprehensive report was made public which I believe can still be found online. From the UDS reports, if my memory serves me right, it highlighted few things which the committee based on their expertise thought were not done right for instance the planting period (time) some of the afforestation project in some areas were implemented but the report also showed evidence on the ground regarding the survival rates of seedlings 🌱 planted. The figures were in sharp contrast to what our own brother Manasseh put out in his so-called exposé. The report exposed Manasseh's so-called findings as mere exaggerations and half truths. For instance, how many plantation sites did he visitduring his so-called investigation as against the total plantation sites for the afforestation project?
This was the point I engaged my northern brother Manasseh on Facebook on his so-called exposé. Apparently displeased with my critique of his 'work', he blocked me on Facebook in 2012. My simple caution to my brother Manasseh among others, I said he was allowing himself to used to destroy his own people and ultimately destroy a nice programme dubbed "Savannah Accelerated Development Authority" (SADA) initiated by President Mills led NDC government aimed at bridging the DEVELOPMENT GAP between northern Ghana and the south. After the unfortunate demise of President Mills, President Mahama took over as president.
SADA was the best programme (initiative) ever by any political party in Ghana in my candid view that could have uplifted development in northern Ghana given its 20-30-year operational lifecycle.
Yes, certain things may have gone wrong from the initial implementation stages but the question to ask is, couldn't Manasseh have used his self-proclaimed investigative knowledge to help the government or management of SADA at the time to help finetune it rather than the destruction he together with his evil conspirators did to the programme?
I believed that if he had not allowed himself to be used by his then paymasters who now find it unwise to maintain their relationship with him after achieving their evil regime change agenda, I am certain that SADA would have been far better today.
SADA from its initial stages covered 5 regions (Northern Region, Upper West Region, Upper East Region, Volta Region and Brong Ahafo Region) and about 50 districts from northern Ghana which included 6 districts from then BrongAhafo Region and 4 districts from Volta Region.
In my candid view, SADA would have effectively ensured that the artisanal industry like basket weaving, smocks weaving, peasant farming like guinea fowls rearing, dry season irrigational farming in northern Ghana are enhanced and given the needed boost. Mind you the major occupation by majority of people up north is agriculture and its related activities.
When Manasseh together with his multimedia evil cabal with the support of NPP succeeded in destroying SADA initiative, he became overzealous and launched vicious attacks on the NDC government to the extent of accusing President Mahama of receiving ford vehicle as 'bribe' from a contractor. Subsequently, CHRAJ cleared President Mahama of any wrongdoing after months of investigation triggered by a petition filed by NPP Richard Nyarmah.
I am NOT for a moment suggesting that if there were some problems with how SADA was being implemented by SADA management or government, Manasseh needed not to highlight or critique it etc. I am pretty sure that, if my northern brother meant well for SADA, he could have still offered constructive criticisms to help management and government finetune its operations. Unfortunately, he was aided heavily by some other vicious northern brothers from NPP to destroy SADA because the NPP felt that SADA was a 'game changer' for northern Ghana which could have many political consequences for the survival of NPP as a political party in northern Ghana. It was therefore not surprising that the NPP 'lined up' some of our own northern brothers like the current Vice President Dr Mahamudu Bawumia, Mustapha Hamid, Abu Jinapor, Anthony Abeifa Karbo etc to constantly attack and discredit SADA initiative even before it was fully rolled out. Shamefully, Dr Bawumia as a Vice President continue to cast innuendoes about SADA against HE John Dramani Mahama. Meanwhile, his own backyard West Mamprusi District, Walewale is yet toeven 'witness' his presence as a sitting Vice President who made so much promises to the good people of the area during 2016 campaign. Recently, we have seen viral pictures of innocentbasic school children sitting on 'bare floors' under sheds and pavilions as classrooms to write exams from his backyard. This clearly is demeaning and unacceptable conditions under which pupils should study. Again, we have also read and saw our mothers and young girls struggling to 'scoop' drinking water from road culverts as access to potable drinking water is unavailable from Bawumia's own district. As supposed competent brother (Vice President) what has he done about these unacceptable situations? If Dr Bawumia our northern brother truly believed in all the things, he together with his nppmembers churned out about SADA were accurate and true, how come that almost 3 years in government nothing has been done to correct them in respect of SADA? If SADA programme had received all the support it needed from people like Manasseh, Dr Bawumia et al., I am sure what npp is struggling with today as northern development authority or whatever it is called, would have been additions. Posterity indeed is the best judge.
After successfully destroying SADA, the NPP then came with their deceitful one village one dam which has turned out to be few villages one pond, and one district, one factory initiative. If SADA had succeeded, the continuous migration of the youth from northern Ghana to southern Ghana in search of non-existing jobs most of whom end up being abused would have reduced drastically if not completed stopped.
To the extent that, at the time President Mahama's mother was dead and yet to be buried, this was the time Manasseh and his evil multimedia cabal intensified their vile attacks against President Mahama regarding the so-called ford 'bribe' which was under investigation at the time.
Manasseh and his evil multimedia cabal could not even show empathy towards President Mahama and his family who were mourning their beloved mother. He could not grant him one week leave of his vile attacks to enable him give his late mother Hajia Abiba Nnaba (2016), a befitting burial as tradition and customs demand. This for me was the lowest point of Manasseh's evil tendencies.
At this point, it became very clear to some of us that, Manasseh was being used by his paymaster and 'evil' conspirators against his own northern brothers notably JM et al for purposes of making them look bad in the eyes of the public.
Multimedia clearly used him to execute their dirty and evilregime change agenda against President Mahama and the then NDC government. They provided him with their platforms such as radio, tv and online portals with their surrogate media cabal with all the necessary logistics that Manasseh required to execute all those evil plots. Unfortunately, my northern brother 'sheepishly' sold his conscience for God knows what his motivations were.
Today, the same multimedia group which provided all that Manasseh needed to execute his evil agenda against the NDC government and some of its officials including JM, is no longer a comfortable place (working environment) for you, after your return from life 'saving exile', following your documentary on the De-Eye group at the castle, thus necessitating your supposed resignation. I hear you felt betrayed by the apology multimedia rendered to Nana Akufo Addo over your documentary. Well, many of us felt betrayed and disappointed in you many yearsago, the very moment you allowed yourself to be used to destroy an initiative that your own family members would have greatly benefitted from if SADA had not been destroyed by you.
One would have thought that on hindsight, given some of your own confessions lately, you would have shown remorse and perhaps seek forgiveness from all those you viciously maligned, but typical of an arrogant self-styled and self-proclaimed anti-corruption investigator, you recently indicated in an article published by several media outlets that you have no apology or regret for all the things you did under President Mahama and NDC government.
My northern brother Manasseh Azuri Awuni, I wish you well in your journalism profession but remember that the "evil men do live after them". God bless Ghana.
Baba Musah
Concerned Son of Northern Ghana
[email protected]