Lawmaker's Traffic Agony: Did He Wake Up Too Late Or Too Soon To Face His Nemesis?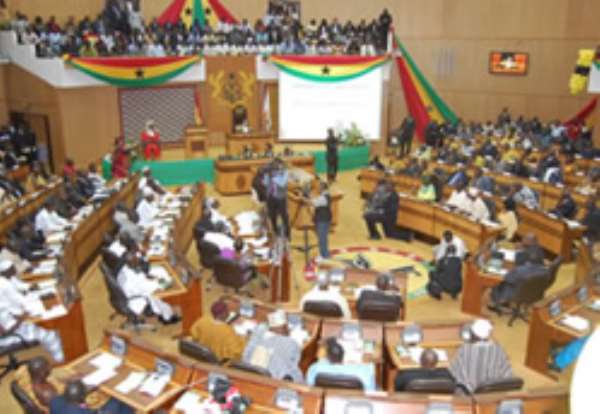 Call it Thursday Morning Blues and you won't be wrong. All caught on camera. All gone wrong! By the way, allow me first, to clear my throat..Herrrrm.
What's his name, Odame right?
No Sir. Damn it, why did I mention Odame's name then? He must be in deep trouble, I suppose.Why?
He's been caught by the cops!
Oh really? Hold your horses, I'll drop it soon.
Didn't he know that times have changed, particularly in the road traffic sector?
The blue-berret officers have stepped up their game plus they can call the bluff of anybody (rich or poor, giant or dwarf, man or woman).
Thank God it's Friday! '
'Abamu Awie,' this is what I predicted several weeks ago. And I believe the police got the message loud and clear. Simply, it's time to crack the whip, time to bark and time to bite.
But, I guess the likes of him are still dreaming. Caught up in the mundane Ghanaian affluenza society: The-touch-me-not-homo-sapiens.
Indeed, times have changed. Also, I believe things could get better, if not screwed up by the very 'saints' that carved the rules for the ruled. Including themselves right?
The paradox is, some of them think they're above the law, more important than the rest of the people and superior to the ruled. They think they can get away with the law when they knowingly or unknowingly break it.
Of course, who doesn't know that they've humongous ('National') duty to dispense, a duty so compelling not to miss and so beguiling to beheld? I'm told Lucifer is aware of that sacrilegious duty.
In their beautiful heads, not even doctors and nurses that save lives could measure up to their status and stature. Not even teachers, pilots and all the professionals out there can match them. None compares. Really?
Hello, tell Kwabena Odame, (Damn it, I said it again), that we've finally arrived. Tell the man in the black suit chauffeured by his personal assistant or driver in the sporty SUV that the new dawn has come. Therefore, good or bad, bitter or sweet he and his cohorts would have to feel it and taste it. Yes, they've got to deal with it!
They say, a bluff can be a high steep bank. That's right. Think you can bluff or intimidate anybody including the police by expressing your scholarly air of importance?
You've better think twice, for before long you'd find yourself at the wrong side of the law.
So, Sir, did the lawmaker break the law?
Yes, he did. Kade MP Kwabena Ohemeng-Tinyaase was caught in camera swarmed by the cops and paparazzi.
He claims he'd instructed his driver to drive recklessly because he was running late to undertake what calls a 'national interest' at parliament.
See Mr. Honourable you ought to know better. How could lawmaker break the law?
"Film me well, film me well,...Who am I supposed to talk to?" He's heard in a short video, flaunting his buxom ego.
And he gets a rude awakening response from a neatly-dressed police officer:
"We arrested your driver and not you."
Where did I sleep last night, is this not Ghana?
I could hear him repeat that line. They've seized the driver's license.
Wow Ghana Police!
So surreal.Very rare. Overwhelmed by reality.
He's found himself at the receiving end. Certainly, the bromance is over.
A Citi TV correspondent injects a question..but the MP parries it. And the drama unfolds amid throwing of tantrums.
"This is national interest. I'm not myself.
You should give us (parliamentarians) a concession," he pleads.
At the same time displaying that element of braggadacio. Flaunting his weight like peacock, howling like a hungry coyote.
Did he really ask for concessions?
I thought he exudes all powers?
And it's not over.
"..Who's higher than the parliamentarian?
In every rule there's exception,(he repeats it probably three times) I can drive you to the IGP's Office." For what? I ask.
So, he said all that in front of the camera?
Could be he was suffering from the new disease called ADF (A Deflated Ego), only the powerfuls catch it, interestingly. And was he under DUI (Driving Under Influence)? I don't think so.
Enough Kwabena. Enough with the braggimg rights. You think the Inspector General of Police (IGP) doesn't know about how some of you are taking them for a ride. How some of you continue to make their work difficult And how some of you, have used them and dumb them?
"Don't you know I've a national interest?"
And Who doesn't have it, Ogyam?
Oops!
But how did it all happen, was he not in suit and driving an SUV? Didn't the police recognise him? You know that's one way to get away from breaking the law in Ghana.
The other is, evoking authority and the third is flaunting impunity, ego, bluff, threats and chest beatings.
The most used phrase is-- Do you know who I am? That phrase or question has been overflogged.
Elsewhere in Accra, this is how a local TV network reported the Thursday's Morning Traffic Blues.
'Citi TV's War Against Indiscipline campaign experienced its most dramatic exercise on the Legon bypass as influential persons like Member of Parliament for Kade, got arrested but challenged the Police.
Kwabena Ohemeng Tinyaase challenged the police for arresting his driver and taking away his license.
The incensed lawmaker was upset that he was arrested by law enforcers while on his way to make laws.
Other notable persons stopped included Colonel Joseph Azar Akampachab, who was arrested for driving against traffic with his flashlights and a New Patriotic Party big wig who works at the Controller and Accountant Generals Department.
The offending drivers will be processed for the Abeka Motor Court.
Achimota Police station will serve as the hold-up area for the impounded vehicles.
Over 100 drivers have so far been arrested and put before court for breaking traffic regulations as part of the campaign which has hit areas like Dawhenya, Spintex and the Tema Motorway."
Offenders have been receiving fines between GHc600 and GHc1000."
'Ayekoo Aban'.Bravo Police. Ghana loves you. Keep it up, never give up.