This post is the result of an attempt to produce a sample first blog post for new WordPress bloggers to help them figure out how to use most of the features of WordPress during the 2019 Blogging Workshop organised by EKM Consulting and K.A.D Concepts , specifically where I, Aba Radical taught how to create and manage blog content.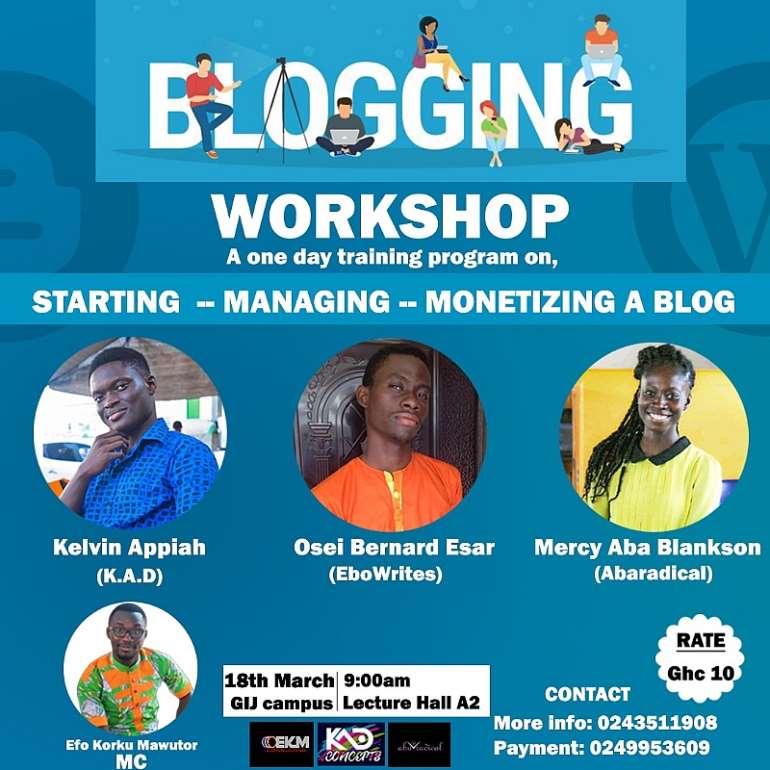 Setting Up Your Blog
Apart from the obvious necessities for blogging like your phone, personal computer, internet etc., the major requirement one will need in setting up a blog is a term I coined, 'Virgin Email.' Virgin Email is an email that has never been used to create a WordPress account. This is needed in creating a blog because WordPress doesn't allow a user to set up more than one account with an email. One needs an email with no WordPress experience; hence the term 'Virgin Email.' One can however create multiple sites using just one WordPress account or blog. Example: My website on WordPress, http://www.abaradical.wordpress.com already has the site, Photography of Thoughts but I can decide to add Real Talk With Aba Radical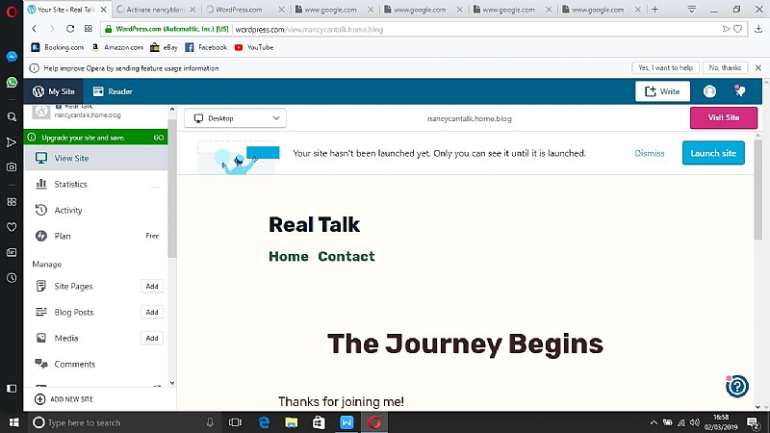 Setting up a blog used to be way easier on phone, especially android, if you have already downloaded WordPress from Play Store. We all know how complex IOS phones can be. It makes the features of almost everything extra hard to find.
Prior to a year ago, one did not need to go back to the email you are attempting to create a WordPress account with in order move to the next stage of creating the blog. I used to escape that and confirm my email at the time when it became convenient for me. Now, I cannot escape that feature requirement anymore; I have to do so immediately before advancing to the next stage.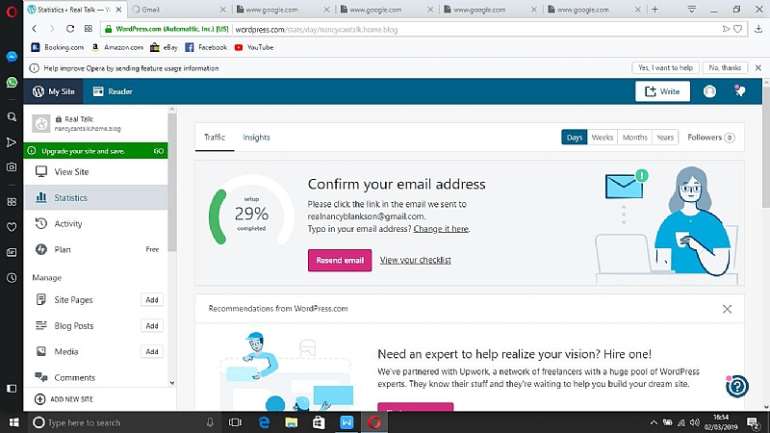 I also do not remember having to 'Launch my site' in order to make it visible to others but I had to do it while creating another blog for a different purpose this year.

Some settings cannot be accessed from the app, but with a Personal Computer, the options are endless. I also noticed after sometime that though the free plan does not allow one to upload videos, I can manoeuvre my way to upload a less than one minute video on my post when I'm using the app on my phone. I've actually done so severally times! 'Shush' don't tell anyone.
Some bloggers prefer to write online and publish thereafter, so once I figured out how I can use most of the WordPress post settings and editing buttons to improve my posts, I decided to write offline on Microsoft Word then publish later.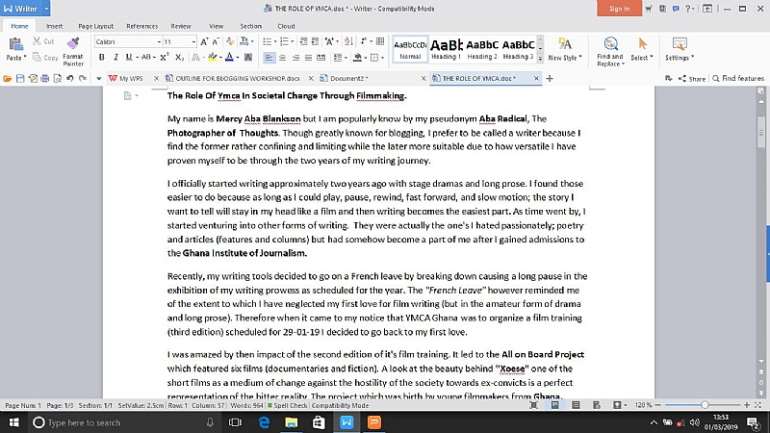 In addition to the offline post, I create an excerpt, indicate the post category and potential tags. I also number the images and indicate where it should be on the post with a corresponding number after each paragraph.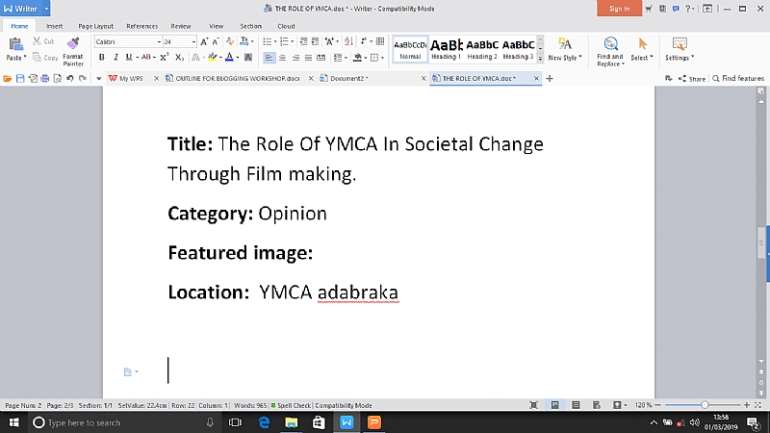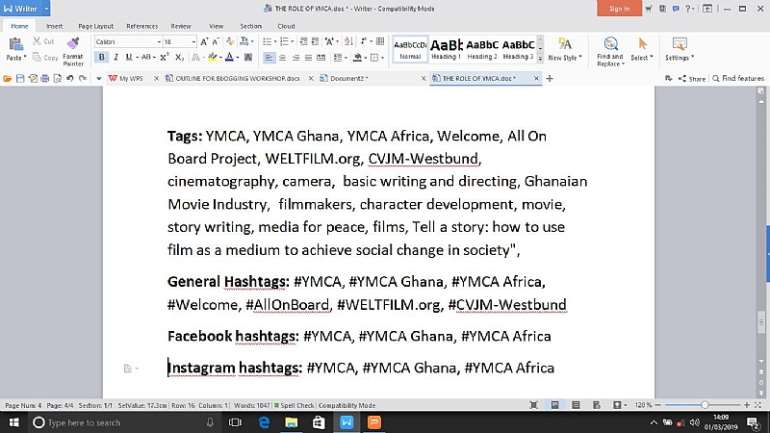 I indicate whether a sentence, phrase, name, or a part of the post will be linked to a URL or be in a Black Quote.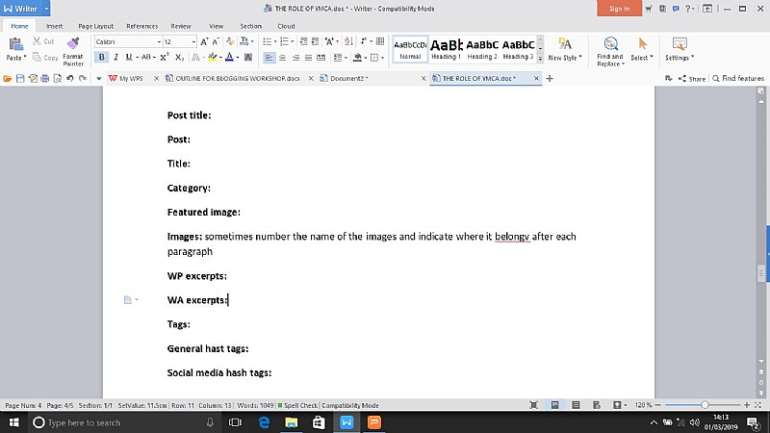 Over time, I learned how to resize images, caption it, align, and group them under one paragraph.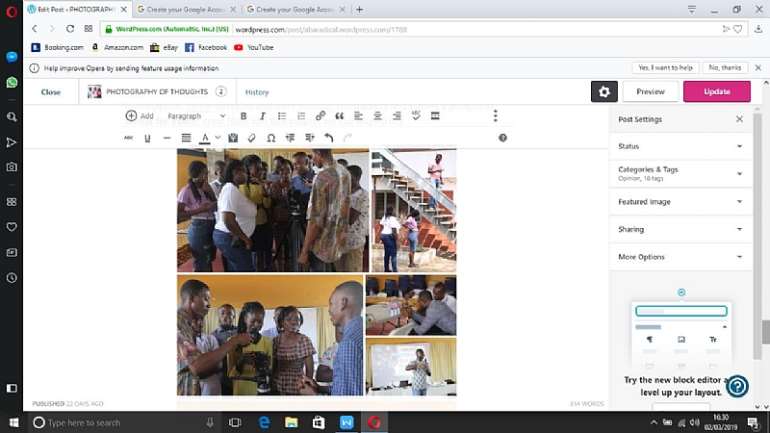 Promoting Your Blog
I learned how to grow my audience on social media, so I first create a different but catchy excerpt to the link and share it on WhatsApp. The excerpt for my blog post on WordPress post setting is usually not the same as that for WhatsApp because whatever I use for the former will automatically appear beneath my post's hyperlink on the internet.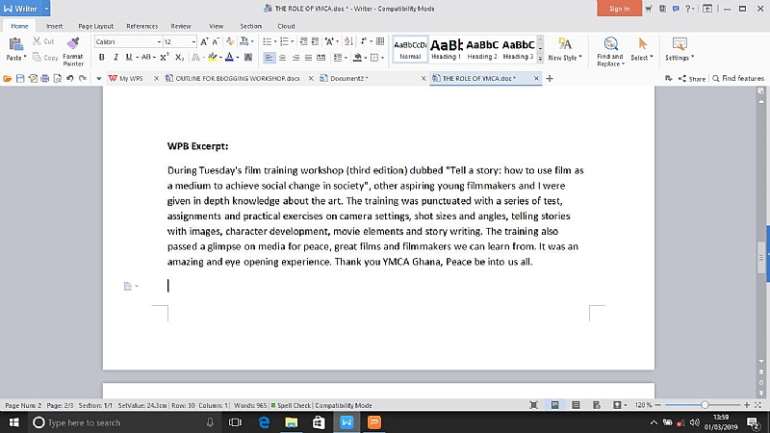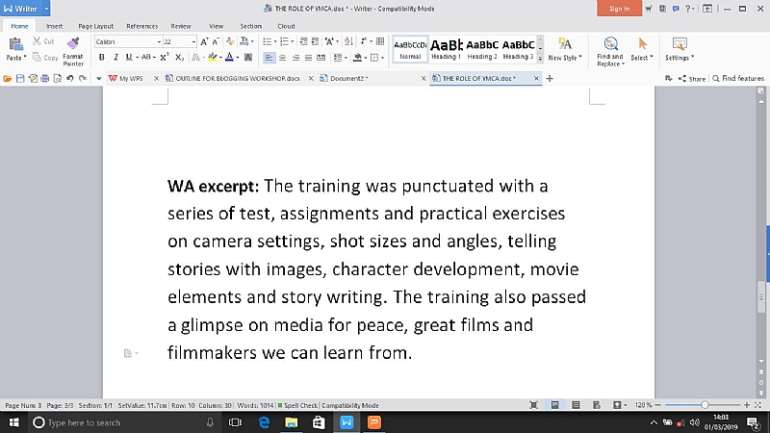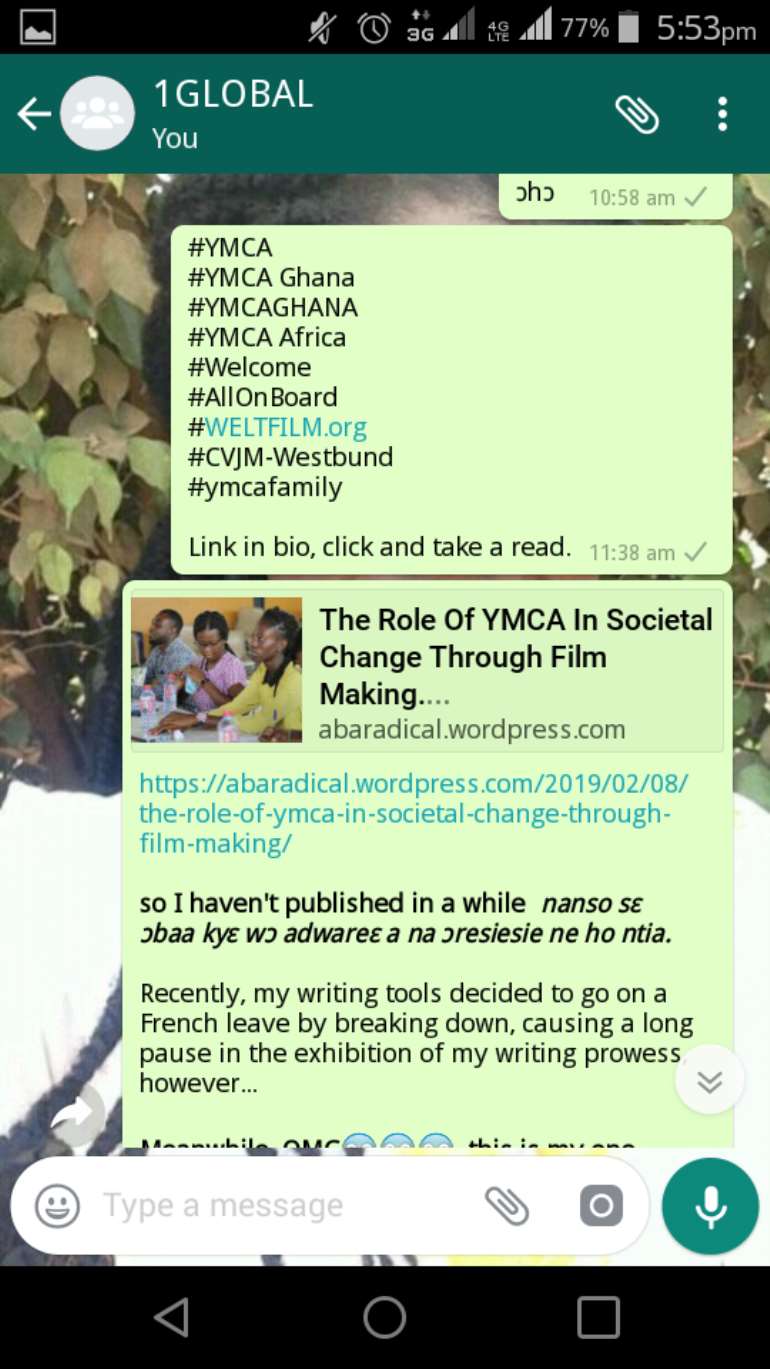 I take a snapshot of the blog post and make sure it covers the post title and a section of the 'Featured Image' and post it on Instagram making effective use of WordPress, Blogging and Writing Hash tags, updating my bio with the link and also tagging people who will be concerned with the post. I started reaching audience on Instagram for my blog not long ago.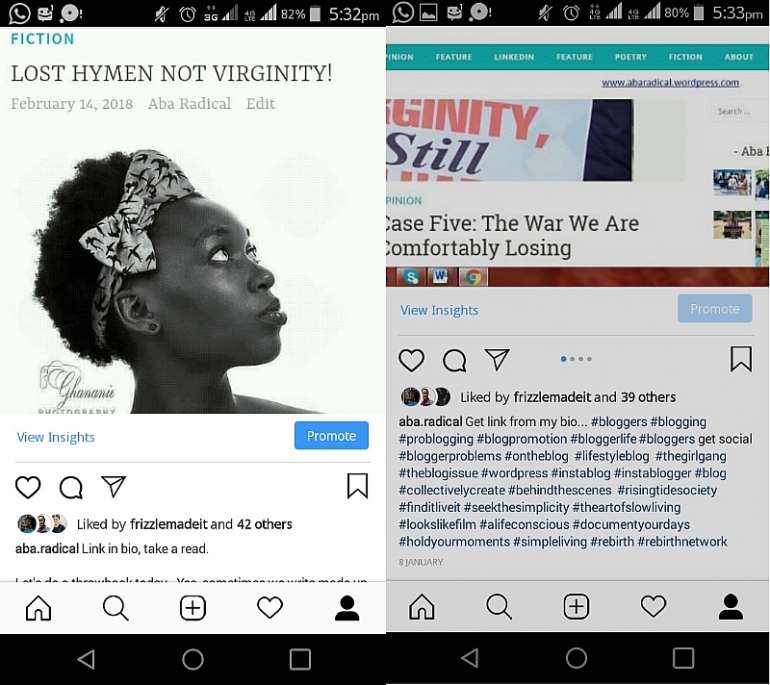 Last time I had about 49 views via Instagram alone and that was only the second time I had done it.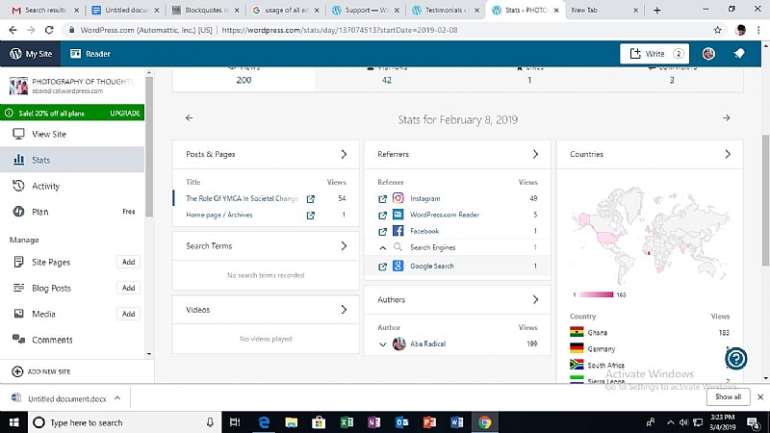 On the free plan, I couldn't make use of any plugin so I resorted to making the best out of widgets WordPress provided me with. I created a lot of side bars that made my site user-friendly even for audience who are unable to read English.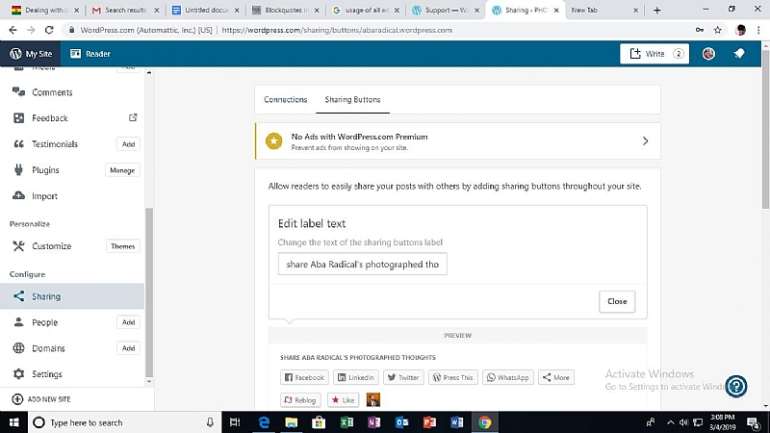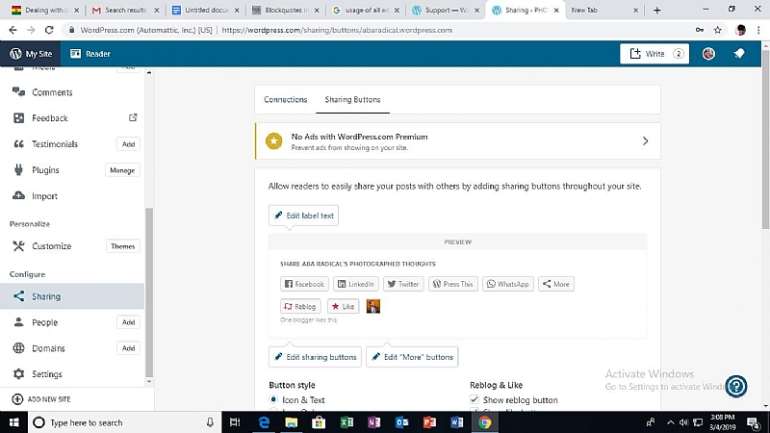 From my 'sharing' setting, I created social media buttons which appear after each blog post so my audience can also help with the sharing.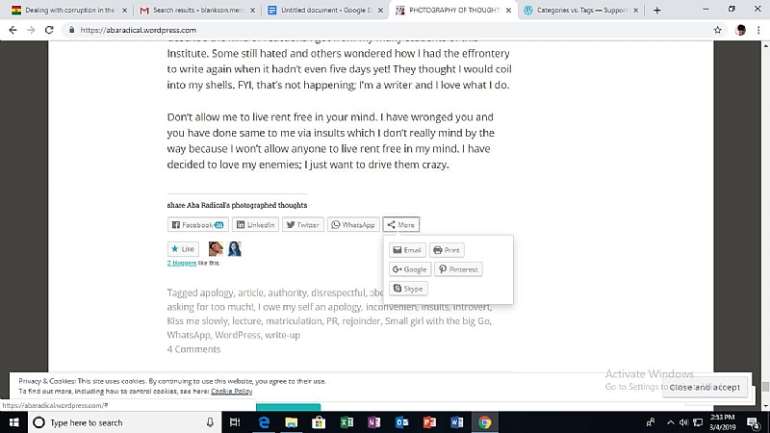 I also embedding twitter on my blog but unfortunately i don't remember how I did that, but it's so cool…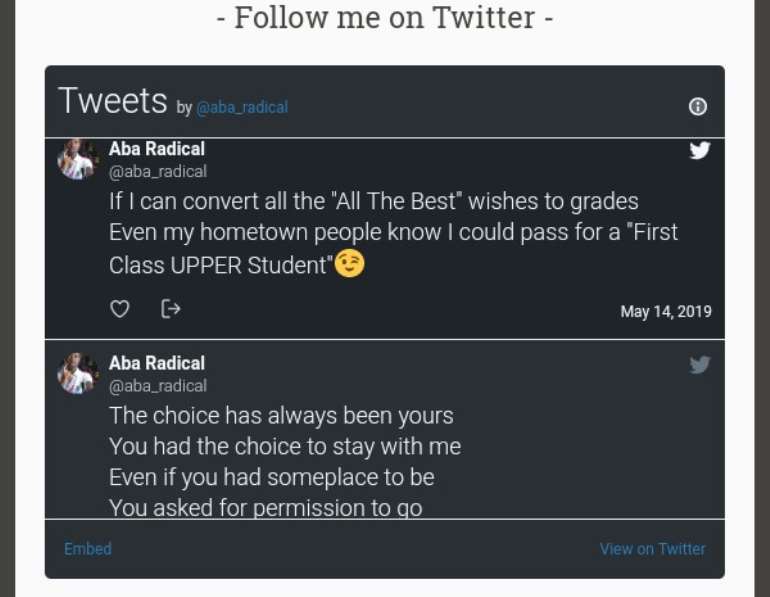 I connected all my social media accounts to my blog and so immediately I hit the publish button, all my social media account also publish the post on Twitter, LinkedIn and Facebook.WordPress used to do automatic publishing on Facebook accounts but since August 1, 2018, Facebook no longer allowed direct sharing of post to Facebook profiles, so I connected my Facebook page instead, tadaaaa.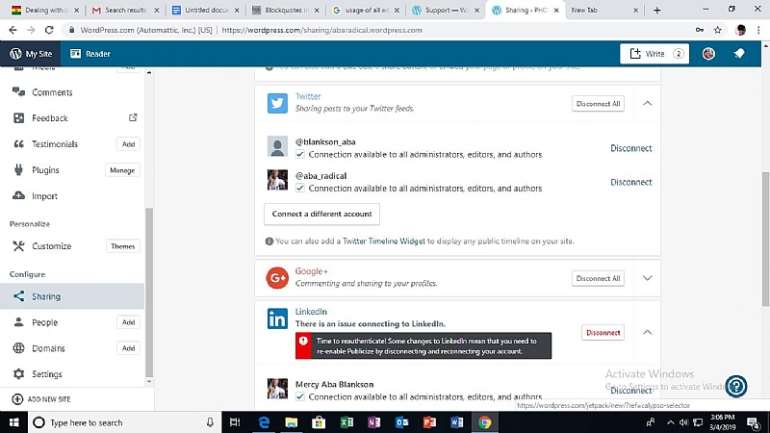 You can disable the social media accounts for specific posts. It will apply to only that post. I do that when I feel the content of a particular post will be irrelevant to an audience or a specific group of social media users, you know?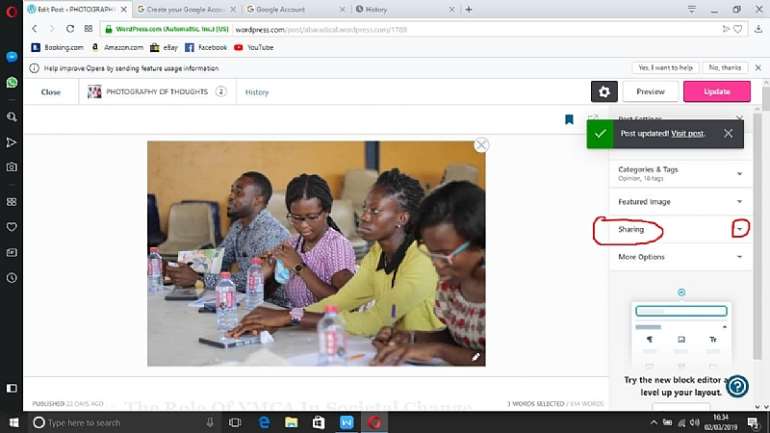 Google+ shut down for consumers following a security breach so I guess WordPress won't automatically publish my post there anymore. They deleted all personal accounts by 2nd April 2019. The shutdown is expected to take place within a ten-month period and slated for completion by the end of next August.
Did you know you can back up all your content from your blog to your email even on the free plan?
I realised under certain circumstances that I've learned a lot about WordPress in less than a year. It's probably because I treated my blog like a new phone. I explored all the features to familiarize myself with it. I happen to know other users of WordPress who do not do more than just type and hit the publish button. They barely make effective use of their post-settings and when I sit with them behind a computer screen, they marvel at how fast and far I have come with the usage of WordPress.
And at times it hurts when I know there is so much more they can do with their blog than just type and hit the publish button. I decided after the workshop that I'm going to help willing new WordPress users with their blogs for a small fee with terms and conditions. Yes, I've been told to monetize my talent and this one is not going to waste or for free.
I chose WordPress over all the other blogging platforms because it provides you with more than enough themes, user support systems and powers about 33 percent of the internet.
Monetising Your Blog
And oh, even though you cannot do online advertisement on your blog if you are on the free plan, like I said, I am a typical Ghanaian and there must always be another way, so I found two ways to do so. I created a gallery widget which currently has my photos under the title "Aba Radical"; I can easily change that widget title to 'advertisement' and replace those personal images with banners.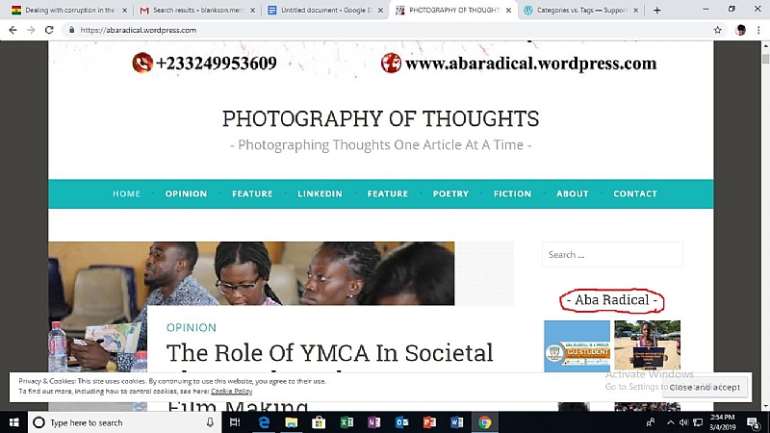 I once replaced my Header Image with a banner that is calling my audience to use that space for advertisement. It is the first thing you see when you arrive on my blog. So, I charge clients who want to use my platform to advertise and even higher charges when you want a complete blog post advertising your product and service. That's three ways to monetise your blog if you are on the free plan. I told you, I'm a Ghanaian. There is always a way. [God and Dad taught me that, it has very little to do with being Ghanaian].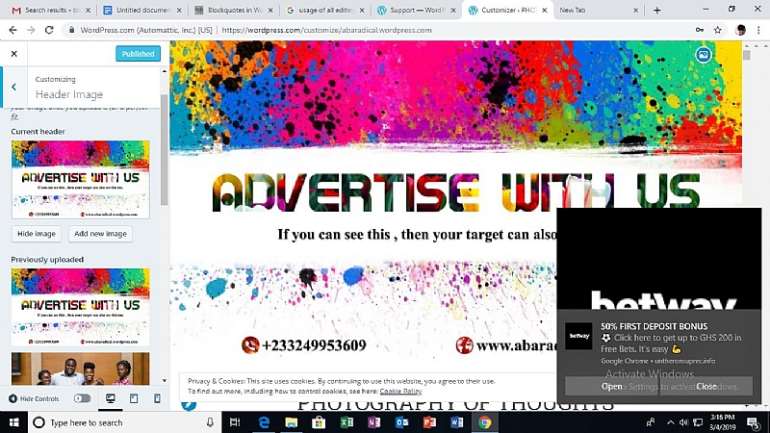 I know that my blog is not the best but it's certainly not the worse and I am going to get better with it as time goes on.
Edited by DittoType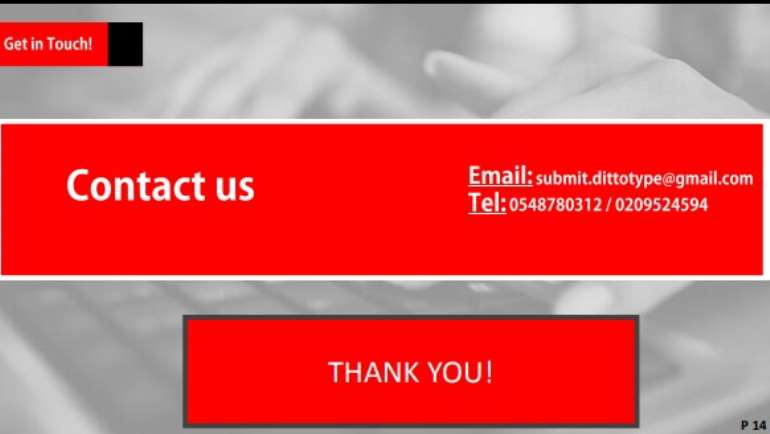 Aba Radical
The Photographer of Thoughts
Fb: Mercy Aba Blankson
Twitter: @aba radical
IG: Aba Radical
+233249953609
Comment, Like and Share
#AbaIssaRadicalWriter