Prestea/Huni-Valley MP, MCE Donates Towards Apasotoɔ Festival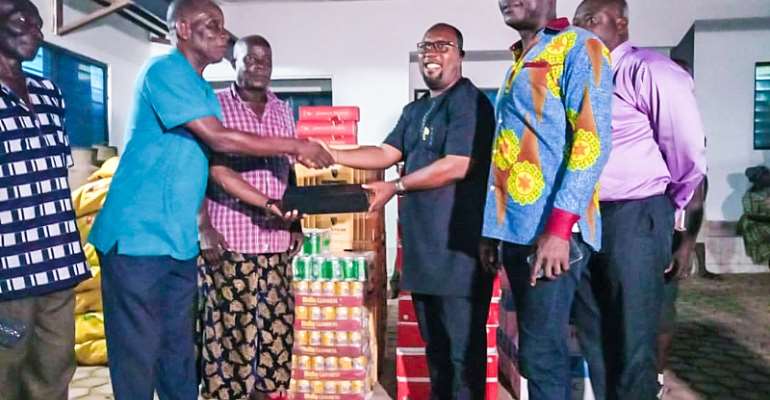 The Member of Parliament for Prestea /Huni-Valley constituency and Minister for Tourism, Arts and Culture, Mrs. Barbara Oteng-Gyasi together with the Municipal Chief Executive, Hon. Mozart Kweku Owuh, have presented food items to the people of Wassa Damang in the Western Region towards this year's Apasotoɔ festival slated for May 10th-12th.
The items included 15 bags of rice, 30 crates of alcoholic drink, 10 crates of canned soft drink, 10 bottles of foreign whisky, 15 boxes of bottle water,10 boxes of cooking oil, 10 boxes of tin tomato and 10 waste bins.
They were accompanied by the Municipal Coordinating Director Mr. Peter Essiam, Constituency Chairman for NPP, Mr. Abbiam Danso, constituency executives for NPP and other officials.
The donation made to the Wassa Damang division of the Wassa Fiase Traditional area form part of support from the MP and MCE to the people of Wassa Damang as they celebrate the maiden edition of the Apasotoɔ festival slated over the weekend at Damang which is expected to bring together people from all walks of life including natives of Wassa Damang in the diaspora.
Hon. Mozart Owuh, presenting the items on behalf of the MP and his good self, called on the authorities of Wassa Damang division to ensure that, the people of Damang celebrate the festival peacefully.
He appealed to opinion leaders and elders to advise the youth to desist from engaging in unacceptable and inappropriate behaviour during the celebration.
"I entreat you all, especially the youth to ensure that this year's Apasotoɔ is celebrated in a peaceful atmosphere. Let us show unity and love towards one another before, during and after the occasion," he added.
The Wassa Damang Division linquist, receiving the items on behalf of the Chief of Damang, Nana Amoakwa III, and the festival committee expressed appreciation for the gesture.
He praised the MP and Assembly for the support towards the celebration of the festival and the chieftaincy institution as a whole and called on Ghanaians to celebrate with them.
Hon. Lawyer. Mrs. Barbara Oteng-Gyasi who is also the guest of honor will be speaking on the theme: 'Peace, Unity and Development' on Saturday, 11th May, 2019 at a grand durbar at the wassa Damang chief's palace in Damang.
The maiden edition of the Apasotoɔ festival by the people of Wassa Damang which is proudly sponsored by Goldfields Ghana Damang Mine and the Prestea/Huni-valley Municipal Assembly will be heralded by the performance of traditional rites from Friday through to Sunday in thanksgiving to the gods for their protection and guidance throughout the year.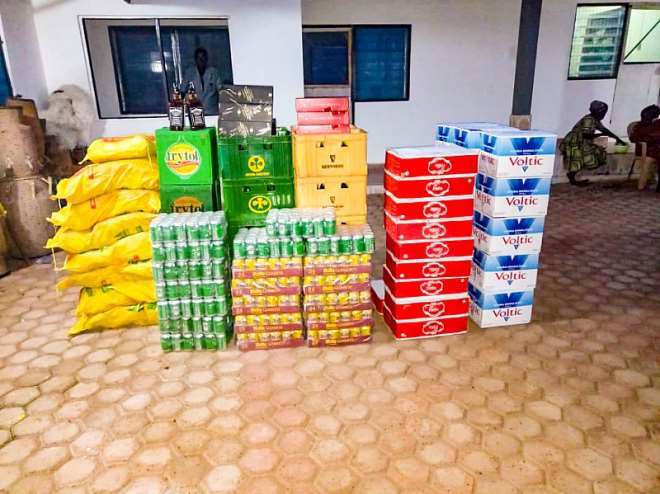 Items donated