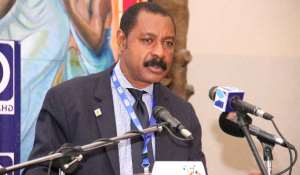 Nana Osei Bonsu, CEO of the Private Enterprise Federation (PEF)
The Chief Executive Officer of the Private Enterprise Federation, Nana Osei Bonsu, wants government to keep greater part of the incentive packages meant for the operators of the One District One Factory policy for local companies to ensure that the project is sustainable in the long term.
His comments follow Parliament approval of incentive packages and tax waivers for companies under the implementation of the project.
The package waives taxes on machinery and equipment for operators under the policy and includes corporate tax exemption for five years.
Speaking in an interview with ModernGhana, Nana Osei Bosu said it is one of the best effort of Parliament for the private sector over the years.
But the domestic investors should be the key beneficiaries of this initiative, he added.
According to him, giving a boost to the local private individuals is surely going to remit the taxes back into the system.
"When the incentives are properly implemented it will influence investment in the programme and therefore should be anchored on domestic ownership of the factories," he said.
In order to attract more investors for the implementation of government's flagship programme, the PEF CEO advised government to be more open about all other aspects of the incentives such as land and equity which are often not articulated.
The Minister for Trade and Industry, Alan Kwadwo Kyeramanten has defended government's decision to provide the incentives to these companies.
According to him, the incentives being given is even the least the government could do for the local companies and he wished more could be done because it is the local companies who are going to generate the foreign exchange, manufacture products to reduce the level of imports which will stabilize the local currency.
He has also indicated that, currently there are 57 of the One District One Factory projects operational out of 181 planned projects and about 95 percent of them are local companies, while four percent are joint-venture companies.