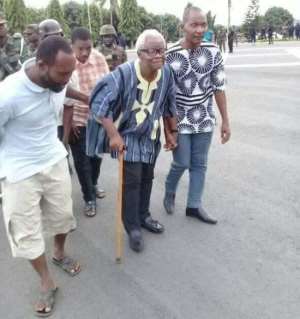 Arrested leading members of HSGF
The Ghana Police Services(GPS) has clarified that the separatist group in the Volta Region, whose leadership were arrested on Sunday down with a combined team of police and the military were training impressionable youth for militia operations.
In a statement released by the Public Affairs Department of the Police Services, traces of indisputable evidence about the brainwash of young persons for apparent future militia works for the cause of secessionist group was gathered.
"Activities of the group also include illegally recruiting and training young people in a "militia style" for them to form the core of their supposed country's armed forces and Police force," the release from the Police said.
A press statement issued and signed by ASP Simon Tenkuu, for the Director of Public Affairs, said souvenirs of nationhood, including a Constitution, national anthem and a national emblem, were retrieved from the group.
The Police' explanation is a belated one, coming 24 hours after eight members of the Homeland Study Group Foundation (HSGF) had been arrested at one of their operation enclaves in the Volta Region by combined Security on Sunday and flown to Accra.
Leading the group of arrestees was the HSGF's 80-year-old leader, Mr Charles Kormi Kudzodzi – popularly known as Papa Hogbedetor.
Following the Sunday arrests, the media had sought to know the grounds on which the suspects had been rounded up, but National Security had refused to explain its action, unnecessarily creating room for questions.
However, the Police' statement has clarified that members of the group were arrested in the course of a meeting to finalize preparation to declare Western Togoland (the whole of Volta Region and part of the Oti Region) as an independent State on the 9th of May.
"The arrest was made by a team of all intelligence agencies in Ghana, including the Police and the Armed Forces," the Police' statement said.
The posturing of the Police portends an intent to charge the arrested leadership of the group with treason – a first degree felony. The Constabulary, in an apparent desire to firm up its case along this line, is asking the public to volunteer information on the leaders of the group.
This is the second time that the leadership of the Homeland Security Group Foundation has been arrested for instigating a secession of the so-called Western Togoland from Ghana.
In March 2017, they were similarly arrested for attempting to declare the Volta Region an independent state. They were however cautioned and released.