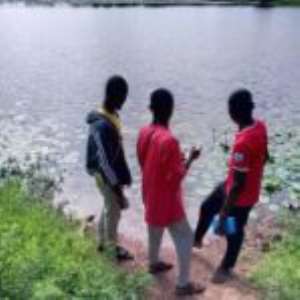 The day we all were waiting for finally came, 13th of June 2018, our departure day after days of tireless orientation couple with the hot sun of upper west and fasting in addition. The SRC Public Relation Unit issued a circular informing students when and how they would departure, group 26 was included and that's the starting point of our journey to the community (field), the time for reporting on the circular was 5;30am at the bus terminal and we were expected to departure by 6;30am, we used it as an opportunity to socialized as many of did not know each other.
In my group (26), I knew only one person even with him I was not all free with him, we had a whatsapp group where we chat all the time, from the whatsapp group that we elected our group leader and had tried several times to meet in order to know each other and plan ahead of the community apparently it appears we were all stubborn and reluctant, no one was ever ready to meet up.
On the day of departure I met one of my group member, Emmanuel from department of development management and also my countryman, then I met another girl from my very own class Sandra who also doubles as my countrywoman and surprisingly I met this girl who was talking about the bus and her community, my roommate engaged her and then I join and in the process I got to find out she is in my group – (my community mon).
Hours upon hours passed, no sign of our bus, the first set of group for the first batch of that day had already dispatched, 1;00 in the afternoon, still no sign and no information, 45 minutes passed the hour 1 then the SRC Public Relation Officer came around and told us that it rather unfortunately that we have spent almost the whole day waiting for bus, but assured us that the bus is at maintenance and would soon be ready.
Not long ago, here comes the 1990s bus, we never thought of such a bus would even be working never conveying us to our communities. Then the coordinator starts to mention names of various groups to load their things when it was the turn of my group, I got to know three more guys; Richmond, Sylvester and Hafiz (Allo guy guy), we all helped to carry the over weighted things on the carrier of the 1990s bus which apparently was not in used but we believed because of the TTFPP it was put to used.
In the process of loading students rush and secured seats in the bus by the time I got inside I had an uncomfortable seat but well the bus itself was unconformable so it was normal for me, we took our seats, (my community mon). who happened not have a seat suggested I give up my seat for her (what a hard decision to make), finally I decided to give up my seat, at the entrance of the bus on the stair case was where I made myself comfortable, Richmond and other guys too were standing, I was imagining how long it would take for me to sit on the staircase and with the slow speed the bus was moving (hmmm).
Minutes after we departure with our 1990s bus (the bus was my faculty bus tho), we got to KULMASA, some of our things were about to fall, the driver had to stop the bus for us to tie it again, by then I was already fed up with the journey so far. After tying the things up properly we set off again, with many complaining of speed of the bus and a whole alots of issues here and there, as the sun was about to set, there was this guy called Rashid (Ramos), who happened to calm us with a lots of stories and songs but hmmm unfortunately he got tired and the whole bus was as quiet as a cemetery, I was thinking how am gonna break am fast and pray.
We got to Sawla roundabout and now set our journey to Damango, at the junction, some bought water, others drinks and the kind of hunger that was now tearing me apart was not easy, my eyes turned red like blood, and I was yawning more than necessary. We took off again, now it was now dark not completely dark but time was close for us to break our fast and then the drive stop the bus, we were informed that the bus had developed fault in the middle of a forest not all that far from Grupe but it was completely surrounded by trees with no car coming from Dmanago or Sawla.
It was at this point that I break my fast, took some water and apple drink, (my community mon) who had some pawpaw with her gave me some though it was not enough but it was worth sharing. Hours passed still the bus was not ready, by the time it was ready, we were told that the bus has no breaks and therefore we should pray. That was when I got to know students do not wanna experience death, some were praying, others were happy and making noise, well I pray and told God whatever it will be it is His doing and no want can change it.
Ramos started with his jokes again, got everyone laughing to the point he was asking for bread to take in the bus that was the time I got to realize the guy is damn hungry, well the driver manage us to damango, and we were all rejoicing because at least we are safe now. The lead person from UDS told us we are going to spend the night in damango, I quickly made a call to arrange for accommodation but was told the person had travelled, what a bad luck.
The next thing was to get some food to eat, by 9pm Damango was completely cleared only few stores and indomie joints with lots of crowd, that was the only way to get food to eat, walked from where damango station is down to star oil fuel station still no food joint, bought some drinks and took again, was now thinking what I would eat for fasting hmmm.
Abdul Somed who roamed and bought indomie three plates, one for himself and the rest for (my community mon) and I, did not eat it waited for dawn, the next step was where to sleep, went to where the cars normally park (Damango station), a woman who was lost and was fortunate to use the mat and Abdul Somed and I used benches, hmmmm my first time I slept outside and on a bench.
Could not close my eyes neither could I sleep with mosquitoes singing their usual songs here and there couple cold weather, at this point it was like who sent you to UDS. At long last dawn arrived, woke up, after eating cold indomie and some little water, we were searching for water to pray when (my community mon) led us to one woman who gave us water and a place ot us to perform ablution, what a relieve. Daybreak the driver took the 1990s bus to a mechanic for repairs at 7; 40 am, we spent almost an hour and some minutes at the mechanic shop.
We set off again, with the same speed as slow as UDS level 400 motors, as we were moving we started to see some of the names of other groups communities, that was not our concern, all we were doing was praying for a good community with all the amenities or even one especially lights and network.
The first group in the bus to alight was group 28 at Achubunyo, the community had lights, water as at that time we could not confirm, most of the buildings was local houses, that community had a CHPS compound and a school with staff quarters, no matter what at least a classroom or the quarters would have serve them right.
After this group alight then I got a seat to rest my butt, all those while I was standing and making good use of the staircase. Finally finally finally, there goes the signboard with the caption JONOKPONTO, it was all joy and sadness especially when we got to the bus stop, some were like it a mistake it not our community. Apart from the school all the buildings were short and locally built and roofed. After we offload our things, the lead person from UDS called the contact person, who came around after introduction, handed over attendance sheet and that was all, the bus set off again, the starting point of all the brouhaha.
To be continued