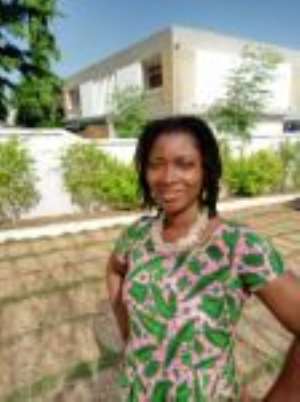 Empi Baryeh
The DAkpabli National Readathon is proud to announce renowned romance writer, Empi Baryeh, as its Guest Reader.
The author of five novels is the newest celebrity to join the roadshow public reading project, which has brought book reading closer to a cross-section of Ghanaians.
During her tenure, Empi who is a former Miss Ghana Finalist is expected to feature along the main Readathon stars, Kofi Akpabli and Nana Awere Damoah, in their reading campaign for the next three months.
The DAkpabli Readathon is an initiative which seeks to promote book reading for pleasure across Ghana, as well as local authorship.
Since its inception five years ago, it has served patrons in seven cities across the southern half of Ghana with plans to extend the campaign to the rest of the regions.
"I am excited to be back on the Readathon train with Nana Awere Damoah and Kofi Akpabli. I have followed this campaign and I am amazed by how it has grown since I was last on it. I think I was the first unofficial guest reader. Yeah, I am sure. Anyway, the next few months will be awesome as we make reading hip again. I can't wait!" says Empi who describes herself as a multi-racial writer.
By this announcement, Empi is the first guest author to make a return to the campaign. Her first appearance was in 2015 at Valentine's Day reading held at Coconut Regency Hotel.
Other Ghanaian authors who have made appearances on the Readathon train include Golda Naa Adaku Addo, Boakyewaa Glover, Martin Egblewogbe, Rodney Nkrumah-Boateng, Elizabeth-Irene Baitie, Ruby Goka and Alba K. Sumprim. They all left their marks on the Readathon train.
Empi Baryeh has five novels to her credit: Most Eligible Bachelor (2012), Chancing Faith (2012) and Forest Girl (2018), His Inherited Princess (2018) and Expecting Ty's Baby (2019). Her debut novel, Most Eligible Bachelor won Book of the Year in the 2017 Ufere Awards.
She is a member of the Ghana Association of Writers, as well as Romance Writers of West Africa, an organisation that supports romance writers of West African origin and/or writers who write romantic fiction set in Africa.
"It is exciting to have Empi back for the campaign. She brings with her awesome memories from the past and, even better, she has great content in new books to share with our readers. Empi is one of the best romance writers from Africa and we believe her experience and her attractiveness will thrill our patrons," said Kofi Akpabli of the Readathon Project.