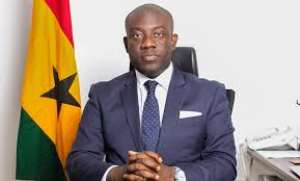 Government has reiterated its commitment to supporting measures that deepen the frontiers of free expression in the advancement of our democracy.
A statement signed by the Minister for Information, Hon. Kojo Oppong Nkrumah, on the occasion of the 2019 World Press Freedom Day on Friday, said the government is in the process of implementing a Media Capacity Enhancement Programme (MCEP) to boost the capacity of media practitioners in the delivery of their mandate.
"The protection of media practitioners is also to witness a boost with the introduction of a Coordinating Mechanism on the Safety of Journalists before July," the statement mentioned.
The World Press Freedom Day is a day declared by the United Nations General Assembly to raise awareness of the importance of freedom of the press, and remind governments of their duty to respect and uphold the right to freedom of expression enshrined under Article 19 of the 1948 Universal Declaration of Human Rights.
This years' celebration is being marked in the Ethiopian capital, Addis Ababa under the theme "Media for Democracy, Journalism and Elections in Times of Disinformation."
Government as part of the commemoration congratulated the media and journalists for their contribution to nation building.