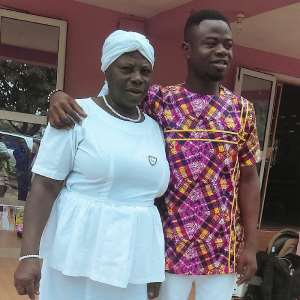 Have you ever wondered what lies in the heart of an ideal mother?
Well, the answers to this question cannot be contained within a few words but in the image of my mother. I have met many mothers like her but I have never met any mother like her. Asafo's portrait brings to bare the colors of ideal mothers.
Women are beautiful but the beauty of ideal mothers comprises a bundle of emotions that sometimes defy reason.
So this goes out to all the mothers who have proven with various actions and constant compassionate words for the welfare of their babies.
For all the mothers who consciously and unconsciously to say a word of prayers for their kids.
For those mothers who show up at work with stains on their dress and diapers in their handbags.
For those mothers with tears trickling down their cheeks when they hold their babies especially for the first time in their arms.
For the mothers who try harder to give homes to babies and gift them a family.
For the mothers who prepare their child in every department of life just to say "That's my child" when it's all said and done!
For the mothers who taught their children how to dress especially how to tie the shoelaces even before they start going.
For the mothers who respond whenever they hear the word "Mom", even though they know their kids are far away.
For the mothers who silently shed tears to turn things around for their children.
For mothers whose heartache to watch her son or daughter when on the street until he or she gets home.
For all those mothers who have the heart of fighting for children to make it in life through smooth and rough circumstances.
Finally to all those mothers who have done and are doing the good things my essay has not captured.
This is meant to appreciate my mother who inspires me especially to write. This is also meant to acknowledge the good works of all the juvenile and aged mothers, working wives and housewives, married mothers and the single mothers, those with money and without as well as independent and dependent mothers.
God bless you all with smiles that last forever. #Everyday is Mothers' Day.