Unqualified Judge, Jury, Investigator And Lawyer Kennedy Agyapong
We thank God he likes the freedom of speech he wants to deny others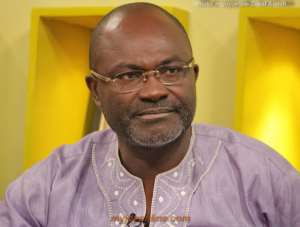 The NPP refuses to suspend this man. This week he released the Who Watched The Watchman part 2. I haven't watched it, I won't waste my time to watch it, because Nipa fu Na oka nsem fu : a useless person is one who spews none sense ( Kennedy Agyapong in wholeness). I have better things to do than waste my time on findings of fools.
The problem with Kennedy Agyapong's law and order, police and justice crusade is, how can a uncorrupt person be lured to do corrupt things ? If Anas is finding, catching, duping and hurting corrupt people. Anas is a great man, he's done well. He is journalist hood ( reference to Robin Hood), duping the rich and sharing the information with the poor. He is a hero.
Number two Kennedy Agyapong cannot share how he's improved Ghana since he got elected on multimedia platforms. Thats what we are interested in, that's why he was elected. That's what he gets paid to do. Not investigative journalism, law, justice and detective work. Last time I checked Kennedy Agyapong has no journalism or legal qualifications. Neither has he solved any murder cases. Therefore why is he becoming the chief voice of what the police should be doing in Ahmed Hussein- Suale's murder case. Common sense am3 b3 eko.
Kennedy Agyapong is either fighting somebody, insulting somebody, talking badly about celebrities, parliament or any institution or person who takes his fancy, or cheating on his wife to create new children. Instead of talking about his projects, NPP projects or educating citizens and the youth with useful information. Everyday something uncouth, foolish or small minded has to come out of this 58 year old veteran politicians mouth. I was shocked to find he has a BA from Fordham University.
By Tuntum Nahana Akosua