Kennedy Agyapong, The New Gang Leader Of The Gangsters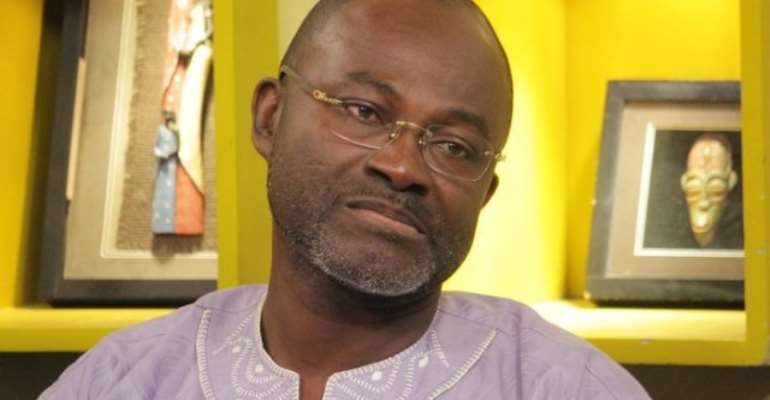 Corruption is undoubtedly the greatest enemy of Africa. In the abundance of natural resources, Africans are forced to go globetrotting cup-in-hand to beg for handouts from people who may not have a quarter of the resources we have. This is because corruption eats a better part of what God has generously bequeathed to us. What pertains in this regard is that, a few people who constitute themselves under the authority of the state as politicians, civil/public servants, businessmen, etc., deliberately, hold resources meant for us all at the top; this makes the top so heavy preventing resources from trickling down to the rest of us.
Many have bemoaned this and others have labelled corruption as a disease, cancer, tumour, you name it. One revered anti-corruption activist, Patrice Lumumba said: "corruption comes under the guise of embezzlement, malfeasance, etc. These veneers are what make corruption attractive to people. Call it stealing, thievery, and those engaged in it are thieves. Call it as it is". I completely agree with this position espoused by Lumumba. We have been ripped off, our resources dissipated by people have been given the power to hold them in trust. The results of this are; lack of access to portable drinking water, education, basic healthcare, and diseases, extreme poverty, preventable deaths, and so on.
In almost every African country, laws have been forged to uproot this canker. Ghana is said to be one of the countries with the best anti-corruption legal architecture. Anti-corruption in books is won but lost on the battle field as on daily basis corruption continue to surge. Our legal regime, which is supposed to be enforced, are manned by these same corrupt officials, who recklessly plunder our resources. How then is it that the fight against corruption would be won in real terms? There is one antidote feared by all corrupt persons; exposure! Every corrupt person fears to be exposed to the people. That's why there is always a sophisticated way in which corrupt persons act. They try so well to brilliantly cover their trails so they don't get caught.
In the face of the high level of sophistry put in place by corrupt officials, the only tool that can be effective at nailing them is 'Anasism'. Anasism simply means the 'credibility test'. It means there's no hiding place. It means Anas is watching. It means cameras are everywhere. The disinfectant for 21st century corruption, is Anasism. But how long can this concept of Anasism last? There is a conscious effort by the people who harvest/have harvested from the proceeds of corruption to undermine Anasism; which for me, is the only way to liberate African resources and ensure its equitable distribution. Emboldened to defend corruption in broad day light, these harvesters of corrupt proceeds are viciously threatening the main pillar of Anasism.
Anas Aremeyaw Anas is the foundation of Anasism. He has been working across the world to expose bad guys. His recent exposure titled #12 has really shook to the core, the bones of corrupt persons around Africa and Ghana in particular. Ahmed Hussein Suale, one of the lead operatives of his team, paid the ultimate price with his life when the state failed to protect him as result of #12. Nobody who has been exposed by Anas would like Anas. I believe this man has hurt so many people in the line of his work for the collective good of us all. The families and friends of his catches would never like him. What at all does he gain from doing this work? Some people say he is using it extort money, no evidence. Some people say he is using it to blackmail people, no evidence. Well, I can't imagine what he gains; if he makes money, how can he spend it when he can't even freely go into public. For me, it is better to be poor me than be rich Anas (note: I'm not patriotic as him).
Kennedy Agyapong knowing very well that the hatred for Anas from people who have tasted his pills and those who are potential tasters (corrupt officials), is inevitable, has decided to rally support from those people to annihilate Anasism. He has made so many inconsistent allegations against this towering figure, Anas. What is evidently clear and funny is that, when makes those allegations, he always relies on people who have tasted the bitter pills of Anas before, as witnesses. It is just like making the hen the judge in a court where the hawk is to be tried, your guess is as good as mine. Kennedy Agyapong first brought one known swindler called Hafiz who had been exposed by Anas to testify against Anas on Net 2. Then he brought some judges and now he has brought the irredeemably corrupt Nyantakyi. He Kennedy Agyapong has consistently called Anas a criminal but it is clear, Kennedy Agyapong looks more criminal than Anas. He has openly committed crimes including calling on Ashantis to maim Gas and Ewes. Anyway that's not my focus for today.
Pertinently, we all must ask whether Kennedy Agyapong is seeking to retry cases that have been tried and judged on the basis of Anas' evidence For example, how can we take Nyantakyi's word against Anas? FIFA is not a stupid institution as the lousy talkative wants us to believe. The committee that investigated the judges' scandal was not made up by stupid people who swallowed hook, line, and sinker, what Anas presented to them as Kennedy and his forces want us to believe. The Presidents, Akufo Addo and Mahama were not stupid in dismissing those judges on account of Anas' evidence as Kennedy and his misguided forces want us to believe. Attorney Generals who prosecuted people found culpable on the basis of Anas' work were not stupid to do so as the lousy talkative and his bandits want us to believe. If Kennedy is minded, I advise him to go back to court and seek review of all those cases! We cannot allow the ultimate intention (dismantle Anasism) of Kennedy Agyapong and his gaping sycophantic forces to survive as this would create the space for them to operate as corrupt officials. Kennedy cannot set new standards for judging right and wrong. Matters the law courts have dealt with cannot be retried on Net 2, Adom tv, Oman fm, Asempa, etc. by Kennedy Agyapong. His latest renewal to destroy Anasism is really questionable; it obviously an attempt to take our attention from the murder of Ahmed which he aided directly or indirectly.
Simply put, Kennedy has gone to gather people whom state institutions have found guilty of various crimes through the works of Anas to come and take their pound of flesh from Anas. He is leading the gangsters in a failed effort to obliterate the shinning works of Anas!