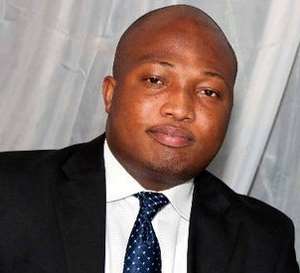 Truly, democracy is supposed to be a collective interest of the masses but it is gradually been overridden by personal interest. And truly speaking, representative democracy in Ghana is totally out-of-place.
The good people, Chiefs and the youth of North Tongu in the Volta Region (Western Togoland), did not go wrong when they entrusted their inalienable rights in to the hands of Mr. Samuel Okudzeto Ablakwa to represent their interests at the parliament of Ghana.
Ever since Mr. Okudzeto Ablakwa occupies North Tongu seat in Parliament of Ghana, I have not heard him mentioned North Tongu in the floor of Parliament for anything. If he does and I don't know, then, anyone is at liberty to inform me.
That being said, today, even a child in Ghana can tell the interest of North Tongu. We are all aware that the people, youth and the Chiefs of North Tongu are against the division of their beloved Volta Region. It is also their interest that their Region, Volta Region, which is part of Western Togoland is due for its independence which is inevitable.
Samuel Okudzeto Ablakwa like any other member of Parliament from the southern part of the Volta Region has failed to mention the interest of the very people whose vote sent them to the parliament.
North Tougu's call for "NO division of the Volta Region and Western Togoland Self-determination" is an open secret. Every effort to have Samuel Ablakwa Okudzeto who occupies the North Tongu seat in parliament and getting paid that make him able to afford three square meals a day compared to the ordinary person in North Tongu who is finding it difficult to make an ends means, to project their interest hit the rock.
Mr. Okudzeto has never attended to the need of the North Tongu in this respect instead he champions a course that leads to his personal glory. Since Samuel Okudzeto Ablakwa did not seem to recognize the legitimate interest of North Tongu, wiped their tears and comfort them at this crucial moment that tears, anguish and excruciating pain filled every home and heart of North Tongu people, the Chiefs, the people and the restless youth of North Tongu now have to turn to the deities for help. It is in the news and all over the social media.
Mr. Samuel Okudzeto being a ranking member on Foreign Affairs Committee in parliament did his best in exposing NPP's government's plan to rip the Nation of $12m in Purchasing of a 100 year-old Oslo building in Norway for Ghana mission. Samuel Ablakwa on Asempa FM lamented for the public to commend him for a due diligent work and I agree with him because credit must be given to where it is due and so we must condemn when we need too.
Mr. Samuel Okudzeto Ablakwa has forgotten that his primary duty is to represent the interest of the people who stood in the scorching sun to vote for him. If he has not been elected to parliament, he would not have had the opportunity to be part of any committee that will able him to do due diligence and be asking for public commendations.
Samuel Okudzeto Ablakwa should know why he was elected and need to be told in plain language that he has failed his people and the Chiefs of North Tongu. North Tongu has him as their representative yet North Tongu has no voice.
2020 is just around the corner and North Tongu people would advise themselves accordingly.
Long live North Tongu,
Long live the Volta Region.