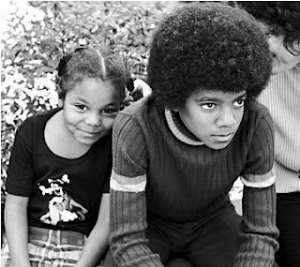 Lovely childhood: Michael and sister Janet
Death is inevitable but certain deaths are not easy to forget, especially if the person is someone special. For example, one whose talent has created an indelible impact in the fields of entertainment, sports, poetry, literature, to mention but a few and above all if the person succumbed to death at a very young age.
Last year, August 29, marks the 60th anniversary of the birth of Michael Jackson. In June 2009, Michael Jackson, the humble, hardworking African-American musical genius, died, throwing the world in a state of shock. Till today, many, including his fans and family aren't the same after his death.
Michael Jackson left his beloved Jackson family, his fans, loved ones and all the merits of his countless awards without a word. I hope many will agree that great minds and talents often don't live long, thus, people want to know and if possible to ask the creator: Why great people often die very young?
On July 20, 1973, sorrow and grief filled the atmosphere in the film industry when it was announced that the actor and martial-arts expert Bruce Lee, is dead in Los Angeles at the age of 32. According to the medical examination, his death was possibly attributed to a reaction of a prescription painkiller.

Bruce Lee in action
Bruce filmed: Enter The Dragon, Way Of The Dragon, The Big Boss, and Fist Of Fury. The legend, originally known as Li Xiaolong, without any doubt is the most iconic martial arts superstar the world has ever known. Sadly, he died before the Game of Death, which was released in 1978.
"There's a natural mystic blowing through the air if you listen carefully now you will hear. This could be the first trumpet, might as well be the last, many more will have to suffer, many more will have to die, don't ask me why," sings the Jamaican reggae singer-songwriter and international musical icon, Bob Marley.
How did the world react to the death of this reggae icon who was considered a prophet because of his biblical and arrow piercing lyrics? On May 11, 1981, at 36, Bob Marley sorrowfully left his millions of fans and family and departed from this earth.

The happy moments of Bob Marley
Under the name Bob Marley and the Wailers, he recorded 11 albums and sold millions of copies. His masterpiece albums include Rastaman Vibration, Exodus, Kaya, Catch A Fire, Babylon By Bus, Survival and the last album 'Uprising', were big international sellers.
The seed of the reggae music was taken from Africa to the Caribbean. It didn't only germinate, it blossomed, giving birth to great Jamaican reggae stars, such as Jimmy Cliff, Peter Tosh, Desmond Dekker, Joseph Hill of Culture etc.
Thus, we shouldn't be surprised if Africa has great reggae stars, such as Alpha Blondy, Ishmael Isaac, Tiken Jah Fakoly and Lucky Dube etc. The latter is the one I will speak about.
In the field of African reggae, there is no one who can fill in the shoes of Lucky Dube. Shortly after interviewing the South African reggae icon, Dube was murdered after he tried to flee from armed robbers who had wanted to snatch away his car on October 18, 2007. He was 43.

South African reggae legend, Lucky Dube
Read More: The Day Joel Savage Interviewed Lucky Dube
In his professional music career, Lucky Dube recorded 22 albums in Zulu, English, and Afrikaans. He was Africa's biggest-selling reggae artist. Some of his great albums include, 'The Other Side, Tax Man, The Way It Is, Victims, Together As One, Trinity, Respect, Slave, Prisoner, Soul Taker etc.'
Who was Nadya Rusheva? I read about this teen-lady recently. How brilliant was this Russian schoolgirl who became an artist? Her artworks were exhibited all over the world. She died at 17, leaving behind over 10,000 paintings, drawings, and illustrations to classic literature.

Nadya Rusheva died at 17, left behind over 10,000 drawings
The lives of these great people inspired many and made this world a vibrant, and incredibly interesting. All of them played a unique and special role that every generation will be familiar with. Many don't believe that they are dead but the reality is they are gone forever.