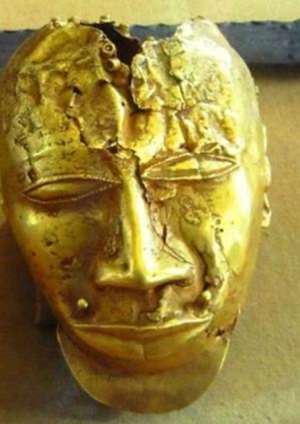 Gold mask, 20 cm in height, weighing 1.36 kg of pure gold, seized by the British from Kumasi, Ghana, in 1874 and now in the Wallace Collection, London, United Kingdom.
We publish below a statement issued recently by participants in a workshop at Legon, Ghana, on looted African cultural artefacts that are in Western museums and private homes that have become a contest between the present holders and African States and institutions that seek their restitution.
Attended by many scholars from Africa and Europe, the workshop follows on the heels of the recent report by Felwine Sarr, Senegal, and Bénédicte Savoy, France, on restitution of looted African artefacts in France that was submitted to French President Emmanuel Macron, on 23 November,2018.
The participants noted that most recent discussions on restitution were 'centering on Paris, Berlin or Brussels' and 'lack clear African inputs and perspectives from scholars and practitioners. They also noted that 'only a few African governments and institutions have taken positions, or at least started discussions about their attitude towards the debate.'
It is not surprising that discussions on looted African artefacts have been mainly in the Western countries so far for this is where most of the stolen artefacts are to be found. Since most of these artefacts were stolen by Europeans some 100 years ago, they have kept them in their museums and most Africans were not aware of the final destination of the objects stolen with so much force and violence. Few Africans were in a position to see them if they visited European capitals and with the increasing racism and difficulties in obtaining visa for Europe, it has become clear that the argument that the so-called universal museums are open to all, is absolute nonsense. It is also natural that Africans in the diaspora, especially those born there, would be the first to realize the racism, hypocrisy and lies of the museum directors and their arrogance in defending the looting and illegal detention of African artefacts. However, effective action can only be achieved when Africans within the Continent and those in the diaspora coordinate their efforts. We must also add that among the younger generation of Europeans, there is much sympathy for Africans in their efforts to recover their stolen artefacts. Much of recent activities is this area has been due to efforts of anti-colonial forces in the Western States. That Germany, for instance, is now very busy with problems of human remains and looted artefacts can be ascribed to the youth in such NGOs as Postkolonial Berlin and No Humboldt 21. They have obliged the German authorities to examine the German colonial past, including the genocide of the Herero and the Nama as well as the human remains in German institutions.
It is very regrettable that there is a lack of action or involvement by many African governments in matters of restitution of looted artefacts. Nor have our governments encouraged discussion on this issue even though most governments constantly proclaim their attachment to our African cultures. Almost 60 years after independence, we are still involved in an issue that should have been solved before independence or the immediate period thereafter. In the last few years many governments have shown great interest in restitution matters, especially since Macron declared that African culture must be showcased not only in Paris and London but also in Dakar, Lagos and Cotonou. The governments of Senegal and Benin have deployed much effort on restitution matters. Cote d'Ivoire and Nigeria are also active. Unfortunately, the Nigerian authorities are threading a path which does not, in our humble opinion, serve the African cause by their agreement to borrow their own looted artefacts from Western countries. We hope they will withdraw from a borrowing that will only weaken the African case for restitution of looted artefacts.
The participants in the workshop made an observation which we consider crucial: 'The lack of trust of African restitution advocates towards European museums and governments is unlikely to reduce until there is: a quick return of those highly valued objects, as requested by African governments and communities, where illegal acquisition is undisputed with a clearly established provenance history'.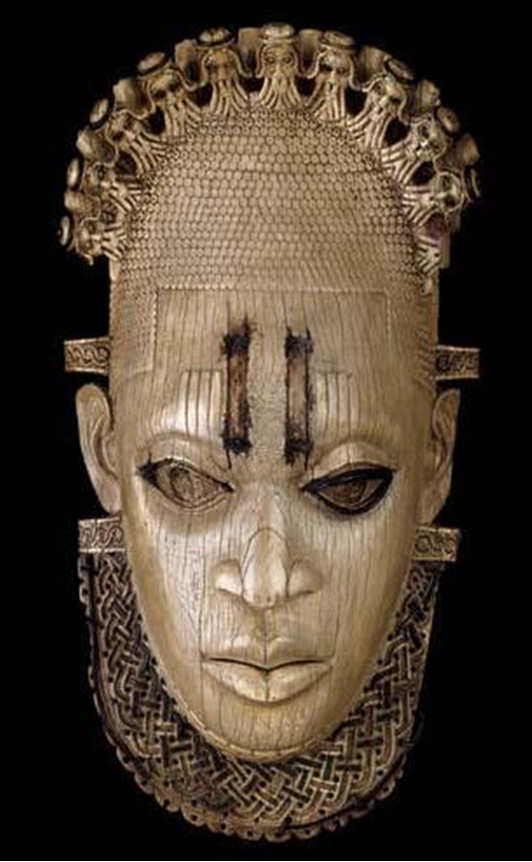 Queen-Mother Idia, Benin, Nigeria, now in British Museum, London, United Kingdom. The participants logically rejected any excuse for long delays in restituting an object on grounds of necessary period for provenance research. This must be repeated to German institutions that have been thinking that they can postpone restitution of objects by saying they are still doing provenance research even though they have had these objects for more than a hundred years and many of them have a clear undisputed history, such as the Benin objects that were looted by the British in 1897 and sold to other European museums, especially the German institutions. The Humboldt Forum is playing its own games, hoping to display the looted Benin artefacts when the museum officially opens in November 2019.
Workshops such as this one held in Legon will no doubt contribute to raising the awareness of our peoples and our governments and exposing the contradictions in the position of the major Western museums that insist on holding illegally the artefacts of others.
Kwame Opoku.
University of Ghana, Legon, Ghana
International workshop on:
ISSUES OF RESTITUTION AND REPATRIATION OF LOOTED AND ILLEGALLY ACQUIRED AFRICAN OBJECTS IN EUROPEAN MUSEUMS
13-14 December 2018
Statement by workshop participants
Drawing on earlier exchanges on the African continent, scholars, museum practitioners, heritage custodians and policy-makers, gathering at MIASA at the University of Ghana, discussed a number of shortcomings and inadequacies in the current debate on restitution and provenance issues.
We acknowledged and engaged with previous and current African initiatives and perspectives. The international debate needs to quickly gain a much-needed African dimension. Most discussions now centering on Paris, Berlin or Brussels lack clear African inputs and perspectives from scholars and practitioners, often failing to reflect the concerns of African researchers on stakeholder participation, as well as the challenges/needs and potentials of African museums. Additionally, only a few African governments and relevant organisations have taken positions, or at least started discussions about their attitude towards the debate.
The lack of trust of African restitution advocates towards European museums and governments is unlikely to reduce until there is: a) a quick return of those highly valued objects, as requested by African governments and communities, where illegal acquisition is undisputed with a clearly established provenance history; b) more joint (African-European) efforts to establish the provenance of other key objects. Transparency and accessibility are also key to establishing trust. Providing inventories of objects and the opening of museum storage rooms to African experts must become established principles. In addition, there should be access to archives in European museums or other state institutions.
While it is necessary to prioritize the objects to be returned, a long process of re-evaluating or establishing the provenance of objects is unacceptable and cannot be an excuse for slowing down the process of restitution. Undisputed, illegally acquired objects must be subject to unconditional restitution from and by state museums in Europe.
The governance of restitution processes, with clarity of principles and procedures, is equally required. The African Union and Regional Economic Communities are invited to develop a position and to start negotiations about such principles. The instances of some successful – albeit slow and painful - precedents in restitution to Africa could be turned into positive examples or provide elements for deducting more general guidelines. These guidelines could include: a) early negotiation of terms of reference between the relevant partners (museums, governmental bodies, communities); b) clarification of any competing claims on the objects themselves, but also of legitimacy and representativeness; c) approximate timelines for additional research on the objects' provenance (if deemed necessary); d) validation of the authenticity of restituted objects; e) joint development of an exhibition policy including within the community AND country of origin (at times
countries of origin when pre-colonial entities are 'transborder communities') AND at European
museums that transfer objects to Africa.
There is also an observable lack of homogeneity on the European side. The Macron initiative (following requests from Africa) is laudable and has provided openings and in turn influenced debates in Germany and Belgium. Yet this is not the case for most other member countries of the European Union, North America and elsewhere. The EU itself has not yet taken a visible position. It is also expected that individuals and private institutions with looted and illegally acquired objects of African origin will begin to show willingness to return these objects. Interdisciplinary and transregional research, as well as transregional and transnational museum cooperation, are promising avenues for overcoming the decades-old deadlock in the restitution of illegally acquired/looted objects from Africa. We also expect that while this process is unfolding, it is the joint responsibility of European and African authorities to take urgent steps to scale-up African museum institutions to ensure that, once returned, these looted objects are properly housed in secure institutions that meet the best possible standards of museological practice. We are aware that various initiatives are underway on the African continent that champion the cause of restitution, and we give our full support to such African-led initiatives.