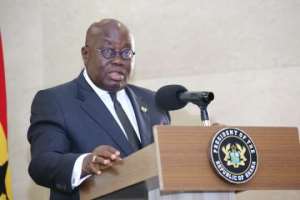 …Maybe so. It is said that power reveals a person's character. That is what the President's character confirms beyond his smooth accent and his 'tennis ball lenses'.
I am wondering whether the NPP's 2016 manifesto has changed from 'Agenda for Jobs' to 'the Naming Agenda' or 'Restoring Ghana's Skewed History'. Otherwise, whoever committed this sin against the gods to have caused our president to lose focus must go back to appease them.
As I thought about the haphazard manner by which government's flagship Free SHS is being implemented, I have concluded that we have a leader who would go any length to make history recognize him, regardless of consequences. My conclusion, which may be unfair, is being given flesh by the current bill laid before Parliament to make August 4 Founders Day and annul the Republic Day commemoration for Constitution Day.
Indeed, the gods must be crazy. The old man is behaving like a slay queen who wants to do everything for his family's name to be recognised the way he deems fit. Should anybody be surprised that under his leadership, a photo shoot costs over $140,000? Well, Ghana we dey.
It is so naive for a man like Nana Akufo Addo to be behaving like he and his political opponents are wives of a rich man. The president is behaving like the political head of Shatta Movement who does not recognize that 'confidence is when you complement others without you feeling insecure'. It is so sad, that while Nkrumah's works cast his name in stone, it is taking an 'aggrieved son' to retell us about how great his family is. Some script writers must take these blockbuster scenes very seriously.
It would not be far-fetched if mention is made of our fancy for naming and changing names of public properties without asking critical questions.
Whatever the name change of basic education structure from Junior and Senior Secondary Schools to Junior and Senior High Schools is still a baffling thought. For those who changed the O Level system to what we now have so as to segregate the poor from their children who still benefit from the only good legacy the Brits left us, I have been praying they don't make it to heaven. But that is another matter.
The other day, the president suggested that Dankwa's contribution to the establishment of the University of Ghana should be recognized. I believe but for the public outcry, the University of Ghana would have by now been renamed Dankwa University of Ghana. Mr. President's naming agenda, was already in full swing before he made the announcement that sent tongues wagging, but government communicators said he had no such intentions, thanks to social media critics.
Then, the president also suggested it is fitting to name the prospective University of Business Integrated Development Studies in Wa after Chief Dombo. Now, Dombo may merit such recognition. However, I am wondering if that is not going to be the straw that would break Rawlings' back and break up the love affair between the Rawlingses and the Akufo Addo administration, knowing who Rawlings is?
On a more serious note, I perceive the president, whose long name can pass for an essay, has nurtured this dream of putting his family's name in the limelight of history for long. This unhealthy fixation on self might have started during his middle school days. I am too young to speculate a story of my president who is as old as my grandfather.
But adolescents in school would want to be recognised by their nickname(s). During my Senior High School days, they were rather fancifully not just nicknames—they were 'guy names'. Oh! How we painted our names on 'chop boxes' and school walls! Famous guys on campus then had graffiti of their names everywhere. Mine was an abbreviation of my names (it was F2K) which my headmaster thought was a name for a chemical compound. It was actually a demonstration of my mathematical precocity.
I suspect the President was one of those who wrote their name on walls of school toilets, like 'Billy was here some', 'Billy the girls lover' or 'Billy Ghana's future president'. No wonder after five decades his colleagues at Lancing College still remember his nickname.
Now, that he is president, all his political mentors and family members must be named after one of two public buildings and holidays. And we must all enjoy some rest to commemorate their relevance to Ghana. As Ghanaians continue to make light of everything, I am told the street between the President's Nima residence and the Nima Police station has been christened Corruption Street. Can you imagine!
Before Members of Parliament and District Chief Executives start implementing the 'agenda for names policy' at the local level by naming public toilets after themselves, why don't we ask the president to name inflation after Dankwa? Or, declare Fridays as Busia's day for Funerals so we do so more frequently, since that would make public and civil servants happier? Kw3, like Fridays will be 'bobolibobo'.
Frederick K Kofi Tse.