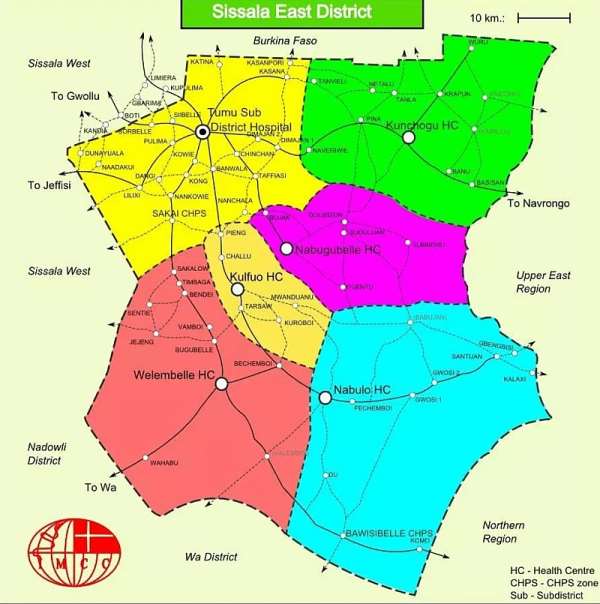 Some few days ago, I wrote on how the Sissala East municipal overall best farmer award was hijacked by politicians, This I indicated was a disincentive to poor farmers and betrays the spirit behind the Farmer's Day programme.
Read More: The Political Hijacking Of The Sissala East 2018 Overall Municipal Best Farmer Award
I was inundated with a lot of calls and words of encouragement from many people and especially those into farming. I was encouraged to continue speaking the truth, standing up for justice and fighting for the underprivileged in society. In fact, that article was one of my articles that I found people across the political divide uniting in praising and endorsing.
Despite these positive responses, I equally received some harsh criticisms from extremely few people. These extremely few persons feel that the injustice that was perpetuated was good as long as it satisfies their parochial interest. They tried raising one reason after the other to justify the political hijacking of the overall best farmer award and when they found out that their justifications were not holding any water, they decided to resort to outright lies and concoctions to discredit my writeup and my integrity. This again, is another failed mission.
Interestingly, on the evening of Saturday, the 8th of December, 2018, there was a political talk show on Radford FM(the only radio station in the Sissala East Municipality). Before the show, the FM station posted on their Facebook timeline that they will be discussing the Presiding Member of the Sissala East Municipality winning the best farmer award and asked their followers whether he deserves it or not. This question alone tells you how controversial the award dashed the presiding member looks. When the programme started, none of the panelist including the one representing the presiding member, honourable Jabunmie, own party, the NPP, felt he deserved it. Almost all callers to the programme were angry about him winning the award. Some callers even asked for the presiding member and his very few allies to keep their award quietly because he is undeserving of it.
The presiding member of the Sissala East Municipality, honourable Tohari Jabunmie, called into the programme to explain why he deserved the award. The presiding member himself was the one marking his own script and not the municipal agric office. The question then is, if it was truly the agric office that chose him and awarded him, why weren't they those putting up defence for him but he had to voluntarily call into the programme to put up defence for himself?
Significantly, in his defence of why he but no one else deserve the award, he stated that he has 47acres of maize farm, a half acre of "bambara beans" farm, 6 acres of groundnuts farm, 4000 yam mounds, 87 cattle, 4 donkeys and a farm record book. He admitted that he has no single tractor on his own and has no record of building up any young farmer. In fact, this attempted defence of his award on Radford FM rather exposed him the more.
Firstly, the well deserved winner who was swindled of the award due to the MP and MCE reported actions, Moro from Bichemboi, has 150acres maize farm, 8acres of groundnuts, 10acres of rice, 10acres of soyabeans and 10acres of cowpeas. Moro is also a member of the National Seed Producers of Ghana. In the 2017 farming season for example, he supplied the ANTICA seed producers 140minibags of quality maize seedlings which was used for the Planting for Food and Jobs Programme. These are facts that can be verified from the Sissala East Municipal Agric Office.
Besides, Moro has supported a lot of youth to farm. He has supported a lot of youth with seedlings, NPK and ploughing. He has two tractors on his own and two maize shelling machines. He equally has a very intact farm records book. On livestock rearing, Moro has 46sheep and 64 cattle. So, with all these positive and inspiring records, how can one reject such a contender and rather award someone who is using a half acre of "bambara beans" and 4 donkeys as part of his records?
Secondly, the first runner-up to honourable Jabunmie, Mr. Ibrahim from Nankpawie, equally has a far better record than that of honourable Jabunmie. Ibrahim also has 120acre maize farm, 25acre groundnuts farm, 15acre soyabeans farm, 2000 yam mounds, 4acres of rice and 6acres of beans. On livestock rearing, Ibrahim has 120cattle, 42sheep, 24goat and 52 indigenous fowls. He further has 2tractors, 3 combine harvesters and 2 ploughing machines. He, like Moro has also supported 333 outgrowers. Ibrahim has a registered farm with the name Batong Trading and Farms. Through his farming activities, he was able to drill a mechanized borehole for his community eventhough it is yet to become fully functional. He has provided a cornmill for his community. So again, with this record, how can you make such a contender a second best to someone who farmed 6acres of groundnuts with no support whatsoever to outgrowers?
Judging from the above, everyone with an objective mind will see the injustice perpetuated against Moro from Bichemboi. In reality, if a proper non-political assessment is being made on the nine contenders of the overall best farmer, Presiding Member Jabunmie should be around the 7th or 8th position and not anywhere near the first three. But who are we to go against the wishes of our MASTERS, The MP, honourable Ridwan and the MCE, honourable Karim Nanyua?
To set some records straight for the extremely few people who tried to lie to tarnish my image and my writeup, it is NEVER true that I, Fuseini Abdul-Fatawu, ever organised a meeting with anyone to discuss this overall best farmer issue. I do not have the capacity to do that and I DID NOT HAVE A CANDIDATE FOR THE OVERALL BEST FARMER AWARD. On the contrary, it was the Sissala East NPP constituency executives that organised a meeting for the MCE and the electoral area coordinators on Sunday, the 2nd of December, 2018. The meeting was scheduled to start at 7am but it actually started around 10am and ended around 1pm. The NPP electoral area coordinators asked the MCE, honourable Karim Nanyua, about the political awarding and rewarding of honourable Jabunmie the overall best farmer award by the MP and himself eventhough they knew that honourable Jabunmie did not deserve it. The MCE vehemently denied this and said such cannot happen. So to claim that I organised a party meeting to lobby the overall best farmer award for one of the contenders is a BIG LIE.
It is also not true that I wrote anything about this Municipal Best Farmer Award prior to the day of the event. NOTHING of that sort can be found on my Facebook page. Admittedly, others who were already aware of the MP and MCE's reported machinations have written on it but not me.
I shall, In sha Allah, be back...
Fuseini Abdul-Fatawu