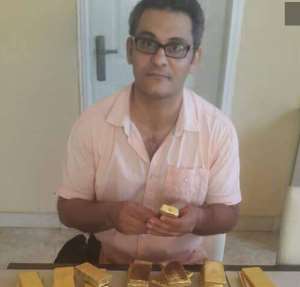 Naji Khalil Has Been On The Run Since 2014
A notorious international gold scammer and mafia, Naji Khalil, a Lebanese national, has established his dubious trade in Ghana.
Naji Khalil, who is profiteering greatly from his suaviloquent engineering trade tactics in Ghana, is also said to be on the wanted list of the Dubai Security in the United Arab Emirates (UAE) for offences he allegedly committed against his clients since 2014.

Investigations conducted by this reporter has revealed that Khalil's modus operandi, is mainly to cajole unsuspecting investors, disguises himself with fake names and vanishes with the booty with the pretence of supplying them with gold.
Also, a report by the International Organization of Security and Intelligence (IOSI) in Dubai, indicated that Naji is interconnected with gangs of fugitives and criminals in the UK and Argentina.
Naji was also convicted and incarcerated for similar offences in many states in the UAE including defrauding by false pretence.
His Craft…
Naji and his surrogates gang together to lure clients who are into gold business seeking to purchase gold from dealers. They get wink of their client who is then directed to Naji who then also introduces himself with the fake identity, Monos Torakian in order to get the clients transfer huge sums of money into bank accounts in the UK, UAE, Singapore and Argentina where some of his accomplices are based.
Once the money has been transferred into the fictitious accounts, Naji then disappears into thin air leaving the victim to wallow in pain and anguish.
His next destination…
An intel picked by the reporter revealed that this dangerous Lebanese fraudster and scammer has registered his nefarious activities in Ghana and is currently living somewhere along the Spintex Road in Accra.
He owns a Diplomatic Freight and Logistic Services Company at the Aviance Cargo Village at Ghana's Airport.
A painstaking investigation revealed that Naji has succeeded in defrauding over 50 investors including some Ghanaians after receiving payments running into millions of dollars with the hope of supplying them with gold bars.
What makes him elusive to this trade is that through his high level connection with officials, he holds multiple international passports with different Arab names some of which are in the possession of this reporter.
The Idiosyncrasies of Ghanaian Police
The worrying aspect is that Naji has been reported severally to the police and other security agencies in Accra by victims who felt jilted by his trade but have refused to act, for reason best known to them.
Naji is said to have been emboldened enough in Ghana having succeeded in compromising some of our security personnel making him very slippery and difficult to catch.
A victim recounts the ordeal
According to a victim, Naji displays his so-called gold bars in one of his hideout/offices all in a bid to lure potential investors. He has also succeeded in developing his own gold testing services as well (See Photos here).



Naji Khalil who poses himself as a gold exporter based in Ghana claims he has set up a multi-billion dollar gold refinery in Ghana.
According to his tax clearance records from the Ghana Revenue Authority (GRA), his company's line of business is clearly stated as Freight and Logistic Services but keep parading himself as a gold dealer and supplier.
It is mindboggling why our local gold regulators and the airport security who are very much aware of him, look on while Naji continues with his dubious trade for a long time.