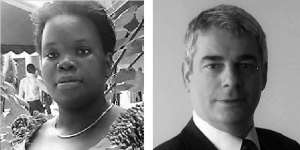 This article is based on a training we gave 2 weeks ago at the University of Ghana to all participants of the Hult Prize $1.000.000 contest.
We have observed that in general a lot of Ghanaian entrepreneurs are faced with the dilemma of "how do properly communicate their ideas to third parties" and unfortunately, they seem to confuse a (PowerPoint) presentation with a StartUp -Pitch. We also have not so far encounter a high quality training on this topic in Ghana.
StartUp Founders get sometimes an impromptu expressing of interest by a potential investor and are faced with the dilemma of "how to tell them about their business idea within a very limited time"; this is the 'classic situation' where good pitching skills come in handy.
Equally important scenarios can be a few minutes with a potential customer, funding organization or philanthropist, etc…
The question now becomes, which aspects of the whole idea should one concentrate on within the limited period to have the attention and impact of the potential investor, funder or third party listening?
The task of bringing an idea to someone with the power to do something with it is called a pitch. Pitching is basically letting people understand your business.
Types of StartUp Pitches
Various writers classify the types of pitch between three (3) to a maximum of eleven (11). The most popular among the classifications are:
The elevator pitch which is typically a maximum of one minute pitch that will tell someone what your product or idea is within a 1-minute elevator ride. An elevator pitch must meet the following 3 key- characteristics:
The pitch must be concise (never more than 1 min),
clear (no complex marketing terms or jargon), compelling (induces greed),
and irrefutable (statements you make are hard to deny).
It is best to start this pitch by knowing something about the person you want to pitch to, then finding ways you can help each other, this is the kind of pitch you might be using every day until you get the opportunity for a longer pitch.
My company (name) is developing (what it is doing) ….. to help (how the service or product is helpful) … (what problem are you solving) …. (how you are doing it)
Example: Bean Masters Ltd sources and roasts Ghanaian- grown organic coffee and makes is freshly roasted and readily available to coffee lovers in Ghana.
The Short/Long Term pitch, if an investor likes your elevator pitch, they may invite you for a short or long form pitch where you will tell them more about your company. This pitch it typically 5-10 minutes long, in some long term cases it might prolong to 20 minutes.
HOW-TO Pitch in 14 easy Steps:
Know your audience- Whom you are pitching to?
Start with a simple and ultra brief presentation of yourself (e.g. education and professional experience as it relates to the business that you are about to pitch- think of it as the 'equivalent' of 1-line)
Do the same of your Management Team, focusing on the existing synergies/ complimentary skills. Investors are mostly 'buying' into the team and the kind of skills they bring on board. It is also good to show the kind of Advisers and Board Members (if you have a BoD) and their strengths. To be very impressive if the team / members have done anything impressive (formed and sold a successful business) that has made money, you need to state it; or the composition of current team (basically 2-4) whether technical or business background. Finally convince the investor about how committed you all are as a team to the proposed business.
What is the Problem/Opportunity that you are trying to solve? Is the Problem/ Opportunity well-defined? Please use targeted data or tell a story to highlight the problem.
How many people have this problem or can benefit from this opportunity? Basically, what is your realistic market size?
How will you do it- what is your Solution/Value Proposition - Just make sure that your Solution really solves the problem 100% - I.e. it is not a partial solution.
What is your MVP? If possible have a prototype or some sort of 'proof- of- concept'. MVP stands for Minimum Viable Product -ie the bare minimum product that you can take to the market with just enough features to satisfy early customers, and to provide feedback for future product development.
For example, suppose that you are starting a Pizza Business. Your MVP might be a plain cheese pizza with a diameter of 9". After your 9" cheese pizza MVP has been proven successful, then you can extend it to a 14" or 21" pizza for example. Or just add ingredient and extend your offerings: cheese pizza with olives or pepperoni or minced meat or whatever…
Remember to keep it small- Be a humble StartUp - you are not a multinational yet
Communicate Clearly your USPs (Unique Selling Points/ Propositions). This is about proving that your product or service offering is very Unique compare to the competitors. Make it relevant to your MVP!
Obviously you have to explicitly state who realistically your Competitors are and provide a brief SWOT Analysis (please google SWOT if you have not seen it before)
WHO are YOUR Customers. This is about your Customer Development! The biggest that and most common confusion worldwide is the difference between Customer Development and Product Development:
Customer Development answers the question : "Will they buy it?"
Product Development answers the question : "When and what can they buy?"
For Customer Development, you need to show that you have gone out (no online questionnaires please - this is a common bad advise) and talked to 80+ potential Customer, have understood the problems and what they are missing as solutions.
Never ask someone if they are willing to pay for example 10 cedis for your detergent… wrong move. Better ask them if they are using detergent (they might be using soap bars), for how long and how much they have been paying so far for their detergent (how much they are used to pay for a detergent).
Use all this information to develop Marketing Personas (also known as Customer Personas). Communicate that with the investor in a clear way.
What is your Go-to-Market Plan – this explains who you are going to be selling to, the quantity of the market that you can address. This is where you show some facts of who you are selling to.
Financial Projections and Key Metrics - this is where you show how you are going to make money, some prefer to term it revenue model. You need to show margins, what you are going to charge and when. Simply showing the pesewas or cedis. For some investors this is the deciding point, they just want to see how you are going to create revenue.
Is 'all that above' Scalable? Yeap. That simple. If it is not Scalable, It attracts zero interest and enthusiasm from any investor
Traction/Milestone – also sometimes referred to as a development plan or evidence, a timeline of what your expectations are or simple answering why you? To answer this, you can show evidence of analysis, a recommendation from a satisfied user, or a recognized registration process. All these answers the question of why you and not somebody else
Our own Example: Bean Masters Limited coffee blends are have been analyzed by Ghana Standards Authority, licensed by Food and Drugs Authority, it has also under gone private individual analysis from some companies in the United States. We have also developed the blend after doing so many sample tasting sessions with over fifty (50) coffee lovers. Bean
Masters is a member of the Coffee Federation of Ghana, the National Board for Small Scale Industries and currently in the processes of acquiring license from Ghana Cocoa Board to Export green coffee beans.
Ask – also known as the BIG ASK! Why are pitching? Do you want money? A partnership? A loan? A …what? Be extremely clear!! You have to show that you do know what you are talking about, what money you are raising, why and what you are going to do with the funds if they are given to you -ie what amounts you will spend for what and what is the relevant timeline?
.
A simple Fundraising Advice
Your pitch is successful when investors are asking how they can invest in your business, and this rarely happens. So …how then do you turn this around to make you strong and the investor weak? These two points might be able to help you gain some advantage;
Most a time you only need about 5% of capital required to put the minimum value out there, start in your own small way and the investors will seek you out.
Always show you have a fully committed team that is willing to move fast; this is a way of gaining advantage when you can't show traction
3 DO NOTs when pitching
Various StartUp or business coaches around the world have come out with a number of do's and don'ts when pitching. Anyone who has studied and mastered the art of public speaking can easily identify some of them.
Just avoid these 3 points please:
Don't put unnecessary pressure on the investor to invest:; also don't over promise on returns. Simply put, please just be credible and truthful - any lie will go a long way to harm the entrepreneur
Don't say there is no competition
Give them an investment pitch, not a product pitch – most people spend too much time talking about the product or the features as if they are getting the investors to buy the product, but investors are interested in the company holistically.
In Conclusion
First we also would like to thank David Kenechukwu Obi of Joluud anf Gladys Afetsi from Ace Consulting in joining us and adding clear value to the StartUp Pitch-Training that we gave to all the Hult Prize Competition participants.
All these tips come from our combined experience of almost 30+ years in giving and judging pitches. So please kindly do reread carefully all of the above.
And, Good Luck of course.
.
Thank you,
.
Benedicta and Spiros
.
About the Authors:
Coffeepreneur Benedicta Tamakloe, is the Founder of Bean Masters (www.BeanMasters.Coffee), a Ghanaian StartUp focused strictly on the coffee trading business.
Benedicta can be reached at +233 20 296 2988 or via email at [email protected]
Spiros Tsaltas -a PR Practitioner & former University Professor, is a PRrincipal at HireLoyalty (www.HireLoyalty.com) , the only Strategic PR Firm in West Africa that Consults (How-To), Measures (Test-To) and Trains (Learn-To) in anything relating to Customer Loyalty and Loyalty- focused PR. HireLoyalty can be reached at +233 20 741 3060 or +233 26 835 2026
They welcome all your comments/ remarks/ feedback /suggestions at Press [at] HireLoyalty.com.
© 2018 Spiros Tsaltas and © 2018 HireLoyalty