Empowering Persons With Disabilities And Ensuring Inclusiveness And Equality
...On International Day For Persons With Disabilities (IDPD)--3rd December 2018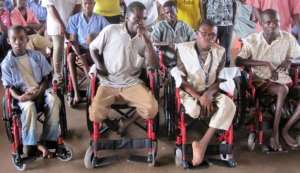 In God's own wisdom, He created variety of people, black or white, tall or short, and Persons with Disabilities (PWDs). Due to their natural state of vulnerability, the United Nations (UN) among other interventions has instituted the International Day for Persons with Disabilities.
This Day was initiated by the General Assembly of the United Nations in 1992 with the purpose of acknowledging the existence of Persons with Disabilities as well as provide a yearly framework for the globe. This year, the theme of the celebration is-Empowering Persons with Disabilities and ensuring Inclusiveness and Equality. Scrutinising the theme, brilliant ideas were discovered for which this article will discuss.
In commencement, the theme contains three (3) key words: namely, Empowering, Inclusiveness and Equality. These words are mutually intertwined since successful attainment of each automatically paves the way for the achievement of the others. The subsequent paragraphs seek to discuss the three key words of the theme independently as well as highlight some prominent sub areas of focus.
EMPOWERING PERSONS WITH DISABILITIES.
Humans are bereft of capabilities until they are empowered to perform a specific task. Hence, a person cannot be described as incapable in the absence of the requisite tools for performance. Unfortunately, this is the description of Persons with Disabilities in Ghana and some parts of the world. Empowering Persons with disabilities are generally understood as a social investment into People with Disabilities geared towards enhancing their capacities and allows them to set their personal priorities.
According to the Cambridge English Dictionary, Empowering is something that makes a person feel more confident and feel in control of his/her life. Linking the definition to Persons with Disabilities, myriad mechanisms must be put in place by States to facilitate the process of making PWDs feel in charge of their lives. Some empowering mechanisms to consider are- Skill Acquisition, Access to Funds and Access to Education.
The acquisition of skills connects Persons with Disabilities directly to a source of fund: thereby reducing the tendency of absolutely depending on others for survival. The sense of feeling responsible for the provision of other people's needs in return for money will make him/her feel confident and in control of his/her life. Again, the beneficiaries of the skills in return will facilitate the process of societal inclusion of the Person with Disability due to the mutual benefit they derive.
Focusing on Access to Funds, it is an established fact that, Persons with Disabilities encounter numerous challenges in their quest to access funds to develop themselves. To avert this challenge and empower Persons with Disabilities, States across the Globe must make it a matter of priority to establish and invest into ventures that will provide funds for Persons with Disabilities to support and empower themselves. For instance, in the year 2005 the Republic of Ghana introduced the Disability Common Fund where 3% of the District Assembly Common Fund (DACF) is allotted and disbursed to Persons with Disabilities. Although the disbursement in some localities is thwarted with some challenges, States can draw inspiration from the concept to aid their citizens with disability get access to funds.
Another crucial tool of empowerment of persons with disability lies in accessing quality education. This is because, the education of a Person with Disability exposes him/her to a pool of sophisticated knowledge; thereby empowering him/her to be more confident to contribute significantly in diverse areas.
The bulk of Persons with Disabilities in Ghana are not educationally empowered. This is because majority of the Schools do not have disability friendly environment; taking into consideration the buildings, mode of teaching and learning materials. Also, the Schools are considerably few, thereby discouraging guardians of Persons with Disabilities from enrolling their wards in boarding special schools. To curb this devastating phenomenon, the Government of Ghana should invest into the education of her citizens with Disabilities. By this, regular schools should be integrated to accommodate the learning needs of Persons with Disabilities. In other words, the Government should fast track the implementation of the Inclusive Education policy. Again, the State should subsidise the fees of Persons with Disabilities attending private special schools due to the high cost.
INCLUSIVENESS
the UN recognises the potentials of Persons with Disability in contributing to nation building. Hence, making sure everybody has similar opportunities to take part in every aspect of life to the best of their abilities.
Persons with Disabilities due to erroneous beliefs, perceptions and cultural dictates are excluded from partaking in advantageous opportunities. Again, they are not adequately included in conferring and taking decisions that affect them. This phenomenon finds expression in the Ghanaian family setting. The act has buried the potentials of numerous Persons with Disabilities in Ghana and Africa in extension.
As an important word "Inclusiveness" in the theme for 2018 celebration, the Cambridge English Dictionary defines inclusiveness as the quality of including many different types of people and treating them all fairly and equally.
Including Persons with Disabilities in social activities chiefly involves the identification and elimination of barriers to their participation. Again, Inclusiveness can be attained by providing Persons with Disabilities the unique skills and knowledge needed by the ventures they desire to be included: enabling them to be vigorous players and not spectators. Additionally, inclusiveness can be attained by formulating and implementing inclusive policies and ensuring that positive practices are communally applied.
In a nut shell, empowering Persons with Disabilities with the requisite tools will broaden their horizon and boost their confidence. The results of empowerment will enable Persons with Disabilities to participate actively in social enterprises of their preference. Active participation coupled with societal acceptance of Persons with Disabilities will produce equality in all spheres of life. As Ghana joins the World in celebrating the International Day for Persons with Disabilities, the way forward is to see the Government of Ghana and all Stakeholders enhancing and putting in innovative measures to empower Persons with Disabilities: thereby attaining inclusiveness and equality as the 2018 theme in visages.