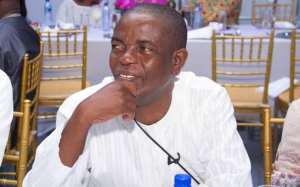 Kwesi Pratt Jnr
The editor in Chief of the weekly insight newspaper, Mr. Kwesi Pratt Jnr. on peace FM 104.3 Kokrokoo progam of Nov. 24th 2018, which was also broadcasted live on Okay FM 101.7, Hello FM, Neat FM and facebook had said that Volta Region of Ghana, Northern Ghana or simply put, the UN Trust Territory which is also known as Western Togoland or British Togoland originally was not part of Ghana (former Gold Coast). He (Kwesi Pratt) continued to say that it was Kwame Nkrumah's effort that had brought the UN Trust Territory in to Ghana through Plebiscite.
It is however important to note that, a senior and a seasoned Journalist of Ghana has laid bare the truth that Western Togoland is not part of Ghana. And that it was the 1956 plebiscite that made them part of Ghana. This is the truth many Ghanaians do not want to know.
Before I continue with Kwesi Pratt Viewpoint, let me state here that the pretext for the said 1956 Plebiscite was to establish Union between Ghana and Western Togoland. The plebiscite was requested by Britain and was granted by the United Nations under many conditions out of which were that the people (Western Togolanders) must be allowed to choose their own political future; if Union is chosen, the working of the Union must be written down in a Memorandum of Understanding; a constitution must be written for the two states and then, the Gold Coast (now Ghana) which was a colony at the time must also be granted independence.
It is imperative to note that, none of the UN conditions for bilateral Statehood between Western Togoland (UN Trust Territory) and the Gold Coast (British Colony) was fulfilled. After the Plebiscite, Western Togoland was violently absorbed by Ghana without the Union established. Ghana then divided Western Togoland into Ghana's own administrative regions without seeking the free concent of the people of Western Togoland. The right of the Western Togolanders could not therefore be determined since the Union for which they voted had not been established. Thus began Ghana's aggression on Western Togoland and violating her Human Rights.
According to Kwesi Pratt, there is active secessionist's movement in the Volta Region and he wondered why because Ghana has been led largely by people from Volta Region. He cited that the longest ruling head of State in Ghana's history is J.J Rawlings and he is a Voltarian. He also cited that, infrastructural development in Western Region of Ghana is so bad compared to the resources that come from that part of the Region yet the people are not thinking to separate from Ghana.
I wish to State here that, this is Kwesi Pratt's personal viewpoint and does not spell out what is needed to be done and I personally disagree with him.
Independence cannot be exchanged for development. What is going on across the length and breadth of Western Togoland or the entire Trust Territory from Volta Region of Ghana to Bawku East of Ghana that Kwesi Pratt was referring to as secessionists movement in the Volta Region is actually a call for self-rule restoration, territorial integrity, sovereignty, happiness, dignity and equal respect for humanity. These are undeniable rights and they are non-negotiable. Kwesi Pratt and any truthful persons will agree with me that Human Rights is indivisible. But if it is infrastructural development that is to determine inalienable rights, according to Kwesi Pratt, then, northern Region of Ghana have every right to free itself from Ghana because it is the poorest and undeveloped Region in Ghana in terms of everything as long as human existence is concerned. You cannot also compare Western Region of Ghana to the Trust Territory. If you do that as Kwesi Pratt unfortunately did, you will be comparing Mangoes with Oranges. Before you do such comparison, ask yourself how Western Region of Ghana became part of Ghana? Were they also a Trust Territory? Did they also vote to be part of Ghana or form a Union with Ghana?
Again, if infrastructural development is the determinant of independence, then, Gold Coast (now Ghana) shouldn't have asked for independence because the then colonial master's (Britain) have put in place major infrastructural development than any successive government in Ghana.
Kwesi Pratt also doesn't understand why Western Togoland has to embark on the demand for its rights because according to Kwesi Pratt, Ghana has been led largely by Western Togolanders including J.J Rawlings. But the fact is that this assertion does not undermine the sovereignty of any people in anywhere. If I should make any reference, Kwame Nkrumah was the Prime Minister and leader of government business during British administration and it is one in British history. No one has ever occupied such two topmost position in British Administration except Kwame Nkrumah yet he still fought for independence and finally drove away the British. Mr. Kwesi Pratt, WHY?
Nothing stops the good people of Western Togoland for peacefully asking for restoration of their sovereignty. For they are the true reflection of history and they have every rights under the sun to harmonize the motherland.
Kwesi Pratt, I believe you know the truth, you only feel pity for your country but you never feel sorry for your country Ghana's subjugation of Western Togoland under inhuman atrocities. You remember that prior to 2016 Presidential election a ranking member of the ruling NPP and a member of parliament, Mr. Kennedy Agyapong went on air, declared war on the Ewes, asking Ghanaians to attack them and kill them. Do you know the number of Ewes that were killed in Cape Coast of Ghana after that pronouncement? Do you know the number of Ewe men whose penis were tired to Coconut trees and pulled till the penis detached from the body? Please, you don't know the humiliation, the catastrophe and agony that Ewes and other Western Togolanders had to go through in the hands of Ghana. Kennedy Agyapong's pronouncement had not caught the attention of the then President John Mahama's administration and the national security to call the law maker Kennedy Agyapong for questioning, apparently because the attack was against a section of the Trust Territory who are considered and treated as unwanted plebeians Ghanaians.
The Trust Territory need their own government that will stand to defend them, protect them and accord them with the right respect and human dignity.
In 2015 at Alisa Hotel, The current Vice President of Ghana, Dr. Bawumia in a press conference said that 76, 286 Ewes in the Ghanaian voters' register are Togolese and the NPP demanded that they should be disenfranchise.
Today as we speak, many Citizens of the Trust Territory had to change their last names, pretend to be whom they are not in order to get job. Those who have been able to get job at government control institutions have been removed from office for no cause. Prof. Mawutor Avoke of University of Education, Winneba UEW, Prof. Lawrence Atekpo, the Vice Chancellor of Cape Coast Technical University, Prof. Welbaforce Dzisah, Vice Chancellor of Ghana Institute of Journalism, Dr. Senyo Akolie, Finance officer of UEW, Mr David Adzaho, lecturer UEW, The list goes on. Not to mentioned people who are being fired from work because they support independence of the Trust Territory.
Akuffo-Addo administration have publicly stated that they don't trust the Ewes (The Trust Territory Citizens) which supposed to be the answer to why the Trust Territory citizens are not being considered in the NPP administration. (Reference to Ghanaians Democrat newspaper on Wednesday 6th August, 2014 edition). Even those the President sworn to seek the interest of all manner of persons.
Now, Akufo-Addo administration has introduced national Identification card, requiring Birth Certificate and Passport as a proof of being a Ghanaian before one could be permitted to have the nation ID card, But surprisingly, Akuffo-Addo administration has stopped birth registration in the Volta Region with the baseless excuse that foreigners are been registered.
Akuffo-Addo government is undermining the authority of the chiefs and the people of the Volta Region by insisting of dividing the Volta Region against the collective will of the Voltarians. The Government has assembled all the DCEs and the Assemblymen in the Volta North where the government wants to carve out of the Volta Region and showered on them whatever they could, to accept the creation of the new region. Brainwashed and made to believe that the Ewe speaking people in the Region are their enemy, that is why they are against the creation of the new Region. The Ewes are been humiliated in the Volta North as we speak now.
Free speech is now a myth in the Volta Region. Anyone who dares to speak against the creation of the new region (Oti) in the Volta North especially krachi will be beaten and killed. Even, the Police who duty is to keep public safety and order are on the lookout for anyone who will dare to campaign against the proposed Oti Region in the Volta North. This is the terror created by the Akufo-Addo government is terrorizing the people of the Volta Region and Kwesi Pratt did not see anything wrong with it. I challenge Kwesi Pratt and the GJA to go to Volta North and publish their founding's.
I will therefore appeal to all Citizens of Western Togoland, the former British Trust Territory, to heed our call to support the restoration of our country now. Our determination towards restoration is stronger than all obstacles standing before us. We know no retreat till independence is achieved. Be part of a good course.
Thank you.
Seth Mifetu.