Why Kweku Adoboli Doesn't Deserve Deportation To Ghana?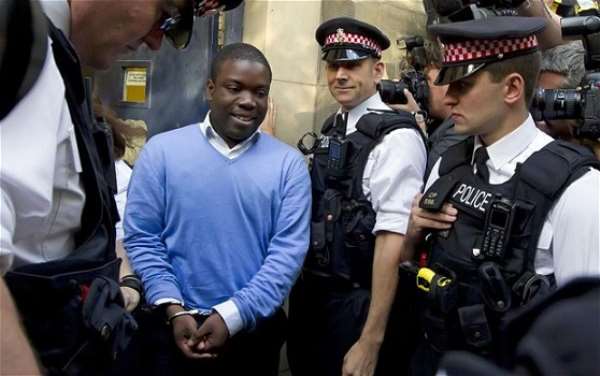 Kweku Adoboli under arrest
Kweku Adoboli, the convicted former UBS trader has been deported from the UK to Ghana, his country of birth after Home Office officials put him on a flight from Heathrow airport on Wednesday afternoon. That's the news circulating in British newspapers following his deportation.
However, taking certain issues I am about to put down into consideration, one could clearly see or judge that Kweku Adoboli doesn't deserve to be deported to Ghana. He lost his case because of the colour of his skin, despite serving a prison sentence for the crime he committed.
Adoboli has to go to the Home Office to report. Solving problems with the Home Office in the United Kingdom is a normal procedure for every immigrant having immigration issues to live in the UK. And while at the Home Office, Adoboli was arrested and taken to Harmondsworth Immigration Center. Then on Wednesday, under escort, he was deported back to Ghana.
Kweku Adoboli came to the United Kingdom at the age of 12. He had his education to the university level. He wasn't even yet a teenager when he entered the UK, therefore, all his childhood experience was in the UK, not Ghana or Africa.
Everyone who commits a crime must pay, therefore, Adoboli was jailed for seven years in 2012, after being found guilty of fraud that cost UBS $2.3bn (£1.8bn). He was released after serving half his sentence. Why was he released in the first place? That means that the law took certain things into consideration.
When talking about crime, can the British government accept and agree with Africans the crime they have committed against the continent of Africa before and after independence? The African or the black man is considered inferior, thus; Britain and America have committed serious crimes against Africa with impunity.
The black man has lost his own identity in broad daylight crimes by Britain and America during slavery, Apartheid, colonial brutality, Aids and Ebola biological weapons, which world leader has been called to stand trial for all these crimes against humanity?
America and Britain don't tolerate crime, yet the clandestine crime these two countries have committed in Africa is so appalling that we need to ask if Africa has leaders. No African leader seems to care about crimes committed in Africa against Africans.
If African leaders don't care about their own people why should Britain or America care about an African who has committed a crime and punished for his crime, above all in the country while 12? When will our leaders show that the black man is also a human being?
What does Kweku Adoboli's deportation mean to the Ghanaian government and the entire African continent? What lessons can we learn from this injustice done to this young man? Are African leaders going to side with Britain and America to destroy the continent with Ebola after Aids?
African leaders must be very careful over the way things are transcending in the continent. They must stop protecting or defending these criminals calling itself superpower to destroy our continent. I have said it many times and I will keep on saying that the cheapest thing in Europe and America is food.
They have never experienced a food shortage; instead, they experience tons of food waste every year. Millions of Africans have to struggle to get their daily bread. Food is very expensive to the extent that some people eat Kooko (Corn porridge) and bread to sleep, yet our leaders have allowed a country like America to continue spreading Ebola in our continent making life more difficult for ordinary Africans.
Kweku Adoboli doesn't deserve deportation. We can't do anything about it but what we can do is to let any British or American who commits a crime in Ghana to serve his or her prison sentence in Ghana. After serving the sentence, they should be disgraced and deported like Kweku Adoboli.
Our leaders must start investigations over strange diseases appearance in Africa and if the truth comes out, those responsible must face the law at the International Court of Justice because an African or the black man is also a human being.
What our leaders will do is what is going to bring respect and recognition to the black man as human beings, and if they don't know, I will remind them that among all the world leaders, African leaders are also not considered as human beings in the eyes of the developed.
Europe and American leaders will take a picture and smile with you because of what they need in Africa but African leaders are seen as a trash in a dustbin. They will know more if residing in Europe.