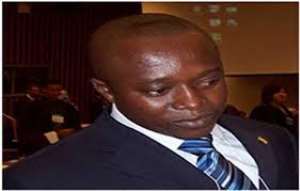 The New Patriotic Party's external branch in Finland (NPP-Finland) has held a town hall meeting with the International Affairs Director of NPP, Mr Emmanuel Attafuah Danso, during the just-ended International Young Democrats Union (IYDU) conference held in Helsinki from 8-11 November 2018.
The International Affairs Director conveyed greetings from the President of Ghana, Nana Addo Danquah Akufo-Addo to NPP-Finland and the entire Ghanaian community in Finland.
He reiterated the President's determination to fix all the broken pillars of Ghana's economy. Mr. Danso therefore urged the party members and Ghanaians abroad to continue to share ideas and resources for the common goal of nation building.
Mr. Attafuah Danso assured that the President takes ideas, proposals and constructive criticism seriously and in good faith.
A number of issues were discussed by both sides during a question and answer session.
NPP-Finland expressed the hope that ROPAL (the Right of Representative Amendment Law) would be implemented so that Ghanaians in diaspora could vote in the 2020 elections.
Also discussed was the issue of ultimatums and excessive pressure on government to provide jobs for party members. To help address the situation, a member proposed that a sustainable education should be undertaken to make party faithfuls put the party above their self interests.
The Chairman of NPP-Finland, Mr Joseph Osei- Amoah, commended President Akufo-Addo and his government for their achievements so far. He therefore urged the NPP's communication directorate to step up its efforts of highlighting the good works of the government.
He extended an open invitation to party officials and leading members to visit more often.
Members of NPP-Finland also urged the party headquarters in Accra to continue to take active interest in the activities of the external branches.
In response, Mr Attafuah Danso expressed his readiness to carry NPP-Finland's message to the headquarters and urged them to also feel free to channel their grievances to the International Affairs Directorate.
Long live NPP-Finland
Long live NPP
Long live Ghana