Why Our Current African Leaders Are Selfish And Wicked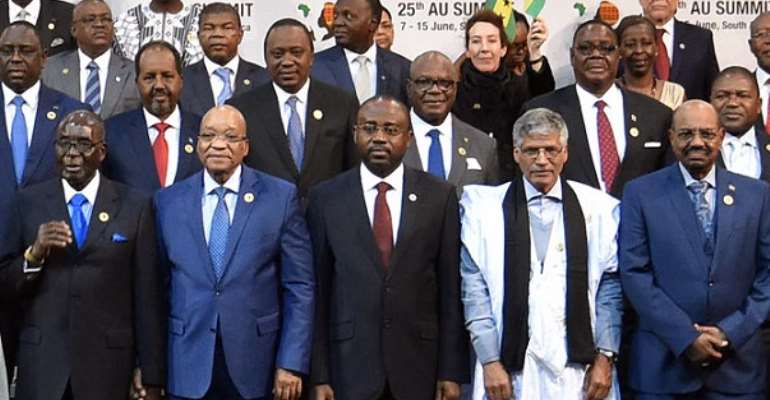 Many Africans believe in superstition, therefore, many things which are not going right on the continent of Africa are blamed on certain beliefs. Some of the ignorant Africans believe that Africa is even cursed. That usually makes me laugh sometimes because Africa is the most blessed continent in the world, taking into consideration what we have in agriculture and mine deposits.
Africa is not cursed; whatever is happening on the continent, leading to hardships, frustration, depression, anxiety, and fear is the attribution of man. The so-called leaders inspired by greed and corruption without knowing what is neither wrong nor right are responsible. They think that as long as 'them belly are full,' what do I care about the rest? Yet, they pretend they care.
I don't blame fellow Africans that often write bad comments because there are certain facts one in Africa will never know, including the truth about Aids and Ebola until you are living in Europe. The perception of an African pertaining to problems at home is understandable but not on international issues.
This is the reason every Ghanaian is interested in problems affecting the country than foreign issues destabilizing the economy of our countries. Therefore, how can you convince a Ghanaian that Aids and Ebola were meant to kill us and to take control over of our rich resources? Moreover, how could you convince an African that their leaders are behind the testing of biological weapons such as Ebola, after Aids in the continent?
Europe and America are extremely rich even though many of them struggle in life but not like an African. However, the cheapest commodity is food. Food is so cheap in Europe and America that those addicted to food are suffering from obesity. If food has overflowed in Africa like Europe and America, I believe all Africans will sleep peacefully without criticizing their leaders in power.
Since Africa is still developing, recovering from mental slavery, horrors of Apartheid and at the same time, many are now orphans due to thousands of people dying of Aids daily, the leaders should have run the continent in such a way that bitter stories or history shouldn't repeat itself in the continent for all Africans to be happy after hard work.
Unfortunately, African leaders have betrayed Africans by supporting the same foreign powers destroying the continent since they are offered financial support. How can the continent of Africa be a successful continent if our leaders have to accept and collaborate with the US government to spread Ebola in Africa?
African leaders shouldn't say they don't know, therefore, they have nothing to say to the US government. In fact, because of greed and their selfishness, they have joined America to systematically destroy Africa but they should never forget that if given Africa thousands of years to develop we can never be like America, above all, those that cover up crimes are more dangerous than the perpetrators.
This is the reason I see African leaders as wicked people with evil mind and soul. I feel so strong to write this article with faith and confidence because since residing in Europe and based on documents scientist Johan Van Dongen and Dr. Wolff Geilser gave me, I see African leaders as bad people who are causing so much suffering to common Africans in the continent.
It doesn't make sense that in the abundance of water Africa is thirsty. Why Africa can't progress and millions of people hungry if we have gold, bauxite, and diamond? Europe and America have enough to eat, therefore, African leaders shouldn't remain silent on the crimes they commit in the continent to create difficulties for the common Africans.
Let Africa be handed back to the colonial masters for just a year, there will be magic in Europe and America. The economy will flourish by creating more employment in different fields. After that let Europe and America be handed to African leaders, they will destroy the economy and create unemployment for less than a year because they lack efficiency, knowledge, and planning.
African leaders should be ashamed of themselves and must readily accept all the insults and hate directed towards them because they are extremely wicked people without conscience who only remember common Africans when they are hungry. Until they stop the US government from testing any biological weapons on the continent, after Aids and Ebola, they will not only live to regret, but they will receive their punishment from where ever they deserve.