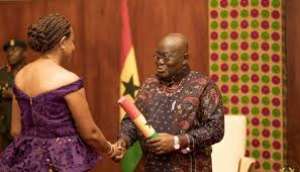 His Excellency Nana Addo Dankwa Akufo-Addo
President Republic of Ghana
Dear Mr President,
IN THE NAME OF THE ALMIGHTY GOD
We the under-listed Ghanaians residing in Russia do hereby petition the President of the Republic of Ghana, H.E. Nana Addo Dankwa Akufo-Addo to impress upon H.E. Lesley Opoku Ware, the Ambassador to Russia Federation to perform her duty as Ghana ambassador to Russia we are petitioning the president as a result of our complains and grievances to necessary authorities to address the issues that is negatively affecting the embassy and the president himself have not been addressed.
Ever since the ambassador took office the embassy has not had a positive image among Ghanaians in Russia, we will like to state some of the issues:
Ever since the ambassador came to Russia she has never had a meeting with the Ghanaian community in Russia, an indication that tells us that she not here to work with the Ghanaian community, Mr. president whiles we monitor your travel abroad and can witness that with your busy schedule on international visit you still find time to meet with Ghanaians abroad in almost all your international travels this tells us that you are a competent leader, we therefore cannot say that to our ambassador.
The relationship with Ghanaians was good before but ever since the new ambassador assume office the relationship with Ghana mission in Russia is deteriorating, Ghanaians when they have issues they prefer to visit other countries missions for help, An empirical example is when delegates of Ghana scholarship secretariat visited Russia and had a meeting with students in Russia at the embassy and the ambassador was unable to participate and none of the embassy staff was present and when we asked why they are none of the embassy staff in the meeting the delegates told us that because the embassy does not have a good relationship with the students.
The ambassador ever since she was appointed she has refused to live in the apartment that her previous predecessor had lived, but she is rather living in the hotel for over a year now before moving to another apartment. Ghana government pay 5880000 Rubles (446400GHS) on the rent yearly yet the ambassador is living outside her residency and we are paying extra cost on her accommodation and fuel for her transportation from the embassy to her hotel, this is causing financial loss to the state. Whiles the embassy cannot acquire a biometric machine to issue a passport. we, therefore, asked why she does not want to live in her residency but work in the same building?
The ambassador does not have a strategy and doesn't organized or attend trade programs to attract investors to promote government flagship programme one district one factory.
The Ghana embassy cover 6 countries a year in office she has not visited any of the countries under the embassy not talking of solving the problem of a biometric machine for issues of passport.
Mr President, we do not hate anybody and we do not have any interest for someone to lose the job but we need a leader that can help you to achieve your legacy as one of the greatest presidents in Africa. We, therefore, have a recommendation which will be communicated to you.
As in your inauguration speech, you told us we should not be spectators but citizens we will, therefore, demand accountability where ever we find ourselves irrespective of our political party. We are in abroad and we see the level of development with less natural resources we will therefore not wait for a few that we have given them our power to misused our resources while many young people are trying to survive in Ghana.
God Bless you, Mr President, we once again acknowledge your sleepless night and your transformational leadership.
Thank You
God bless Ghana
God bless President Nana Akuffo Addo
God bless NPP government
Signed
Ajene Abongo Mashood (leader of the team) +79040161244
Christian Ayreh +79001159167
Owusu Daniel
Erica Aryee
Sifa Nana Twum
Nkansah Benedict Asumadu
Abdul Nasir
Nimoh Christian Aboagye
Kojo Anane
Abene Ali
Seth Appiah Kusi +7964567316