Gomoa Onyadze: Akufo-Addo Commissions 20MW Onyadze Solar Power Plant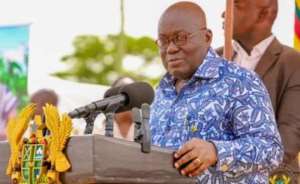 President Nana Addo Dankwa Akufo-Addo as part of his four-day working visit to the Central Region has commissioned a new 20 Megawatt (MW) Solar PV power plant at Gomoa Onyadze in the Gomoa West District.
The plant has 40,480 pieces of polycrystalline silicon panels, 64,400 solar panels, 20 invertor rooms attached to transformers and one out-going feeder to the Electricity Company of Ghana (ECG) main sub-station near the Winneba junction.
Power generated from the solar plant would feed the ECG sub-station at Winneba, which supplied power to Apam, Winneba, Swedru and some parts of Kasoa.
The $30m facility was developed and funded by Meinergy Ghana, a private Electrical Installation Company based in Ghana in collaboration with its partners.
Speaking at the commissioning, President Akufo Addo reiterated Government's commitment to scale up the country's renewable energy through utility-scale solar, off-grid projects and domestic manufacturing.
In view of this, he said Government through the One District, One Factory initiative is creating a business-friendly investment environment to attract investors into the renewable energy sector to positively alter the country's energy-mix.
'We are in the age where renewable energy is being produced domestically so we want to get into a situation where these solar panels will be produced domestically within the confines of the one district one factory initiative' he stated
"The 1 D1F comes with a whole package of incentives to encourage investors to invest and participate in it' he added
This, according to the President would create local employment opportunities in the country and strengthen its self-reliance capabilities.
Currently, Ghana is said to draw just one percent of its energy from solar, while 59 per cent comes from fossil fuels, and 40 percent from hydro.
Meanwhile, the Government's objective is to least generate 10 percent of its national electricity load from renewable energy by 2020 and in the long term become the main source.
The President said the vision though ambitious, was achievable in the light of the plans and programmes put in place.
This is also to enable the Government fulfil its commitment under the Paris Agreement to have an environmentally friendly technology that would be able to address issues with climate change.
Mr Peter Amewu, Minister of Energy said Government was in the process of rationalising the contribution of independent power producers to the energy development of the country.
He enumerated some key advantages of solar energy and said apart from its initial high cost of installation, solar energy was cheap.
The energy Minister said the only way to reduce the extensive bills on energy consumers was to invest in renewable energy adding that, it was not out of place for the Government to initiate processes to add renewable mix to the country's energy.
Mr Daniel Azu, Project Engineer expressed gratitude to the Energy Commission, and the chiefs and people of Oyandze for their support towards the project which occupied 100 acres of land. GNA
By Afedzi Abdullah/Isaac Arkoh, GNA