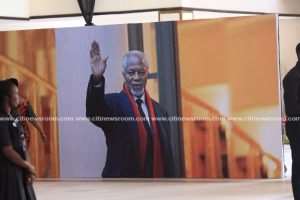 The late former Secretary-General of the United Nations, Kofi Busumuru Annan will be buried today, Thursday, September 13, 2018, days after lying in state.
Family of Kofi Annan will have a private burial for their beloved at the Military Cemetery in Accra where he will be a given the 17 gun salute by the military.

The exercise will be preceded by a state burial service to be held at the Accra International Conference Centre where dignitaries both in Ghana and abroad are expected to assemble and mourn the international diplomat who many have described as being an embodiment of peace.
Kofi Annan died at age 80 on August 18, 2018, at the Swiss capital, Bern, after a short illness.
His remains was brought into Ghana last Monday.


Many from far and near have since Tuesday trooped to the Accra International Conference Centre where the remains was lying in state to pay their last respects to the late diplomat.
Over 20 heads of states are currently in the country to join Ghanaians to mourn Kofi Annan.
Roads to be closed for Kofi Annan funeral
In a related development, some major roads in Accra will be closed to traffic on today, Thursday to make way for the burial service.
The affected roads include the Ridge roundabout to the Stadium traffic light road.
Information Minister-designate, Kojo Oppong Nkrumah, in a Citi News interview urged the public to comply with the directive.
"The main route to the ridge roundabout to the Stadium roundabout will be closed on Thursday and it's only those who have received the invitations that would be allowed to access those routes on Thursday. The forecourt of the State House/Parliament house is available for parking for those who are invited."
"…And while we encourage the public to come in and pay their last respects on Tuesday we also ask that we adhere and comply with all the security instructions that would be given by the security officers on the day," he added.
About Kofi Annan
The 80-year old Ghanaian diplomat served as the seventh Secretary-General of the United Nations from January 1997 to December 2006.
Annan and the UN were the co-recipients of the 2001 Nobel Peace Prize.
He was awarded the Peace Prize for having revitalized the UN and for having given priority to human rights.
The Nobel Committee also recognized his commitment to the struggle of containing the spread of HIV in Africa and his declared opposition to international terrorism.
He is the founder and Chairman of the Kofi Annan Foundation, as well as chairman of The Elders, an international organization founded by Nelson Mandela.